So many destinations. Good thing you can combine them.
Featured Adventures
<
40 days in Thailand
Experience the Land of Smiles
We have been running this trip since 2003 and have spent a lot of years turning it into the best backpacking trip to Thailand on the planet. Winner of The World's Most Amazing Tour of 2012 and Asia's Most Amazing Tour in 2013 by Tour Radar, our original 40-day trip to Thailand is the ultimate easy-going travel experience. Beginning and ending in Bangkok with a loop through the islands, beaches and jungles of Southern Thailand this trip is a relaxed tour through Thailand's most amazing, fun, and lesser-known destinations. We'll take you from some of the most insane party spots including The Full Moon Party in Koh Phangan to secluded paradises with no other tourists in sight. And always you'll be enjoying the adventure at the nice, chilled pace that is uniquely 'Free and Easy'.
>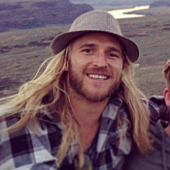 Curtis Smith
Founder, President
& Adventure Architect
The Free & Easy story
Free & Easy was founded on the idea of creating a group travel experience that could replicate the adventure of a spontaneous backpacking journey. When I first went traveling, there were some definite learning curves involved in discovering and navigating to those "backpacker's dream" destinations. Fortunately, I was with a big group of friends so every day was an awesome and fun adventure. I thought, how wicked would it be to have this same experience of traveling freely with a big group of friends but remove all the headaches of having to plan the travels and figure out where to go. So the aim of Free & Easy became (and still is) to bring together a group of like-minded travelers, turn them into a crew of best friends and take them on an unforgettable adventure to the most amazing places in the world!
Find out more about Free & Easy and meet the rest of our family here.