So many destinations. Good thing you can combine them.
Top Deals
20

DAYS

$

250

Panama, Costa Rica

20 days in Costa Rica & Panama
Departure Dates:

Nov 24, 2016 - Dec 13, 2016

$1820

$1570

flight options available

Book

30

DAYS

$

250

Panama, Nicaragua, Costa Rica

30 days in Nicaragua, Costa Rica and Panama

Limited time Nica NYE's + Costa Panama combo trip!

Departure Dates:

Dec 29, 2016 - Jan 26, 2017

$2910

$2660

flight options available

Book

20

DAYS

$

160

Thailand

20 Days in Thailand 10 North and Thailand 10 South
Departure Dates:

Jan 19, 2017 - Feb 7, 2017

$1790

$1630

flight options available

Book
View more...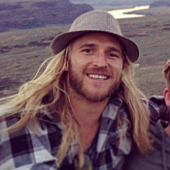 Curtis Smith
Founder, President
& Adventure Architect
The Free & Easy story
Free & Easy was founded on the idea of creating a group travel experience that could replicate the adventure of a spontaneous backpacking journey. When I first went traveling, there were some definite learning curves involved in discovering and navigating to those "backpacker's dream" destinations. Fortunately, I was with a big group of friends so every day was an awesome and fun adventure. I thought, how wicked would it be to have this same experience of traveling freely with a big group of friends but remove all the headaches of having to plan the travels and figure out where to go. So the aim of Free & Easy became (and still is) to bring together a group of like-minded travelers, turn them into a crew of best friends and take them on an unforgettable adventure to the most amazing places in the world!
Find out more about Free & Easy and meet the rest of our family here.