So many destinations. Good thing you can combine them.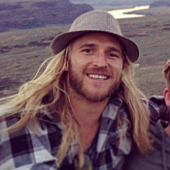 Curtis Smith
Founder, President
& Adventure Architect
The Free & Easy story
Free & Easy was founded on the idea of creating a group travel experience that could replicate the adventure of a spontaneous backpacking journey. When I first went traveling, there were some definite learning curves involved in discovering and navigating to those "backpacker's dream" destinations. Fortunately, I was with a big group of friends so every day was an awesome and fun adventure. I thought, how wicked would it be to have this same experience of traveling freely with a big group of friends but remove all the headaches of having to plan the travels and figure out where to go. So the aim of Free & Easy became (and still is) to bring together a group of like-minded travelers, turn them into a crew of best friends and take them on an unforgettable adventure to the most amazing places in the world!
Find out more about Free & Easy and meet the rest of our family here.