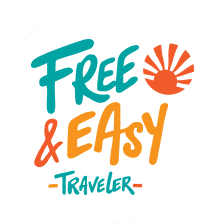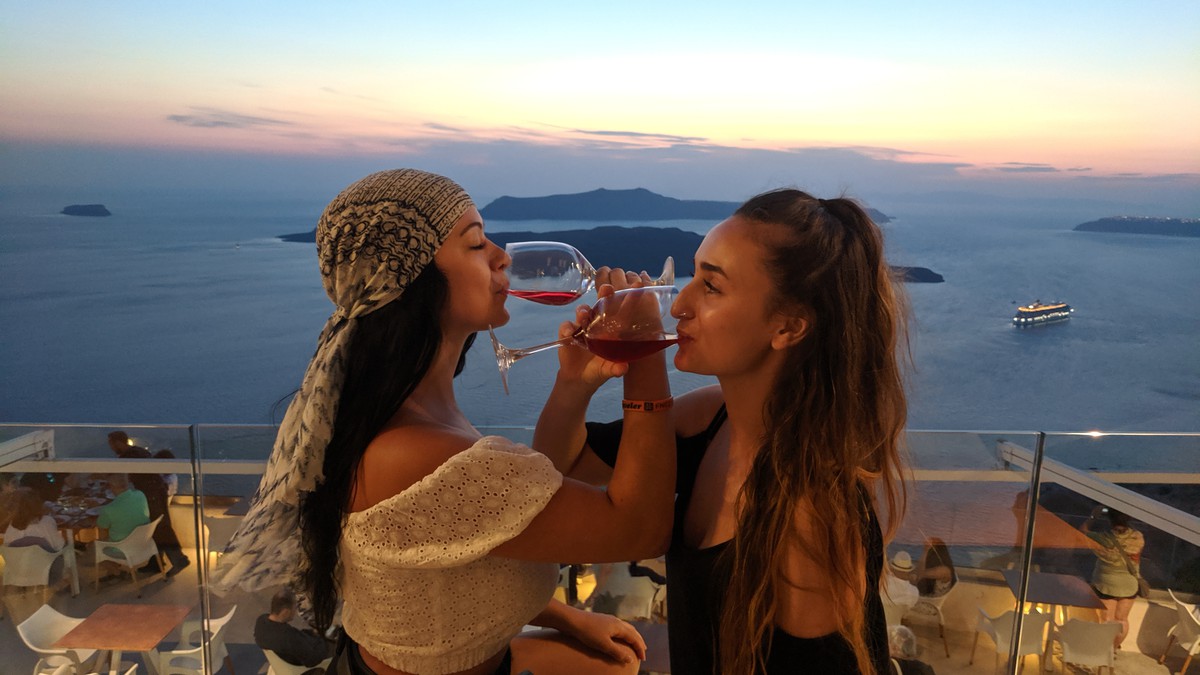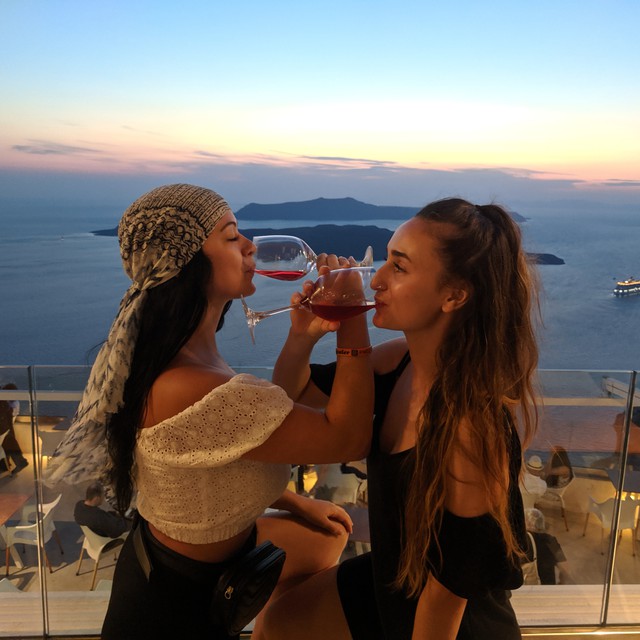 25+
Greece - Evolution
Island Hop the Med
*What is Evolution? Click here for more information.
Just to name a few things - Early Medicine, Philiosophy, Geometry, The Olympics - and Free & Easy's first trip back in 2001! We are so stoked that 20 years later we are still offering up adventures through the Greek Islands.
Get ready for blue skies, calm seas, tasty cuisine, laid back people and beautiful landscapes as we make our way to four of the best of what Greece has to offer.
We'll start by checking off that big bucket and see the ancient Acropolis in Athens so that we can get in the mindset of how people have been traveling these parts for thousands of years before us. Once that little detail is taken care of we will ferry our way around to three different islands over these twelve days.
Starting with the southernmost island of Crete we'll get over jet lag by exploring the region by foot, taking in the various beaches, canyons, cliffs, and caves. We will get our palates spoiled by the amazing Mediterranean cuisine (that can be said about the whole trip actually).

Next, on to the island of Ios where you can dance the night away or take in any of the readily available watersports and ATV rentals to stay active. We save the crown jewel of Santorini for last where we will stay right in the town of Thira where those white buildings impossibly hug the sides of the epic cliffs and the sunsets steal your heart every night.
It's impossible to describe everything that Greece is going to bring you but if you like perfect weather, good food, beautiful scenery and a fun crew of people to take it in with then this trip will not disappoint!
Man what a trip! Zooming around Greece with Jimi and Evan was a blast! I'd do it again in a heartbeat. You will not be disappointed. The views, the history and (my god) the beaches and fun you will have. If you are on the fence, don't be! Do it already, you will have the time of your life!

Phillip Stawowiak - 2019
***This trip can be done privately and tweaked to your own needs and taste. Click here for more information.
Please note: 2021's list of dates has not been confirmed. Join our newsletter list to find out when they are!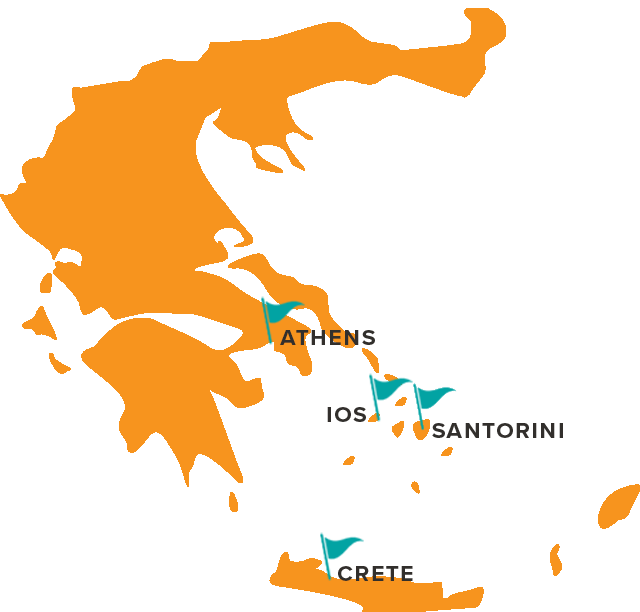 Itinerary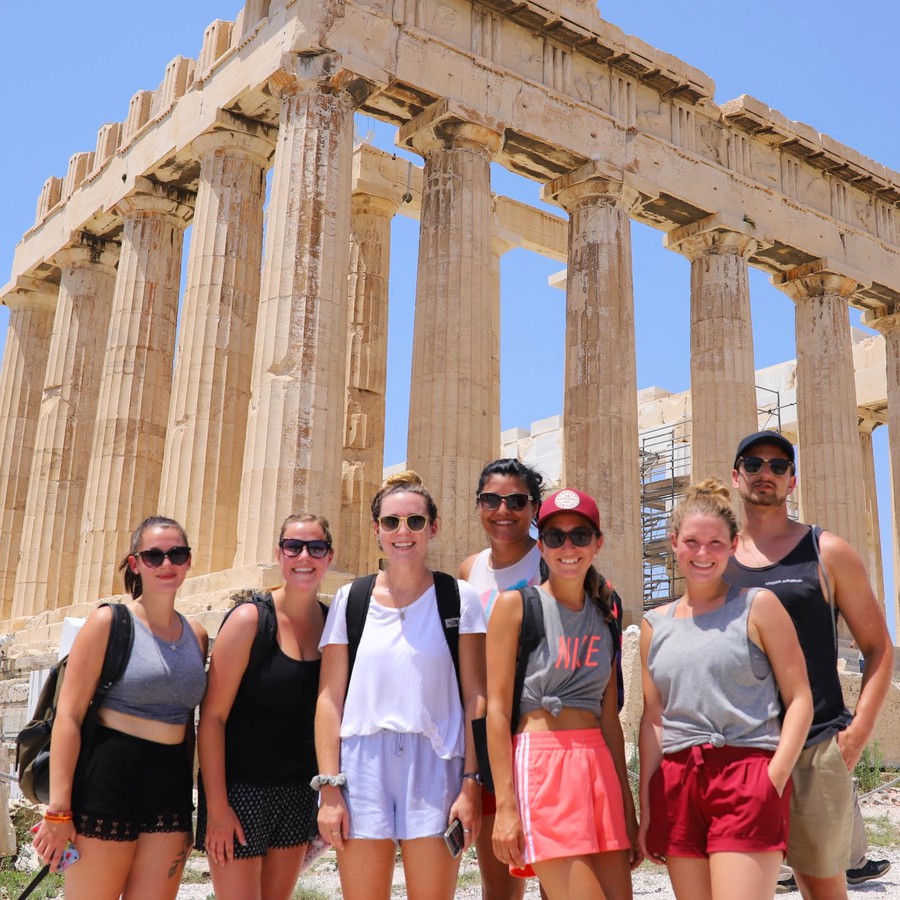 Please note: The above itinerary is subject to change. A confirmed Free & Easy trip itinerary with exact routing will be provided at least 30 days prior to trip departure.
IMPORTANT: If you are doing a combo trip and booking your own flights, please contact us to confirm the start and end point of your trip.
What's included?
The Free & Easy Commitment

We strive to ensure everyone who wants to travel has the opportunity to have the most epic experience ever. Free & Easy delivers awe-inspiring travel experiences and creates lifelong connections between incredible people + incredible places.

See below for more details about what else is included in this amazing adventure.

Included Experiences: Greece 12

Acropolis & Parthenon Tour including entrance fee
Athens Walking Tour including local guide
Hike to a waterfall and through caves to an old Pirate booty hold
Hike through Cretan Countryside to secluded beaches
Boat Trip to Palm Beach in Preveli Gorge (includes Sangria)
Santorini Island Bus Trip; visit Red Volcanic Rock beach, grab photos at the highest point of Santorini, wine tasting at a local vineyard and watch sunset in Oia
Hike to the top of the Ancient City of Thira in Santorini
All Free & Easy travelers will have access to our industry leading app to help manage your trip. This provides pre-trip planning advice, itinerary management, activity suggestions for free time, maps, chat support and more!

Accommodation: Greece 12

All accommodations - We send our trip planners to each of our destinations so they can do on the ground, research. Checking for the best location, comfort and vibe that we can get for our budget while also supporting local businesses.

Click here for a photo album of samples of where we normally stay.*

*things can change but this is the current set up for this trip and we aim for this standard if we have to make changes.

Transportation: Greece 12

All transport - This trip will find us taking ferries, private A/C vans and public transport

Leaders: Greece 12

1-2 group leaders - Our staff is consistently ranked as the #1 reason that people loved their trips. We meet most of our leaders while traveling with them so we can see in person if they are fun yet responsible, cool yet down to earth, professional yet laid back. This creates that perfect mix which makes our "tours" feel like a group of friends.

Optional Experiences: Greece 12

Wine museum w/ tasting
Rent an ATV (International drives licence needed)
Cliff jumping (seasonal)
Booze cruise
Pub crawl party nights in Ios
Volcano boat trip
Ancient City of Thira hike
Waterfall snorkeling trip in Preveli Gorge
Water park
Scuba diving (possible night dive/ ship wreck dive)
Paddle boarding
Kayaking
Tubing behind a speed boat

And so much more! If you're interested in something that isn't on the list just ask us, if it's possible we will find you some options. We are here to help you find your ideal trip!

Not Included

All meals and drinks (except those mentioned above)
Activities outside of the ones listed above (optional activities are not included)
Any Visa or Visa fees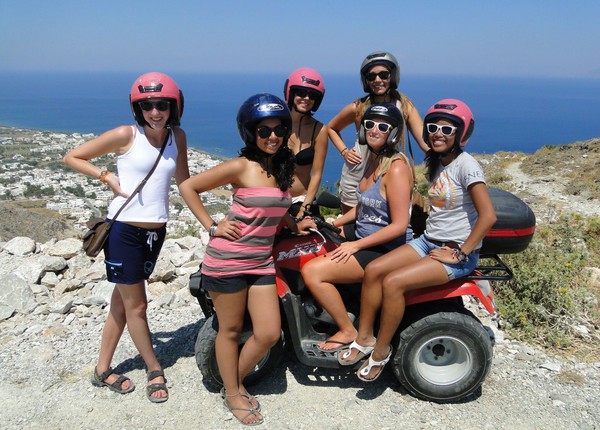 ATV Roadtrip in Santorini
What better way to see the sights of beautiful Santorini than on an ATV ride through the countryside? There is more to this stunning island than the postcard sunset view, so grab a friend, hop on your ATV (only if you feel comfortable using one of course!) and head straight into an island adventure!
There is nothing like the feeling of the open road and no better place than Santorini to explore it with your Free & Easy family! Too busy to get around to this in Santorini? You can always rent one in Ios instead. A whole different experience on a whole different Island! Whatever you choose, you'll never forget that feeling of being in control of your own adventure.
NOTE - International drives licence from your homecountry is needed to rent an ATV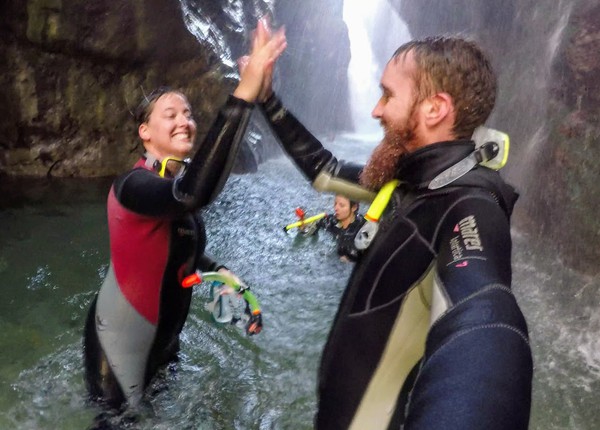 Waterfall Snorkel Trip
Start your day in Plakias right by hopping on a bus and heading to the top of Kourtaliotiko Gorge. From there you'll hike down the stairs with your snorkel gear, hop into the refreshingly cold water and then head off to find a waterfall!
An epic adventure that includes hawk sightings, crazy cool eels, a waterfall made of fresh glacier spring water that you can drink as you swim, a fruit lunch, all of your friends alongside you, and a photographer to capture it all! After you're done absorbing the beauty of the Gorge, head back up the ancient steps, hop on the bus for one more stop and be prepared for the bonus of getting to watch a skilled potter give a demonstration of his life's work.
With no pressure to buy anything, watch as he closes his eyes and creates beautiful pieces of art just by touch. Plus, taking a look around his not-so-traditional shop is quite the adventure, with surprise creations around every corner. And this was just the morning! After all that exploring, discovering, and adventuring it's time to head back to Plakias for an afternoon of doing whatever you want. #LiveFree and Easy!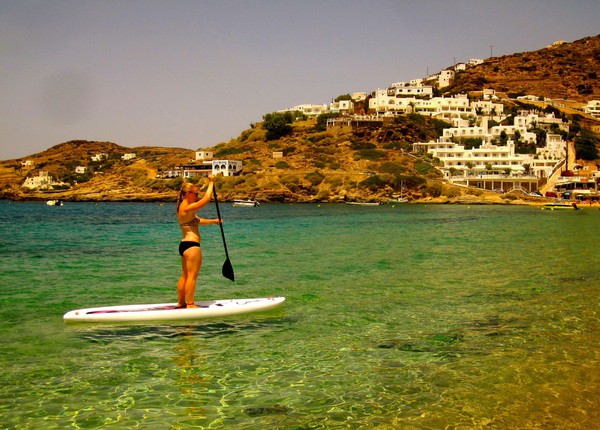 Try Water Sports in Ios
In Ios we stay on the beautifully idyllic Mylopotas beach, complete with soft sand and cool Mediterranean waters lapping the shoreline. Want to explore more than just the sand and beach chairs? The water sports are unlimited here!
To begin with, for any divers, or anyone who has always wanted to try diving, this is the place for it in Greece! Some dives start by simply walking straight off the beach into the deep blue water while others have you diving off a boat to explore a super cool shipwreck. Whichever it is, this island will keep you mermaiding around underwater all day.
Or, if you're not a diver, you can jump on the boat and do some snorkeling instead! Of course, there's also paddle-boarding, tubing behind a boat, kayaking and even paddle-boating if you're ready for a fun trip around the bay! These awesome activities allow you to really get out there and enjoy a different perspective of this beautiful island that we love so much.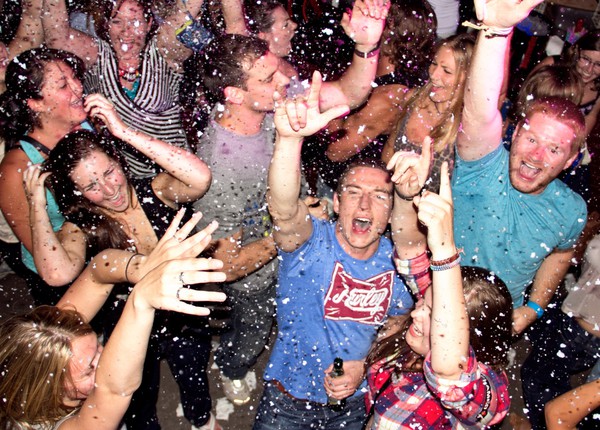 Party in Ios
Due to its lack of an airport, Ios has remained somewhat overlooked and less popular than some of its island neighbours but that has allowed it to retain a typically Greek feel to it and avoid it turning into a complete gong show.
There are a number of gorgeous beaches that you can laze around on and play an array of wicked water sports to chase your hangover away - or if you still haven't gone to bed yet, just another fun place to party!
But young or old, everyone goes out for a night of partying in Ios, it's what life on the island revolves around and, to be honest, it's just way too much damn fun to miss out on! It's something every traveler should experience at least once.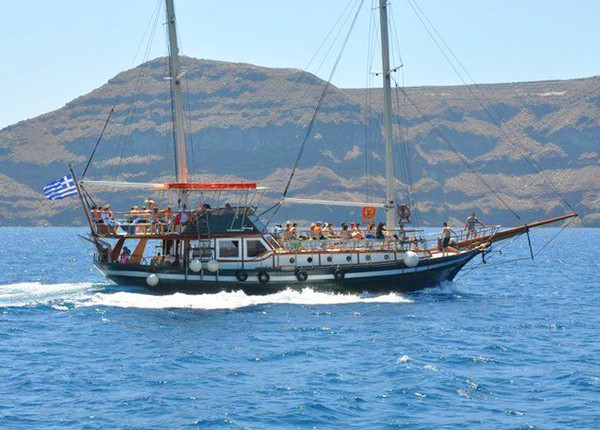 Pirate Boat Volcano Trip around Santorini
One of the coolest activities available on our 20-day Greece trip is hiking a volcano! The volcano itself is still active and its last eruption wasn't long ago, in 1950. But not only do we hike it… we spend the whole day on a pirate boat with other like-minded travelers stopping at a few other islands while getting there and back!
Enjoying the magnificent beauty of the Santorini Caldera along the way and enjoying some morning wine doesn't hurt either. We hop on the boat in the late morning, head straight to the volcano where we face the heat and the incredibly unique volcanic surface. After the hike, we cruise over to some warm springs and cover ourselves in mud! Sound weird? It is.
The mud is said to have healing properties for your skin and body. Once we rinse off and we're looking rejuvenated, we cruise over to Thirassia for a cheap lunch and another optional hike up some switchback stairs for a unique view of Santorini, followed by a wonderful boat ride back, bringing us home just in time to get ready for the amazing clubs Santorini has to offer.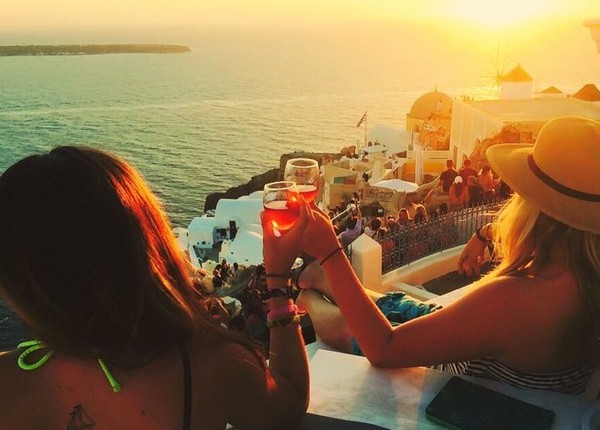 See a Santorini Sunset
The sun sets all over the world, obviously, but in some places, it just puts on a nicer display than others and Santorini, Greece is said to have the nicest sunsets in the world.
The towns and villages of Santorini provide a Mecca of classic beauty for photographers and the village of Oia, in particular, offers perhaps the most stunning location to view the famous ethereal sunset of Santorini that never seems to disappoint each evening it repeats the beautiful display.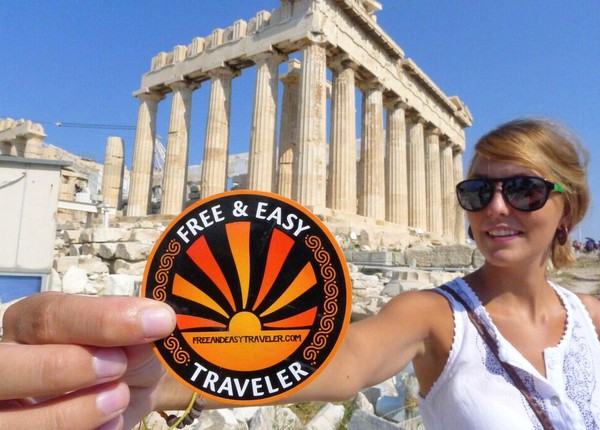 Walking Tour of Athens, The Acropolis & The Parthenon
Walking about Athens is a trip in and of itself—the cradle of Western civilization and the birthplace of democracy with a history spanning more than 3,400 years, it is one of the most storied cities we've ever known. And classical Greece is still very much alive in Athens with historical monuments, works of art and ancient roads visible throughout the city.
Sitting above it all is The Acropolis, an ancient citadel located on a high rocky outcrop above the city and containing the remains of several ancient buildings of great architectural and historic significance, such as the Propylaia, the Erechtheion and the Temple of Athena Nike. But there is one building that is the most famous of all and beautifully portrays the essence of ancient Greece: the Parthenon.
A massive, marble white temple dedicated to the goddess Athena, the Parthenon was completed in 438 B.C.E. and is one of the most important surviving structures in western civilization. Regarded as an enduring symbol of Athenian democracy, the Parthenon is not just a wondrous sight to behold but also one of the world's greatest cultural monuments and will no doubt be one of the most unforgettable man-made structures you'll ever see!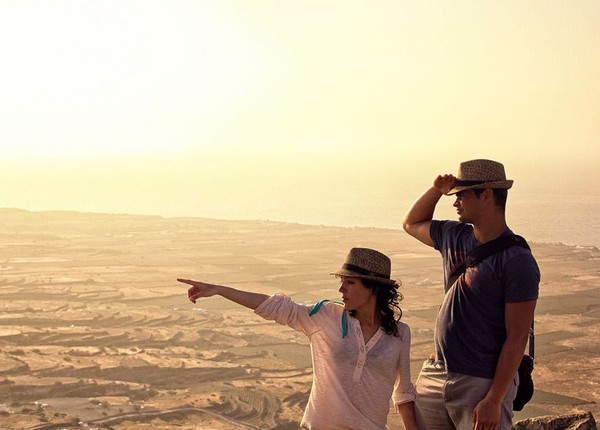 Hiking up to Ancient Thira
Perissa Beach is one of our favourite places in Santorini; it's also where we happen to stay when we're on the island. When you get there, don't be surprised if you see a random white church built into the middle of a cliff... just walk toward it. Why, you may ask? Well why the heck not, let's go on an adventure!
What you will find is a footpath. It will lead you up to the old church, and then beyond that to the Ancient City of Thira. Now this is no stroll on the beach; expect a 45-90 minute hike, depending on your fitness level, that will take you 360 meters above the shoreline! The entry once you get to the top is 2 euros (not included).
The city itself is mostly ruins dating back to 300 B.C.E. It sits on a ridge atop Messavouno Mountain, and is named after the mythical ruler of Santorini Island, Theras. The city itself was inhabited up until 726 C.E. and went through multiple excavations in the 20th century.
If you're willing to push through the difficult parts of the hike, you will be rewarded ten-fold with incredible views of the island, so sit back, feel the burn, and enjoy the view knowing you worked so hard to get it!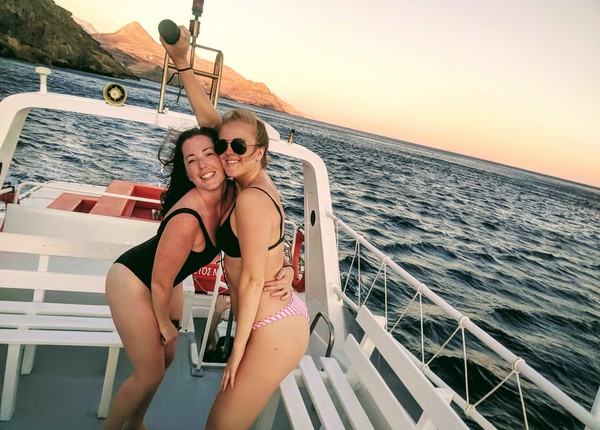 Boat Trip to Palm Beach in Preveli Gorge
A great trip around the coast of Crete from Plakias Beach to Palm Beach will awaken the pirate within you. At Palm Beach, we will explore the unique micro-ecosystem that exists courtesy of no wind and a tropical atmosphere, and we can spend a few hours throwing a frisbee, drinking sangria, and hiking deep into the gorge and its giant, prehistoric-seeming rocks.
You won't want to miss this adventure to the palm trees, white sand, and beach bar. Plus, knowing that our boat is sailing the same seas pirates sailed thousands of years ago, passing their booty caves and old keeps will ignite your imagination as we sail another Mediterranean day away in Crete.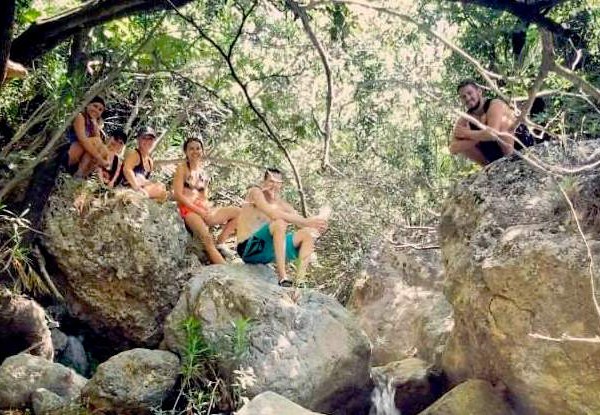 River Hike in Plakias
This river hike in Plakias is challenging but worth it. Not for beginner hikers, this will be sure to excite any avid trekkers' need for adventure. Water shoes or waterproof hiking shoes are recommended, as well as a clear head as you'll need both hands to navigate this one!
A two-and-a-half-hour hike takes us through the Cretan countryside, in and out of the hot sun, to an opening by the river. We hop right in and follow it up for about 2 kilometers over huge boulders, all under the shady canopy of the river trees.
The hike climaxes at a small river pool with a picturesque bridge overlooking it. We cool down with a swim in this seeming fairy wonderland then head back the way we came, emerging from the river into the hot sun to warm ourselves and dry our shoes.
When this unforgettable hike ends, you'll forever have images of this day ingrained in your brain. It's recommended to follow it up with a cold beer, because you most certainly just earned it! Grab a Mythos (a local brew), sit by the sea and cheers your comrades on a day well spent!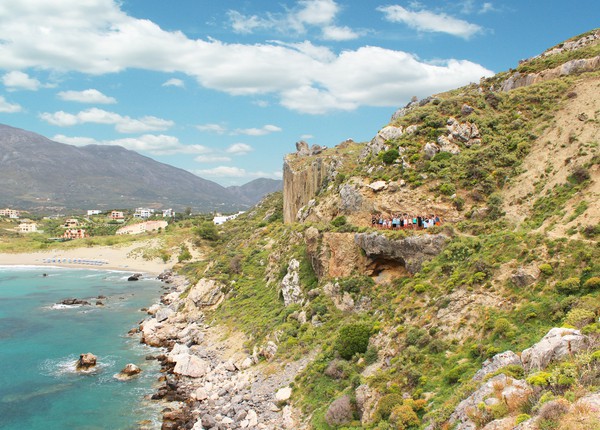 Pirate Hike in Plakias
We'll grab a refreshment as we walk along the beach towards the start of this hike. It takes us across the amazing cliffsides of Plakias Beach, skyrocketing above us and below. But as dangerous as that might sound, it's a hike for all skill levels.
Overlooking the bay we'll make our way to a couple of man-made caves created by the Germans during the Occupation. Moving through them, we come across a huge ancient hold where rumour has it, pirates used to hide their treasure! You can see an old wall that has fallen away and why it would have been the perfect hiding spot!
Then we'll head back the way we came, but take a hard right into the Cretan countryside, through fields, dirt roads and hiking paths until we get to the Damnoni beach for a swim. We'll take a break and eat some lunch at one of the restaurants (not included), and some well deserved refreshments!
Keeping it Free & Easy, we'll stay as long as we like, do what we like, and enjoy what some may call the most classic pirate treasure of all: a cold drink.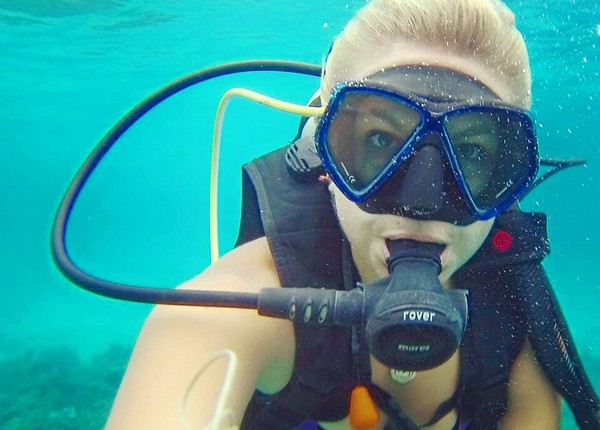 Go Scuba Diving
Life under the water is silent and peaceful, everything is flowing and moving in a way that we land creatures are unaccustomed to. Despite all of our high tech equipment, we are extremely out of our element in the water and it is a humbling experience to watch and observe what life is like under the sea.
Fish come in all shapes, sizes, and colours and move together in a harmonious unison through beautiful coral and twisted sunlight. On our trips, scuba diving is a huge activity as we travel to countries that offer some of the best diving in the world. The Caribbean in Central America possesses the second largest reef in the world, the warm waters of the South Pacific in Southeast Asia are home to the largest diversity of sea-life in the world and the seas of the Mediterranean are full of rich history and beauty.
There is a whole universe under the ocean and experiencing what it's like to be in it is a must at least once in your life!