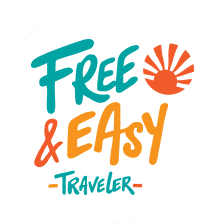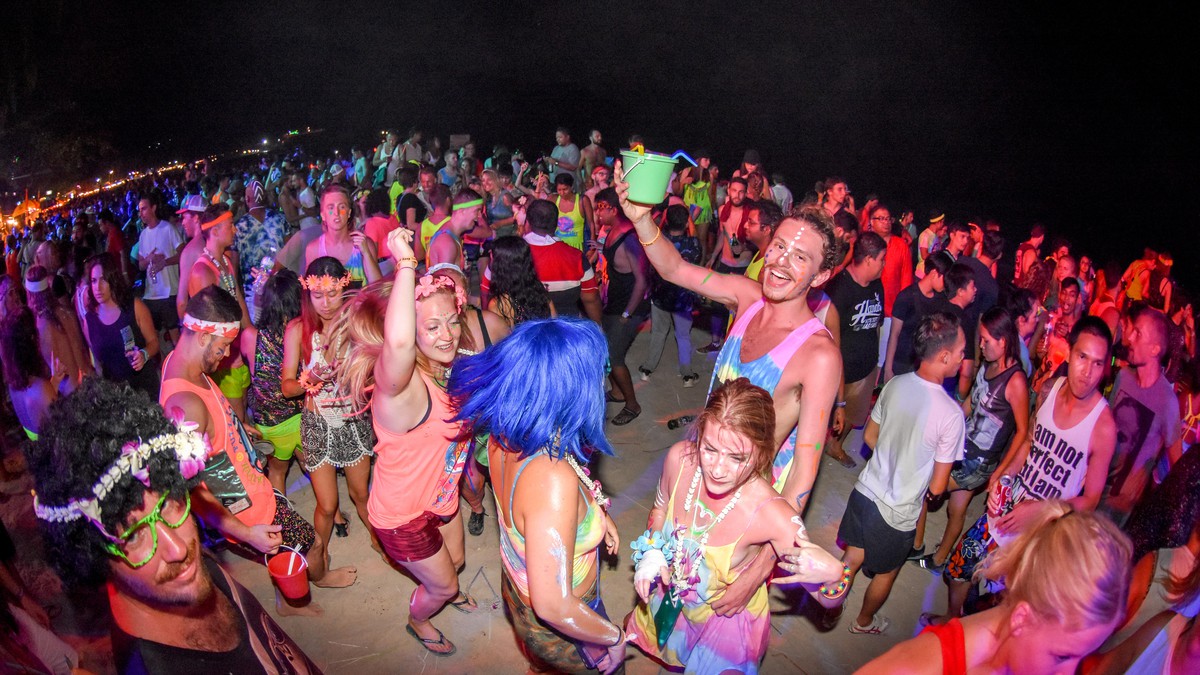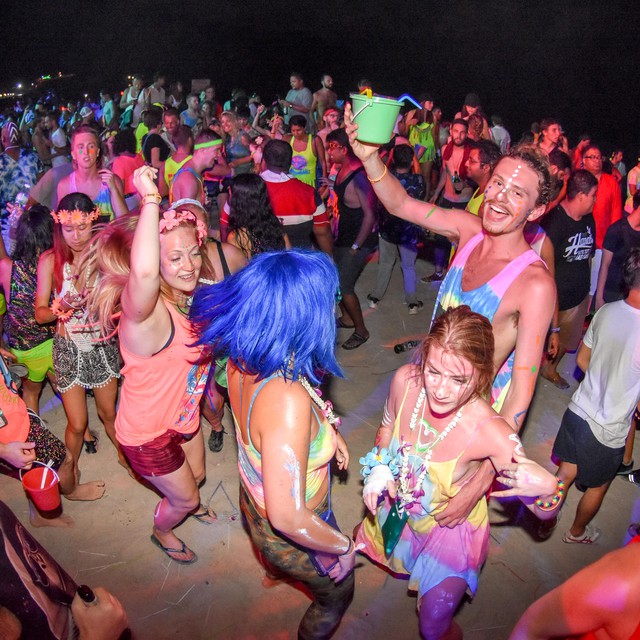 Full Moon Party Intro
Thailand Full Moon Party Trip: 10 Days
Experience the legendary Full Moon Party on Koh Phangan Beach in Southern Thailand on this 10-day trip. But this trip doesn't end there, you'll bathe in waterfalls, explore temples, hangout (ethically) with elephants, and enjoy underwater activities like SCUBA diving and snorkeling.
The Full Moon Party with Free & Easy was a wild, blurry ride – in all the best ways. The ultimate 'bucket-list' party. What elevates the experience is being grouped with people ready to party as hard as you. Sharing buckets, dancing, people-watching, lasting long enough to watch the sunrise... the party lives up to the hype. As crazy and overwhelming the Full Moon Party can be, nothing was more reassuring than knowing you had a crew that has your back no matter what. I'm glad I went with Free & Easy because it turned what could have been a very mediocre event into something way more memorable!

- Stephanie, November 2019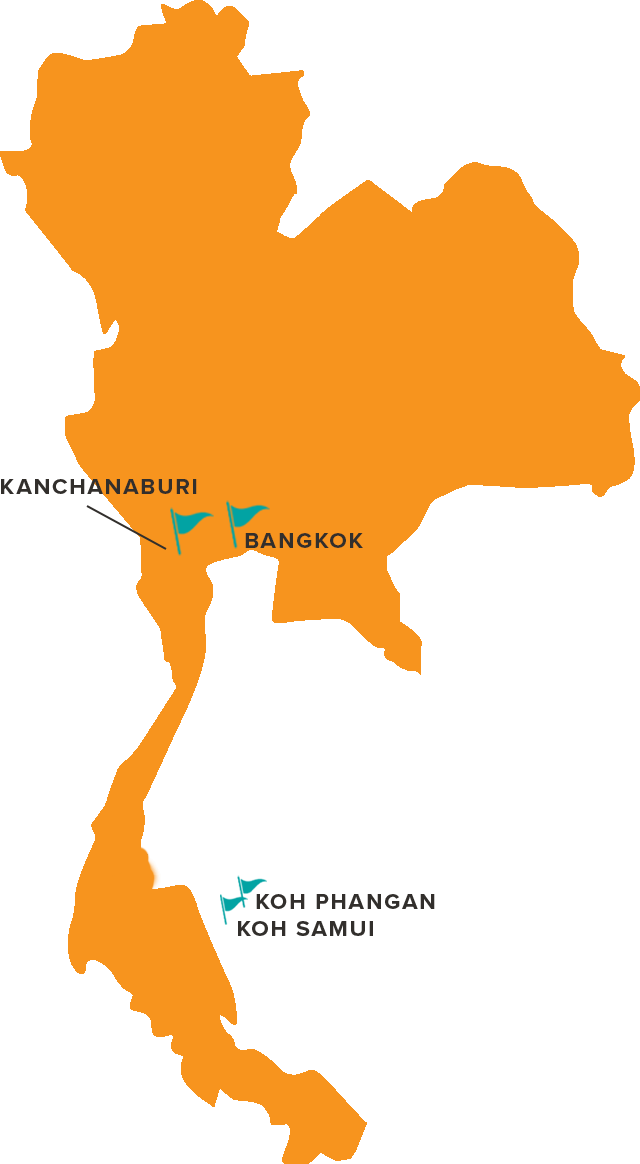 Itinerary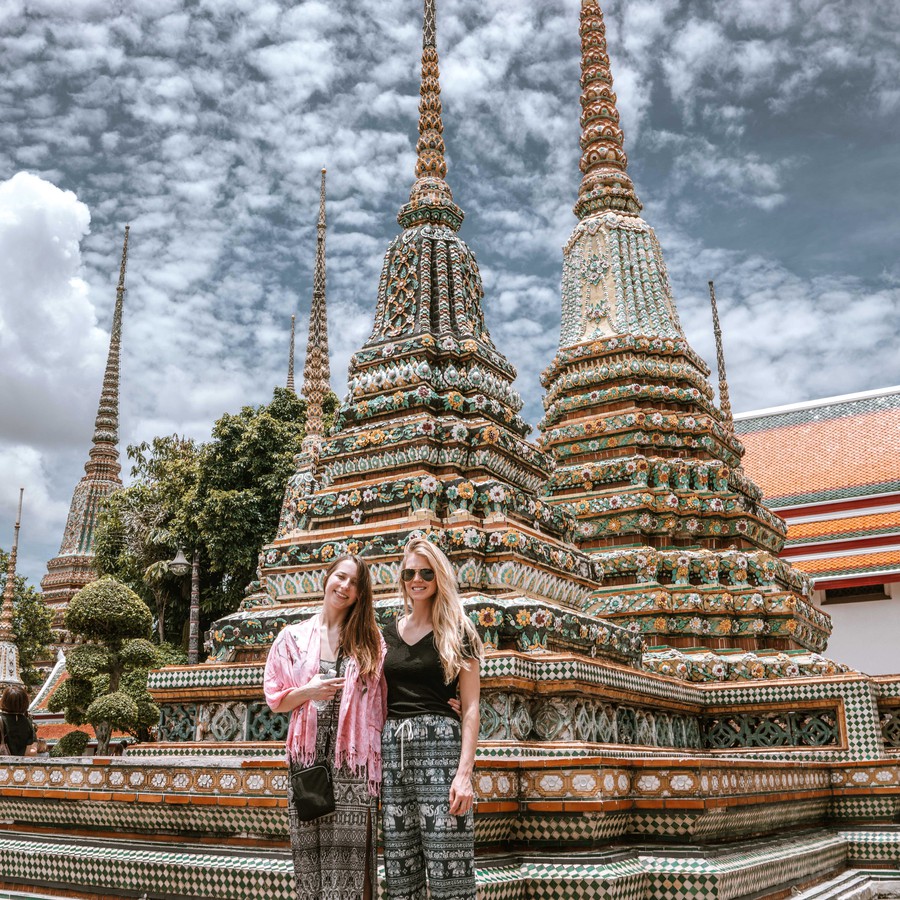 Please note: The above itinerary is subject to change. A confirmed Free & Easy trip itinerary with exact routing will be provided at least 30 days prior to trip departure.
IMPORTANT: If you are doing a combo trip and booking your own flights, please contact us to confirm the start and end point of your trip.
What's included?
Accommodation

Accommodation for the duration of your Free & Easy experience

Transportation

All group travel between destinations
If you are doing multiple trips, all travel & accommodations between combo trips is included in the price listed
Return international flights and airport transfers*** (No surprise extra flight surcharges)

***Land Package prices do not include your international flight, airport taxes or transfers

Leaders

Knowledgeable and fun Free & Easy leaders
17 years of trip leading experience
No commissions or gratuities required or accepted... ever!
Preparations guidebook
Trip Experience guidebook

Meals: Thailand (FMP)

Authentic Thai Style Welcome Dinner

Activities: Thailand (FMP)

Tuk Tuk Ride
Party on Famous Khoa San Rd
Beach Olympics
FnEZ Scavenger Hunt
Fire Show
Full Moon Party

Optional Activities: Thailand (FMP)

Yoga
Cooking class
Scuba Diving
Muay Thai fights
and so much more! If you're interested in something that isn't on the list just ask us and if it's possible we will find you some options. We are here to try and help you find your ideal trip!

Not Included

All meals and drinks (except those mentioned above)
Activities outside of the ones listed above (optional activities are not included)
Any Visa or Visa fees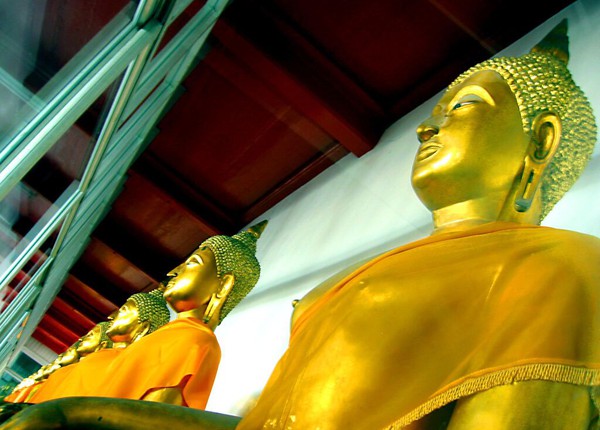 Wat Pho Temple Tour *
Enjoy the chance to explore Wat Pho alongside a knowledgeable local guide for a peek inside ancient and modern Thai culture. This Buddhist temple complex located in Bangkok is one of city's oldest temples, having been established before Bangkok itself. It houses over 1000 Buddha images, making it the largest collection of Buddha relics in all of Thailand. This includes the statue that Wat Pho is most famous for: an enormous 49 meter-long golden statue of a Reclining Buddha. The Buddha's feet alone are 3 meters high. It is probably one of the grandest sites you will behold in all of the city. On an interesting side note, Wat Pho is also known as the birthplace of traditional Thai massage, which is still taught and practiced at the temple. If you have the time, ask your guide to tell you Bangkok's real name…it's the longest city name on Earth! *****Please note: Not included on the following trips: A Backpackers Dream and The World's Greatest Waterfight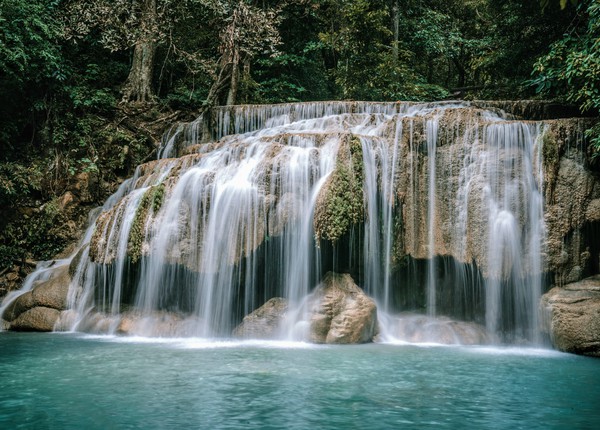 Erawan Falls
Erawan Falls are one of the must-dos in Kanchanaburi. Named after a three-headed white elephant in Hindu mythology, this 7-layer waterfall is as beautiful as it is fun.
You can get an all-natural fish pedicure (just dip your feet in!), slide down natural rock slides, or just go for a swim! It's an amazing day trip that Free & Easy is super pumped to offer!
Join us, and your new travel family, on an amazing day of chasing waterfalls and soaking it all in. Plus, you'll get some awesome pictures! This place is so gorgeous you'll hardly remember to quit staring and take a picture!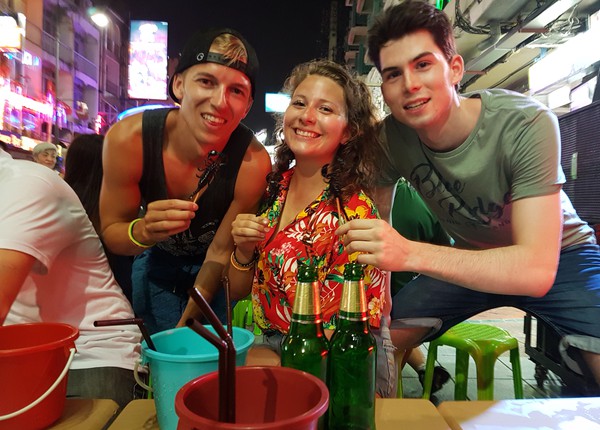 Have One Night in Bangkok
There are a lot of incredible cities in the world, but there is only one Bangkok. The main jumping point for virtually every person traveling through Southeast Asia, Bangkok is full of people from all over the world and there is something for everyone in this massive, colourful city.
And the temples, markets and shopping are sure all nice and dandy, but most "memories" that come from Bangkok are created after you have that first Chang beer or Sangsom bucket set, because after that really anything is possible!
We won't get into the details of what all happens in Bangkok because everyone will have their own story to tell after a night of partying in a city filled with all-night clubs, street-side bucket stands and essentially an adult "playground" everywhere you look. It's a common feeling to wake up in Bangkok, have no idea what time it is and try to figure out if what you remember happening the night before was a dream or if it really did all happen!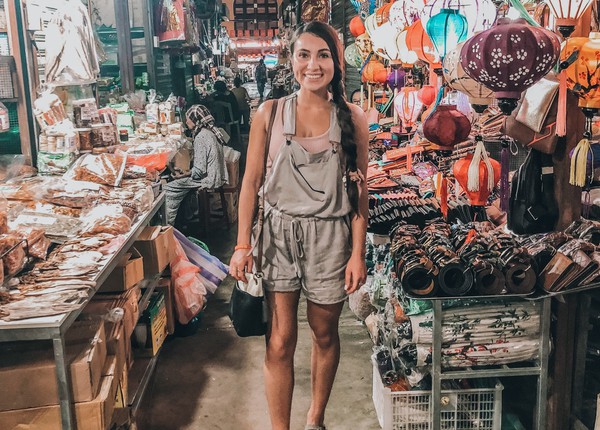 Buy Everything in Bangkok
A trip to Thailand is not complete without a day spent shopping in Bangkok. Whether male, female, or a bit of both, there's something for everybody in this crazy city! From the infamous street markets to the luxurious malls to the seemingly infinite amount of random market stalls, you can literally buy everything in Bangkok!
Get right into it and sift through boxes of knock-off designer jeans, check out the funky tee's created by local artists, find piles and piles of rad shoes. Hit the electronics and find every movie ever made or cheap cellphones, computer software and old video games. Peruse the knick-knacks and score samurai swords, unique art, Buddha carvings, and homemade jewellery.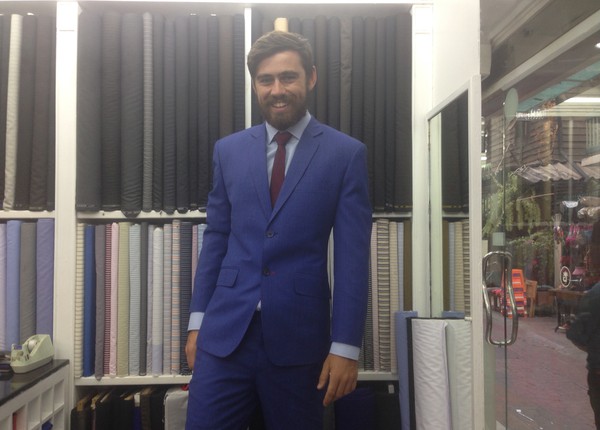 Get Any Outfit You Can Imagine Tailor-made
For most travelers, shopping at home is an expensive and (for some) inconvenient chore, as we must troll through stores, malls, websites and our friends' closets in search of clothes that fit us properly and match our style. If only we could just go see some kind of person who makes clothes specifically for our size and preference… like a tailor?
Having your clothes tailor-made is something we shrug off as something only for the rich and people interested in suits and dresses, but in many parts of the world tailors are still very prevalent and surprisingly affordable - and there is perhaps no place where this is truer than in Southeast Asia.
Bangkok in Thailand is famous for its many suit and dress tailors offering great deals on a virtually infinite list of outfits. Likely the only place better than Bangkok is in the beautiful ancient capital of Hoi An in Vietnam, where you can find very cheap and very good tailors that make both western and traditional Vietnamese clothing.
And we mean they'll make you anything: suits, dresses, jeans, shoes, jackets and with any material from high-quality silk to denim to leather. It's a dream come true for clothes lovers and an easy and cheap solution for those that detest shopping!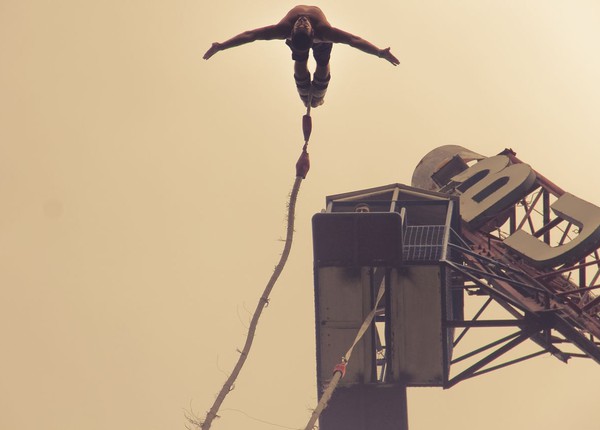 Go Bungee Jumping
Bungee Jumping is one of those activities we all imagine we'll do once in our lives, but it's usually when people are traveling that they do it for the first time. Maybe it's because they don't give themselves the time at home or maybe it's because people feel a little more courageous away from home or maybe it's just a matter of "if not now, then when?"
You're standing at the edge, staring out into the distance and feeling the fear build up inside you and then you finally leap off the edge and get a huge adrenaline rush as you fly straight down! It's quite a mental trip when you see the earth approaching so fast and your brain is telling you that you're about to die, but then you stop and go flying back up into the air as if you've just been reborn! If you've even got a slight urge to try it out then take the leap, you won't regret it!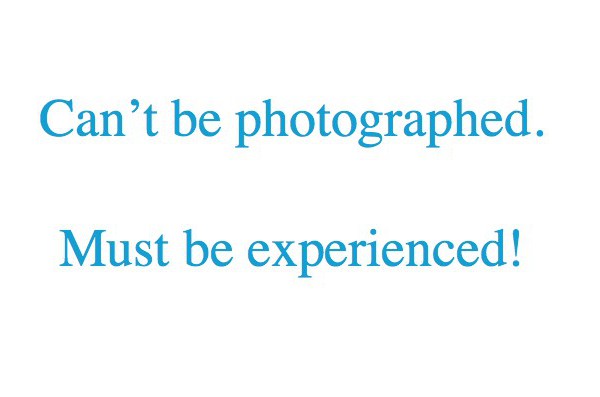 Swim Through Phosphorescence
Phosphorescence (or bioluminescence) is the emission of light created by a variety of tiny, almost microscopic creatures as a defense mechanism. Perhaps the most fascinating display of this phenomenon takes place in the ocean when thousands of bioluminescent plankton scintillate a beautiful blue-green glow that brightens as the plankton are agitated.
They can be stimulated by anything from crashing waves to moving boats or from people playing in the water! This opportunity to feel like you're creating magic occurs at times in almost every country we travel to and sometimes the plankton arrive in a magnificent density, creating some of the most unforgettable nights on our trips – most notably in Lao Liang and Koh Ang Thong in Thailand, but also along the Pacific Coast of Central America.
So just because the sun has set doesn't always mean the fun in the water is over! Always be sure to take a few steps into shore and check if you may have the opportunity to swim through phosphorescence because it's one of the most fun and beautiful experiences you may ever have!