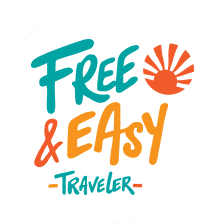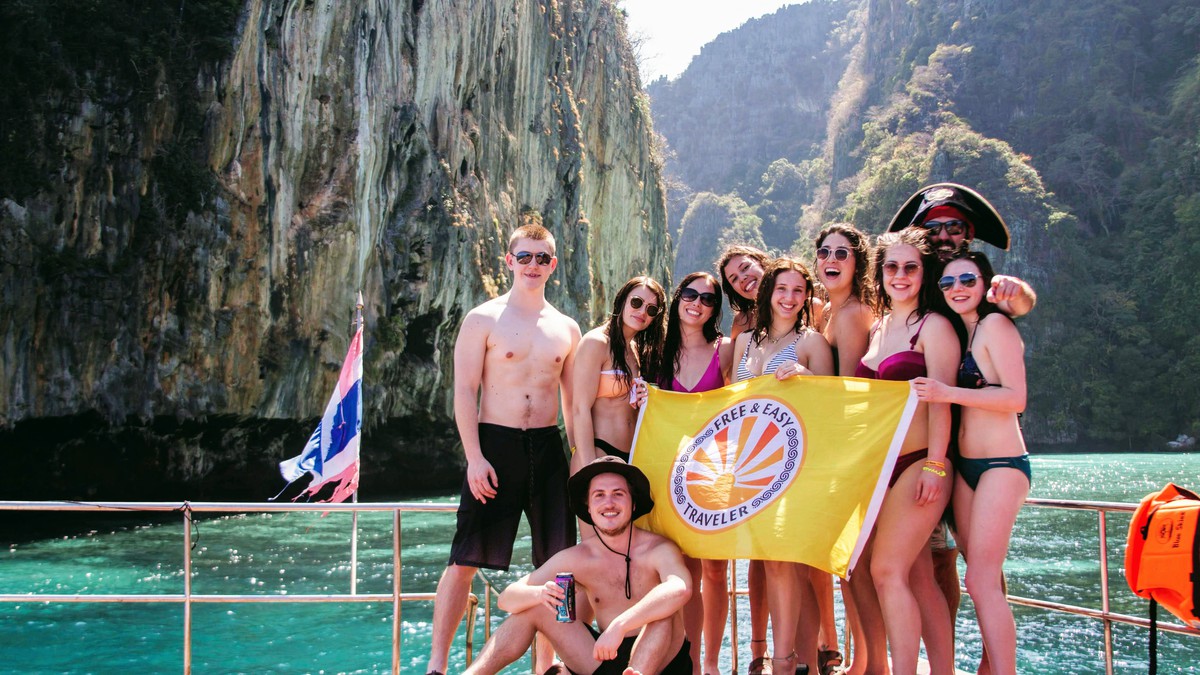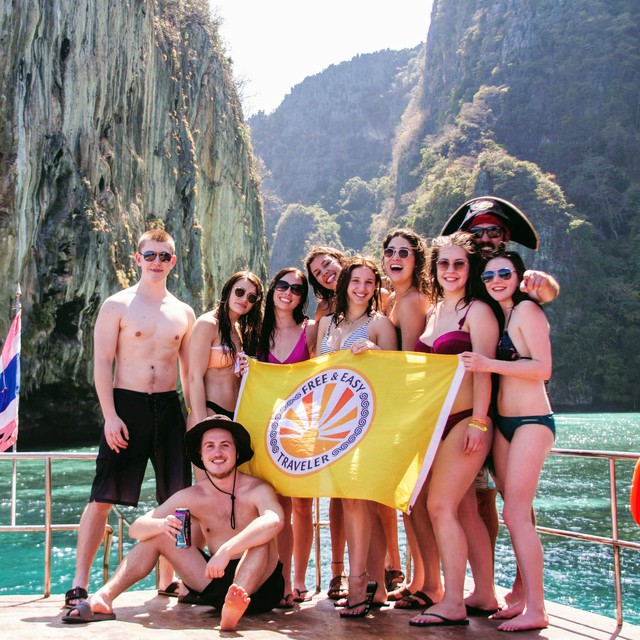 South Thailand
Southern Thailand Trip: 10 Days
A Taste of Paradise
Heavenly white-sand beaches, tropical weather, and legendary parties await you. Taking you to the best spots, our 10-day Southern Thailand trips will blow your mind.
Live it up in Bangkok, travel to the southern islands of Koh Phi Phi and Railay, and venture into the jungle and spend a night at a lake house floating in the middle of Khao Sok National Park.
From the Buddhist culture to its unrivaled cuisine to the characteristic smile of the locals, every last second spent in Thailand is one to remember!

I had high expectations for this tour because I had friends that took it and raved about it, and my expectations were exceeded! I had so much fun and I can't wait to take another Free & Easy tour.

- Chelsea, May 2018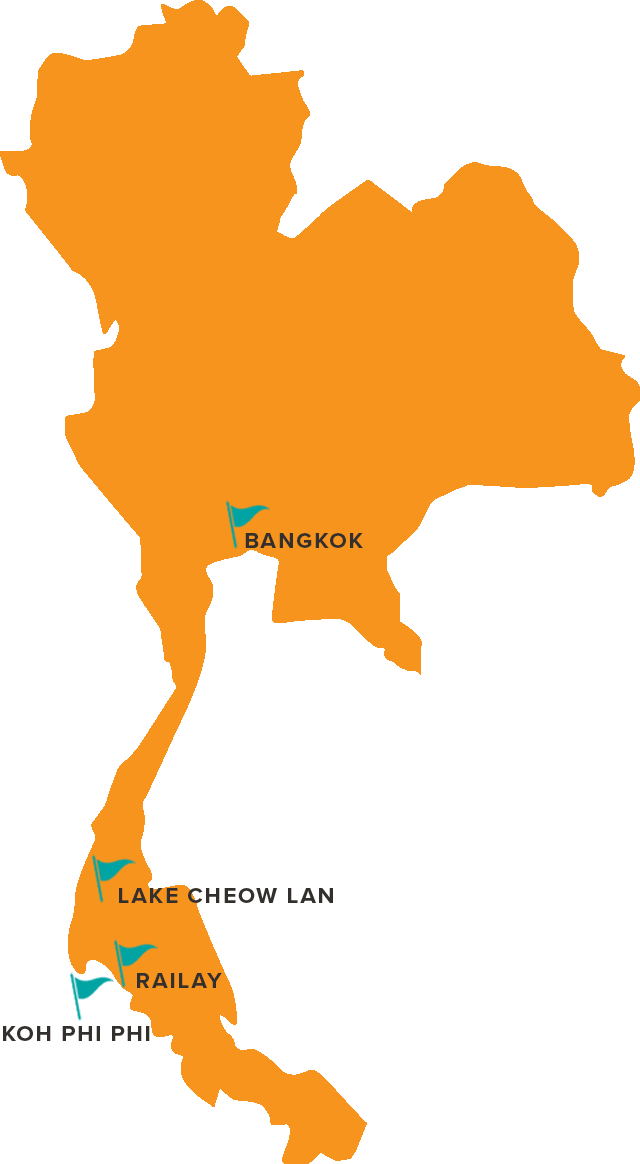 Itinerary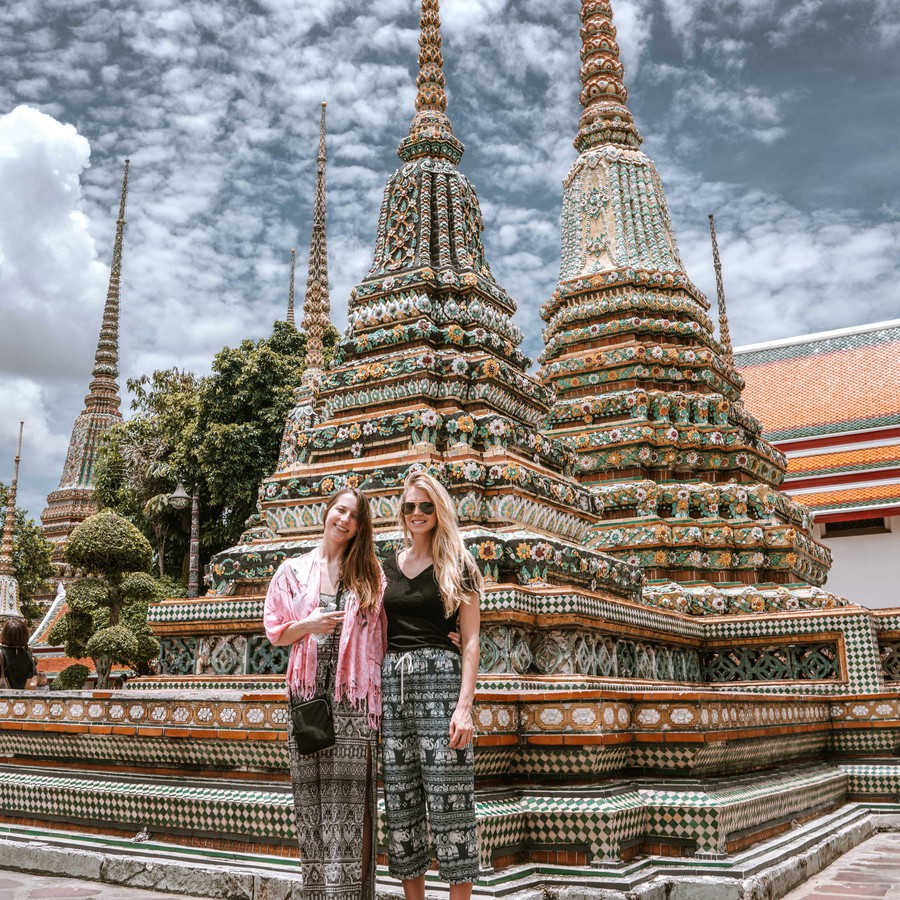 Please note: The above itinerary is subject to change. A confirmed Free & Easy trip itinerary with exact routing will be provided at least 30 days prior to trip departure.
IMPORTANT: If you are doing a combo trip and booking your own flights, please contact us to confirm the start and end point of your trip.
What's included?
The Free & Easy Commitment

We strive to ensure everyone who wants to travel has the opportunity to have the most epic experience ever. Free & Easy delivers awe-inspiring travel experiences and creates lifelong connections between incredible people + incredible places.

See below for more details about what else is included in this amazing adventure.

Included Experiences: Thailand 10 South

Bangkok Temple Tour
Party on Famous Khao San Rd
Phi Phi Island/Maya Bay Sunset Boat Trip (incl. dinner, kayaking, snorkelling, and National Park Fee)
Overnight Rainforest Lake Trip
Kayaking while at the the lakehouse
Long Tail Boat Ride in Khao Sok National Park
Cave Hike w/ Local Guide
Free & Easy sponsored beach cleanup
Fire Show
All meals on the Overnight Rainforest Lake Trip
Authentic Thai Style Welcome Dinner
All Free & Easy travelers will have access to our industry leading app to help manage your trip. This provides pre-trip planning advice, itinerary management, activity suggestions for free time, maps, chat support and more!

Accommodation: Thailand 10 South

All accommodations - We send our trip planners to each of our destinations so they can do on the ground, research. Checking for the best location, comfort and vibe that we can get for our budget while also supporting local businesses.

Click here for a photo album of samples of where we normally stay.*

*things can change but this is the current set up for this trip and we aim for this standard if we have to make changes.

Transportation: Thailand 10 South

All transport - This trip will find us takin private A/C vans, tuk tuks, A/C train, ferries, long tail boats and a domestic flight.

Leaders: Thailand 10 South

1-2 group leaders - Our staff is consistently ranked as the #1 reason that people loved their trips. We meet most of our leaders while traveling with them so we can see in person if they are fun yet responsible, cool yet down to earth, professional yet laid back. This creates that perfect mix which makes our "tours" feel like a group of friends.

Optional Experiences: Thailand 10 South

Bar Hopping
Yoga
Scuba diving
Rock climbing
Cooking class
Muay Thai Lessons
Viewpoint hike
And so much more! If you're interested in something that isn't on the list just ask us, if it's possible we will find you some options. We are here to try and help you find your ideal trip!

Not Included

All meals and drinks (except those mentioned above)
Activities outside of the ones listed above (optional activities are not included)
Any Visa or Visa fees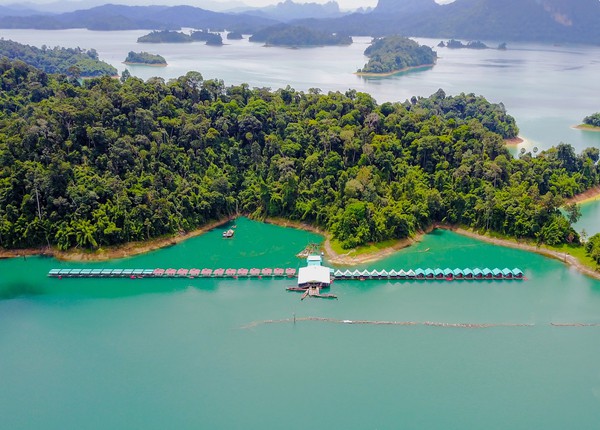 Spend a Night in a Floating Bungalow
Drive deep into the jungle in Thailand's Khao Sok National Park to arrive at the shores of Cheow Lan Lake. Tall limestone rocks jut out around the lake, massive trees poke through the surface and all around you is a lush jungle breathing with life. Your journey doesn't end there though!
Hop onto a long tail boat and enjoy one of the most picturesque boat rides in existence as you go deep into the lake to arrive at your home for the night – cozy and rustic bungalows floating right on the lake! Here you'll be greeted by an amazing Thai family who will take care of everything during your stay at the lake house.
Hike to caves, kayak to coves, swim in the clear freshwater or just lay back and enjoy the serenity of one of the most beautiful places we know of! After the sun falls, treat yourself to an array of adult beverages and dance the night away with your group and the Thai people living there who certainly know how to have a good time!
It'll be hard to be hungover when you wake up to the calls of gibbons monkeys and tropical birds, then poke your head out the door to see the sun rising over the lake. You can go ahead and pinch yourself at this point because no matter how many times we experience this it's hard to believe it's real.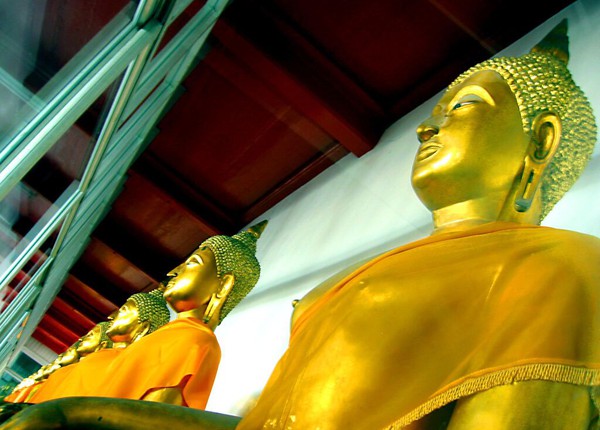 Wat Pho Temple Tour *
Enjoy the chance to explore Wat Pho alongside a knowledgeable local guide for a peek inside ancient and modern Thai culture. This Buddhist temple complex located in Bangkok is one of city's oldest temples, having been established before Bangkok itself. It houses over 1000 Buddha images, making it the largest collection of Buddha relics in all of Thailand. This includes the statue that Wat Pho is most famous for: an enormous 49 meter-long golden statue of a Reclining Buddha. The Buddha's feet alone are 3 meters high. It is probably one of the grandest sites you will behold in all of the city. On an interesting side note, Wat Pho is also known as the birthplace of traditional Thai massage, which is still taught and practiced at the temple. If you have the time, ask your guide to tell you Bangkok's real name…it's the longest city name on Earth! *****Please note: Not included on the following trips: A Backpackers Dream and The World's Greatest Waterfight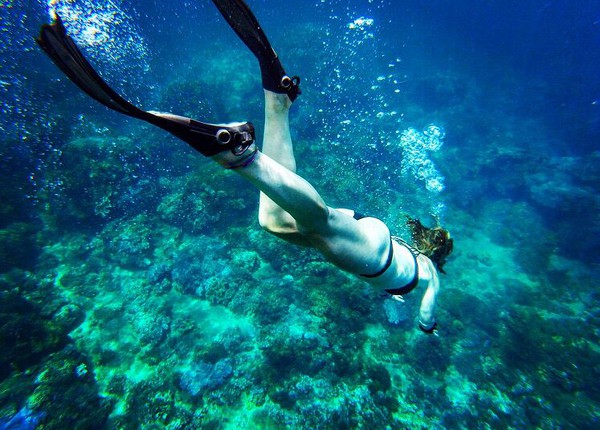 Go Snorkelling
Snorkelling is a great alternative for those looking to save a little money on diving costs or those who can't dive for medical reasons. Floating along the surface of the water at any one of our incredible destinations around the world will give you a peek into a magical underwater world.
More confident snorkelers can even dive down to get a closer look at the fauna and flora found in our oceans. From glittering fish, to colourful anemone, and super cool sharks (don't worry, the non-carnivorous ones), snorkelling is a wonderful experience for the non-diver. So snap on a mask and grab your flippers (and DON'T inhale while diving) and you'll be all set for a little adventure under the sea.
Phi Phi Boat Trip
Join us on an epic boat trip that encompasses all of the reasons you came to Thailand: the culture and history, the amazing landscapes, and drinking on a boat! You'll join your fellow travellers on an epic day sailing around Koh Phi Phi in the Andaman Sea!
We depart in the early afternoon on a boat equipped with snorkel gear, tubes, and a large shady area. Bring some cold beverages for the ride and sit back, relax, and enjoy the trip! There is a Thai guide on the boat to deliver some awesome history of the area and Thailand in general.
We'll make a stop to go snorkelling among the giant sandstone cliffs. Snorkelling not your thing? Try kayaking or simply lounging in a tube. We'll end the day with a simple Thai meal while floating back to Koh Phi Phi as the sun sets and another day in paradise comes to an end.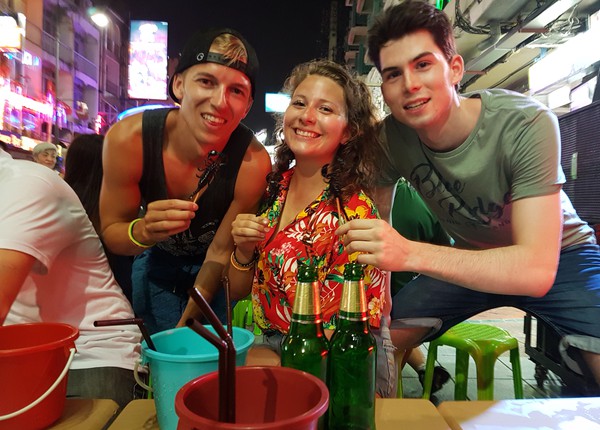 Have One Night in Bangkok
There are a lot of incredible cities in the world, but there is only one Bangkok. The main jumping point for virtually every person traveling through Southeast Asia, Bangkok is full of people from all over the world and there is something for everyone in this massive, colourful city.
And the temples, markets and shopping are sure all nice and dandy, but most "memories" that come from Bangkok are created after you have that first Chang beer or Sangsom bucket set, because after that really anything is possible!
We won't get into the details of what all happens in Bangkok because everyone will have their own story to tell after a night of partying in a city filled with all-night clubs, street-side bucket stands and essentially an adult "playground" everywhere you look. It's a common feeling to wake up in Bangkok, have no idea what time it is and try to figure out if what you remember happening the night before was a dream or if it really did all happen!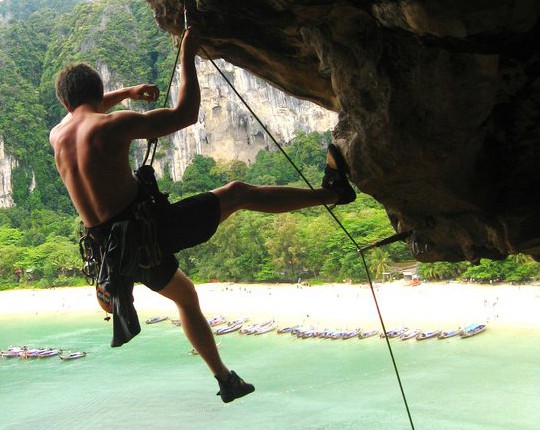 Rock Climb Up a Natural Cliff Face
Most of us have tried rock climbing, but it's usually been in a sweaty gym with an artificial climbing wall that is trying to mimic the outdoor experience of rock climbing. When you climb a natural cliff face, your body seems to know it and you almost feel like you're tapping into a core part of your humanity that is telling you that somehow, someway you have to scale this cliff - and most people surprise themselves with their ability to do it.
One of the best parts of outdoor rock climbing is that it's generally done in some of the most surreal places on this planet so when you get to the top of your climb you're rewarded with a breathtaking view. From Thailand to Peru and beyond, get your climb on in some of the most beautiful settings for an incredible experience and tremendous feeling of personal accomplishment.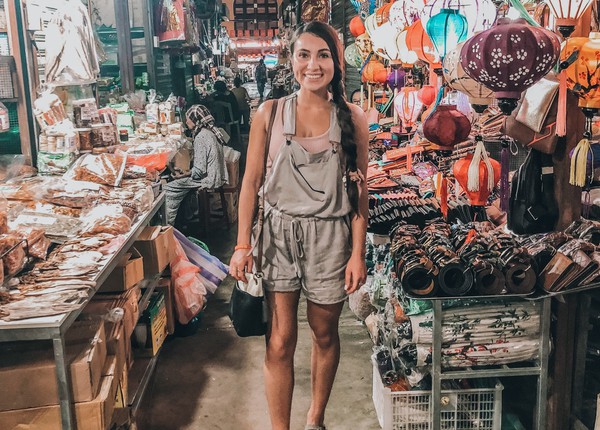 Buy Everything in Bangkok
A trip to Thailand is not complete without a day spent shopping in Bangkok. Whether male, female, or a bit of both, there's something for everybody in this crazy city! From the infamous street markets to the luxurious malls to the seemingly infinite amount of random market stalls, you can literally buy everything in Bangkok!
Get right into it and sift through boxes of knock-off designer jeans, check out the funky tee's created by local artists, find piles and piles of rad shoes. Hit the electronics and find every movie ever made or cheap cellphones, computer software and old video games. Peruse the knick-knacks and score samurai swords, unique art, Buddha carvings, and homemade jewellery.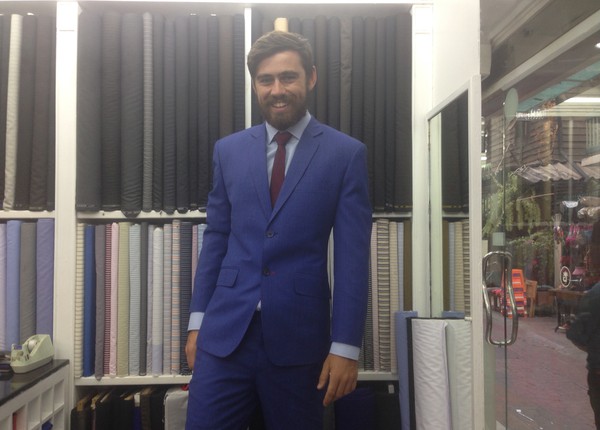 Get Any Outfit You Can Imagine Tailor-made
For most travelers, shopping at home is an expensive and (for some) inconvenient chore, as we must troll through stores, malls, websites and our friends' closets in search of clothes that fit us properly and match our style. If only we could just go see some kind of person who makes clothes specifically for our size and preference… like a tailor?
Having your clothes tailor-made is something we shrug off as something only for the rich and people interested in suits and dresses, but in many parts of the world tailors are still very prevalent and surprisingly affordable - and there is perhaps no place where this is truer than in Southeast Asia.
Bangkok in Thailand is famous for its many suit and dress tailors offering great deals on a virtually infinite list of outfits. Likely the only place better than Bangkok is in the beautiful ancient capital of Hoi An in Vietnam, where you can find very cheap and very good tailors that make both western and traditional Vietnamese clothing.
And we mean they'll make you anything: suits, dresses, jeans, shoes, jackets and with any material from high-quality silk to denim to leather. It's a dream come true for clothes lovers and an easy and cheap solution for those that detest shopping!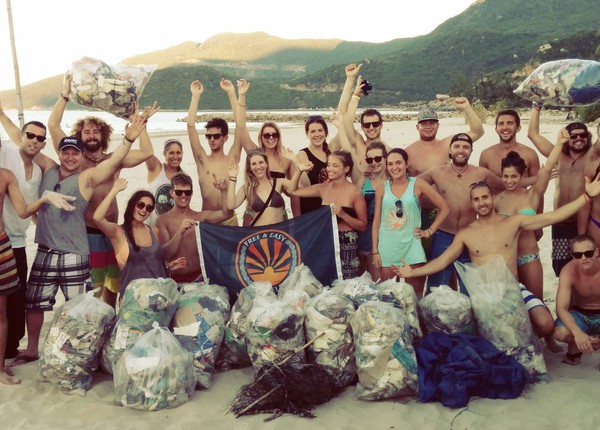 Beach Cleanup
Our beach cleanups are a great way to do good, feel good, and get some sunshine all at the same time. With thousands of tons of trash swirling around the oceans, the unfortunate reality is that some of it washes up onto the beautiful beaches we fall in love with around the world. So we thought 'Let's do something about this!'. Whenever possible, we grab some garbage bags and take it upon ourselves to leave the places we visit better than we found them. A beach cleanup day is always one of the most fun and rewarding days on a trip.
** We will always strive to make a beach cleanup happen, but sometimes due to time constraints we may not be able to. Or maybe the beaches are just already clean in that region!**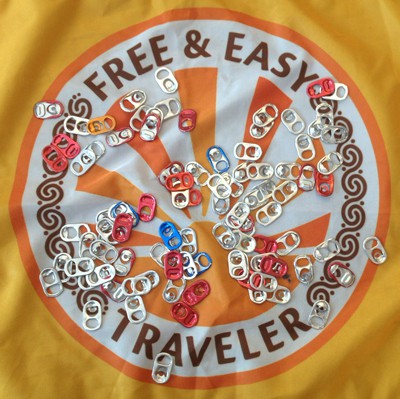 Party for Prosthetics
Party for Prosthetics is one of our newest initiatives that turns the aluminum tabs from beer cans into prosthetic limbs for people in need, such as those who have been dismembered from injury, disease, or landmines. We have partnered with a Thai organization called The Prostheses Foundation that has been doing this since the early 90's - when we realized how much we could help out just by saving our beer tabs we thought this was a real win-win!
Through a combination of our beach bevvies, travel day sippy cups, and all-night ragers, we have been known to put away a few beers from time to time, and now we are turning these parties into prosthetic limbs! This initiative adds even more zest to each cheers, shotgun, and beer bong, and fills us with a sense of pride as we gather the tabs over the course of each trip and see buckets fill with valuable little pieces of metal that are going to change someone's life!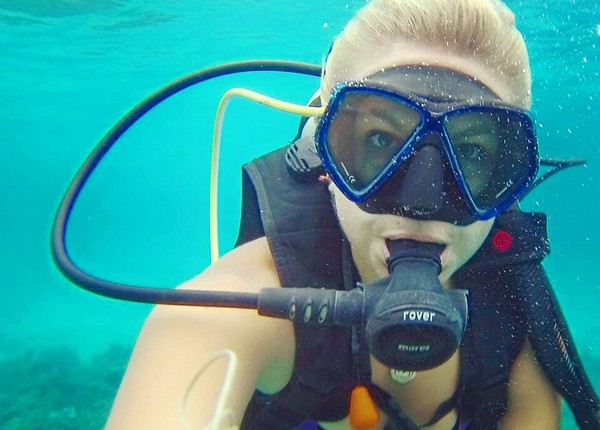 Go Scuba Diving
Life under the water is silent and peaceful, everything is flowing and moving in a way that we land creatures are unaccustomed to. Despite all of our high tech equipment, we are extremely out of our element in the water and it is a humbling experience to watch and observe what life is like under the sea.
Fish come in all shapes, sizes, and colours and move together in a harmonious unison through beautiful coral and twisted sunlight. On our trips, scuba diving is a huge activity as we travel to countries that offer some of the best diving in the world. The Caribbean in Central America possesses the second largest reef in the world, the warm waters of the South Pacific in Southeast Asia are home to the largest diversity of sea-life in the world and the seas of the Mediterranean are full of rich history and beauty.
There is a whole universe under the ocean and experiencing what it's like to be in it is a must at least once in your life!