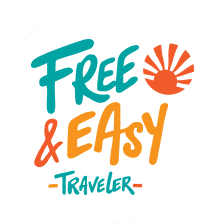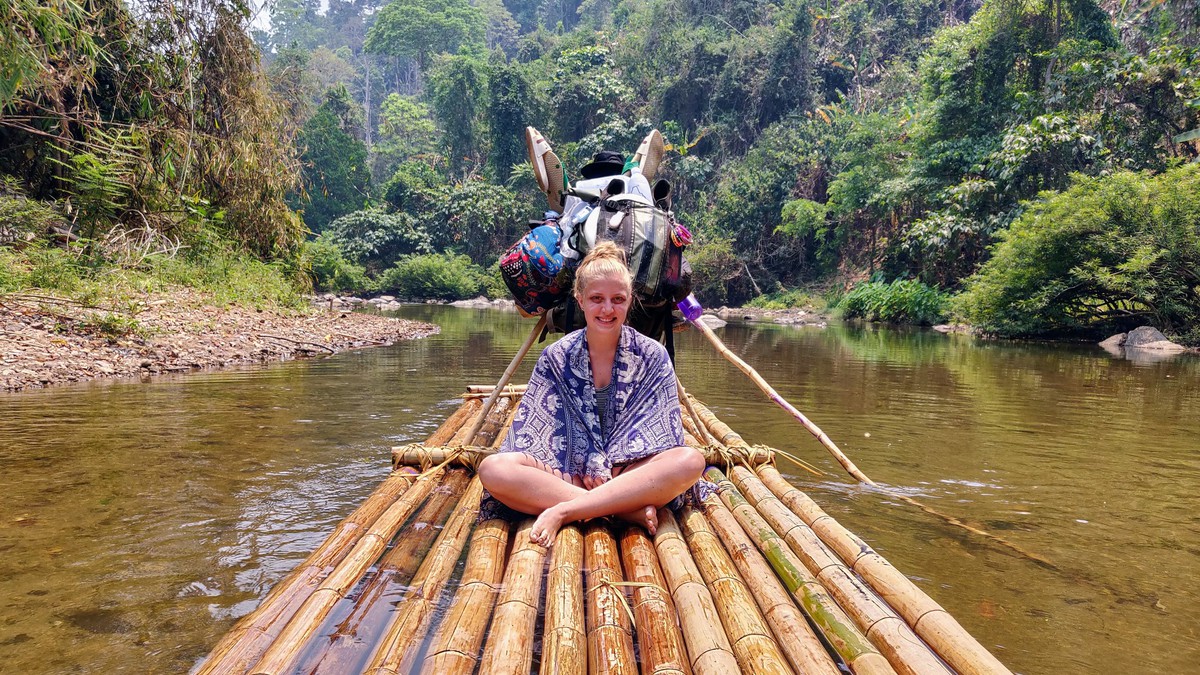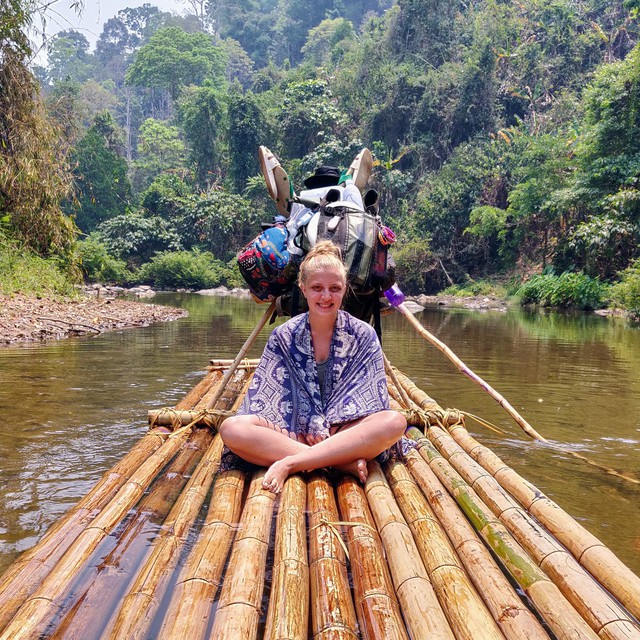 North Thailand
Northern Thailand Trip: 10 Days
Temples, Tribes & Tuk Tuks
While most travelers heading to Thailand only dream of white sand beaches, little do they know that the north is the cultural heart of the country, filled to the brim with towns, jungles, rivers, and temples that will blow your mind. Each day, you'll wake up to something new and uniquely Thailand.
From the Buddhist culture to the unrivaled flavors of Thai cuisine and the characteristic smile of its locals, every last second spent in Thailand is one to remember! If you want, this trip can keep your daily itinerary filled to the brim with a seemingly endless amount of incredible things to see and do.
There are the incredible night markets of Chiang Mai, bamboo rafting down a river in the deep jungle, swimming and relaxing at a secluded floating lake house, having an insane night on Khao San Road in Bangkok…you will be experiencing so much more than could ever be described.
Just finishing my 10-day Northern Thailand trip and it was quite possibly one of the best weeks of my life! Jungles, elephants, and a pretty spectacular lake house. definitely a once in a lifetime kind of trip. what a rush!

- Bianca, June 2018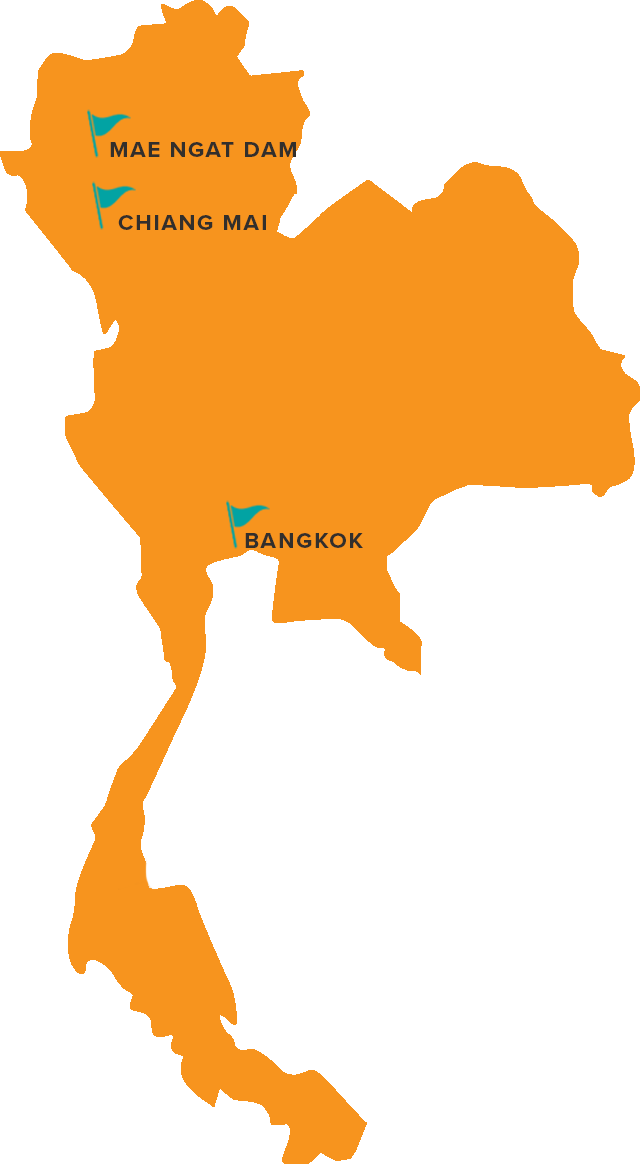 Itinerary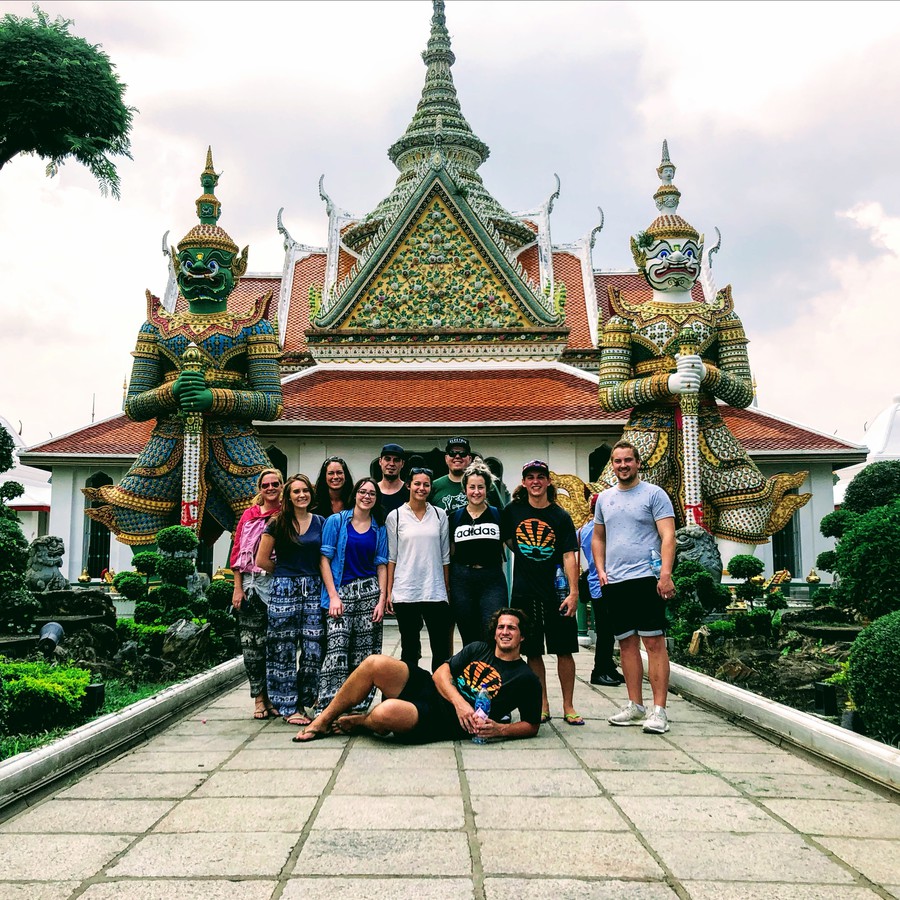 Please note: The above itinerary is subject to change. A confirmed Free & Easy trip itinerary with exact routing will be provided at least 30 days prior to trip departure.
IMPORTANT: If you are doing a combo trip and booking your own flights, please contact us to confirm the start and end point of your trip.
What's included?
The Free & Easy Commitment

We strive to ensure everyone who wants to travel has the opportunity to have the most epic experience ever. Free & Easy delivers awe-inspiring travel experiences and creates lifelong connections between incredible people + incredible places.

See below for more details about what else is included in this amazing adventure.

Included Experiences: Thailand 10 North

3-day Northern Thailand Hill Tribe Trek (ethical elephant encounter, bamboo rafting)
Lake House Trip (incl. kayaks, Jungle Temple, and caving)
Transportation to a day of activities in Chiang Mai
Wat Arun Temple Tour
Doi Suthep Temple Tour
Party on Famous Khoa San Rd
Traditional family style Thai dinner
All meals included on the 3-day Nothern Thailand Hill Tribe Trek
All meals included on the the Lake House trip
All Free & Easy travelers will have access to our industry leading app to help manage your trip. This provides pre-trip planning advice, itinerary management, activity suggestions for free time, maps, chat support and more!

Accommodation: Thailand 10 North

All accommodations - We send our trip planners to each of our destinations so they can do on the ground, research. Checking for the best location, comfort and vibe that we can get for our budget while also supporting local businesses.

Click here for a photo album of samples of where we normally stay.*

*things can change but this is the current set up for this trip and we aim for this standard if we have to make changes.

Transportation: Thailand 10 North

All transport - This trip will find us taking private A/C vans, train, songtaews, tuk tuks and a domestic flight.

Leaders: Thailand 10 North

1-2 group leaders - Our staff is consistently ranked as the #1 reason that people loved their trips. We meet most of our leaders while traveling with them so we can see in person if they are fun yet responsible, cool yet down to earth, professional yet laid back. This creates that perfect mix which makes our "tours" feel like a group of friends.

Optional Experiences: Thailand 10 North

Bungee Jumping
Cooking Class
Ziplining
Muay Thai Fight
Water park
Cabaret Show
Chiang Mai Bar Hopping
Live music
and so much more! If you're interested in something that isn't on the list just ask us, if it's possible we will find you some options. We are here to try and help you find your ideal trip!

Not Included

All meals and drinks (except those mentioned above)
Activities outside of the ones listed above (optional activities are not included)
Any Visa or Visa fees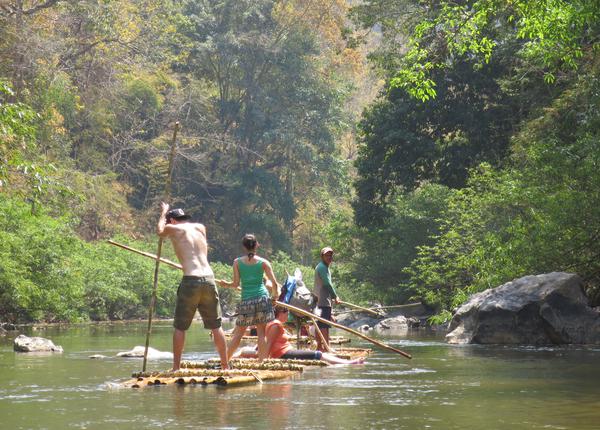 Ride a Bamboo Raft Down a River
Let us paint this scene out for you: You've just spent all day hiking through thick jungle and vegetation deep in the wilderness of Northern Thailand. You're almost ready to call it a day but there are still several miles between you and the nearest village and there's a massive river blocking your crossing.
There's bamboo everywhere so you pull out a machete, chop down some bamboo canes and tie them all together. Not only do you now have a raft, but all of your friends are also there and a beer cooler, too!
Your jungle trek has now become a raft party - you've still got to navigate the rapids but taking turns with that task while sipping some beers as the sun sets behind you will be a perfect way to end the day. And don't worry, you'll have plenty of help building a proper and safe raft!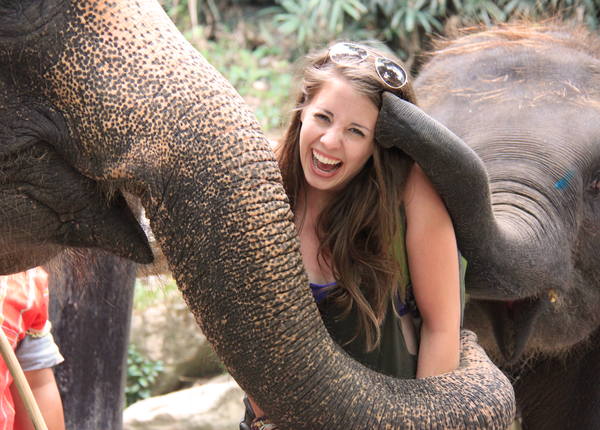 Meet an Elephant
*This is an ETHICAL ELEPHANT EXPERIENCE* Its giant size and gentle nature make it one of the most powerful, yet loving animals in the world. But because of this, they are often captured in the wild and sold to the logging industry to be worked to death hauling trees through the jungle.
Many organizations have sprung up to rescue elephants from this horrible practice and keep them in protected camps, run by families that afford to keep them fed and healthy, by giving other people the chance to interact with the beautiful animals. Deeply rooted in Thai culture, caring for elephants is extremely sacred; a family that cares for elephants dedicates a great deal of their life to the one elephant entrusted to their care, as they are usually bound to one another for their entire lives.
Getting face to face with an elephant is an incredible experience and one that you'll likely never forget!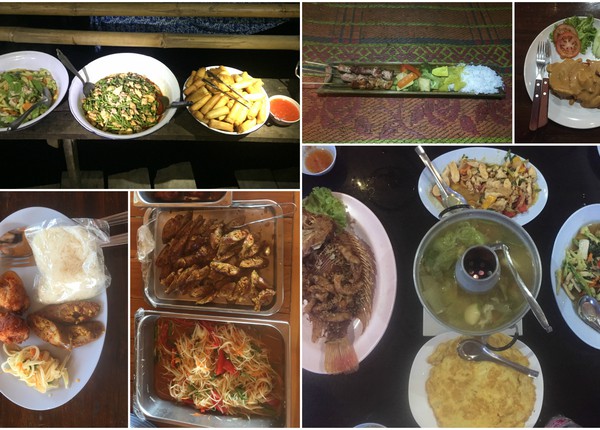 Twelve Tastes of Thailand
Step off the beaten path and into the lush jungle where a meal becomes an experience with 12 authentic, home-cooked Thai meals included in this adventure. Our food journey begins in the villages of the North Thai jungle and continues through to the lakehouse for four days of delicious family-style meals.
Traditionally Thai cuisine is centered on five essential flavors: sour, sweet, salty, bitter, and spicy. Each meal includes a delicious rush of flavor and leaves you wanting more. Once we arrive at the first village our local guides work with the villagers to prepare the homemade meal, and there's always room for an extra set of hands in the kitchen. Later we sit down to this fresh meal overlooking the rice fields and gardens where the food was grown.
Our second day in the jungle is filled with a delicious variety of meals! We start the day with the freshest of eggs, trek to our lunch spot to enjoy endless noodle soup, and finally, for dinner we dive into a meal of meat and veggie skewers with curry, which is presented to us on homemade bamboo plates. What a rush!
After a much-needed digestion break, we head to the campfire and top our night off with some local "Happy Water". The following morning we hop on our bamboo rafts and head for a Pad Thai lunch stop on our way out to the lake house. Our flavour journey doesn't stop there as our taste buds are in for a treat out at the lake.
Some highlights include traditional Chiang Mai sausage with sticky rice, fresh fish, tom yum, and pork chops. Vegetarian? No problem! All of our meals can be adjusted to accommodate a vegetarian diet. Take your taste buds on a flavour rollercoaster in Northern Thailand!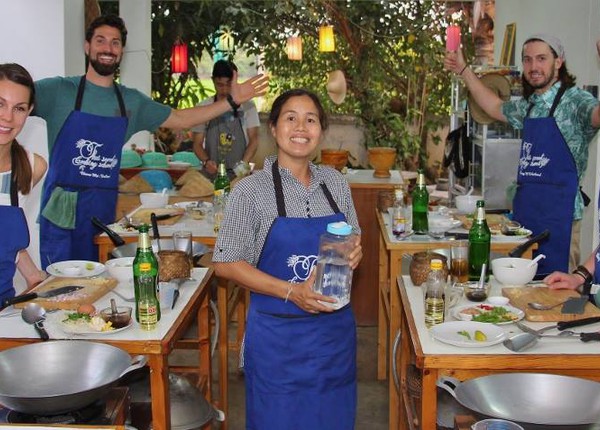 Authentic Thai Cooking Class
This must-do activity in Northern Thailand is a dream come true for any foodie, traveler, or just plain hungry person. Start the day by meeting up with your host at a local market where you will help pick up fresh ingredients among the bustling, laughing Thai people.
Then it's off to your host's home, a beautiful villa with a huge garden where more of your ingredients come from... you know it's going to be good. Even though nothing is pre-made and you are actually preparing every part of the meal, this doesn't feel like work. With nap time included, it's an easy-going day of cooking, tasting, and enjoying with your FnEZ family.
Plus, with 5 meals in total (one of them is desert!) you'll be stuffed, rested, and ready to show off your new skills in the kitchen to your family and friends back home.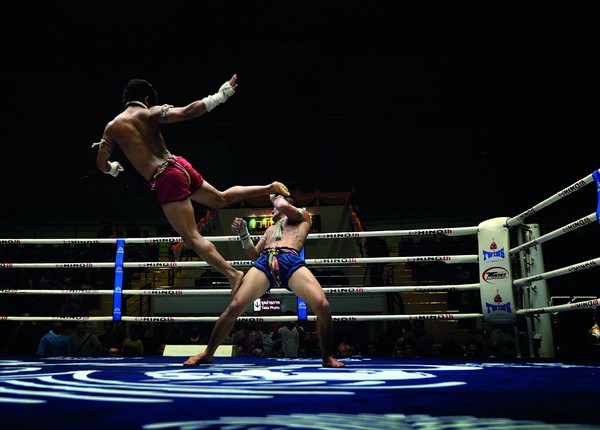 Watch a Traditional Muay Thai Fight
You want authentic? You got it. Grab a cold one, take a seat, and come watch the national sport of Thailand in its hometown: Chiang Mai! With open-air stadiums surrounded by street food, street beers, and a ton of locals, you'll be right in the middle of an ultimate part of Thai Culture.
The Thai People take Muay Thai quite seriously, with events ranging in age from young children to full fledged athletes who have been training all of their life. This is real, intense, amazing stuff that you won't want to miss on your trip to Northern Thailand. Feeling gutsy? Place a bet with a local, or your TFF, and join the scene!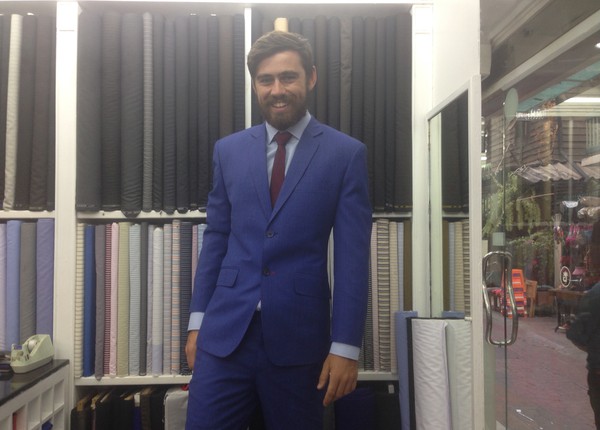 Get Any Outfit You Can Imagine Tailor-made
For most travelers, shopping at home is an expensive and (for some) inconvenient chore, as we must troll through stores, malls, websites and our friends' closets in search of clothes that fit us properly and match our style. If only we could just go see some kind of person who makes clothes specifically for our size and preference… like a tailor?
Having your clothes tailor-made is something we shrug off as something only for the rich and people interested in suits and dresses, but in many parts of the world tailors are still very prevalent and surprisingly affordable - and there is perhaps no place where this is truer than in Southeast Asia.
Bangkok in Thailand is famous for its many suit and dress tailors offering great deals on a virtually infinite list of outfits. Likely the only place better than Bangkok is in the beautiful ancient capital of Hoi An in Vietnam, where you can find very cheap and very good tailors that make both western and traditional Vietnamese clothing.
And we mean they'll make you anything: suits, dresses, jeans, shoes, jackets and with any material from high-quality silk to denim to leather. It's a dream come true for clothes lovers and an easy and cheap solution for those that detest shopping!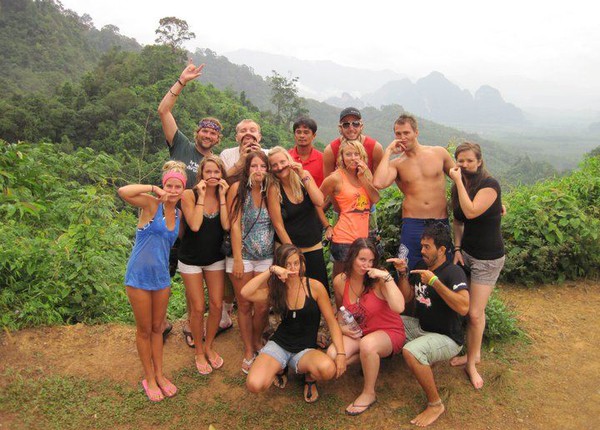 Trek through a Tropical Jungle
Now we don't want to fool you, a jungle is an unforgiving setting to hike through - there is thick vegetation, overwhelming heat, leeches and an untold amount of other creatures lurking around. But there is also an extreme beauty that lies within the power of a tropical jungle, a rainforest is full of life and every square foot is covered in something interesting and unique!
You'll experience true adventure when you trek through a jungle and even if you're tired, dirty and fending off insects when you're doing it, you'll be proud of yourself when you finish! 

On our LTC trip, we go on a 3-day jungle trek in Northern Thailand that includes an amazing array of activities (including ethically interacting with elephants and riding a bamboo raft down a river).
We camp in tribal villages at night - eating with them, seeing how they live and tasting their not-so-delicious-but-potent "happy water" (rice moonshine). We sleep in a massive hut that fits the entire group and each morning we wake up, eat breakfast, shake off the happy water cobwebs and continue on our adventure.
It's an experience that fully encompasses the trials and tribulations of trekking through a tropical jungle - from muddy uphill paths to utopian waterfalls!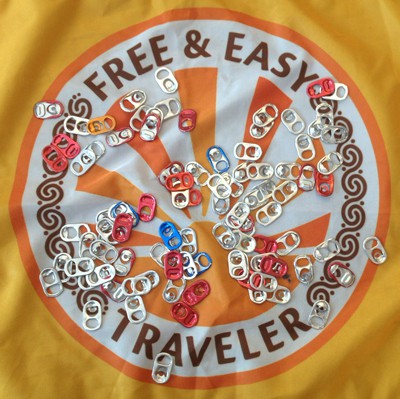 Party for Prosthetics
Party for Prosthetics is one of our newest initiatives that turns the aluminum tabs from beer cans into prosthetic limbs for people in need, such as those who have been dismembered from injury, disease, or landmines. We have partnered with a Thai organization called The Prostheses Foundation that has been doing this since the early 90's - when we realized how much we could help out just by saving our beer tabs we thought this was a real win-win!
Through a combination of our beach bevvies, travel day sippy cups, and all-night ragers, we have been known to put away a few beers from time to time, and now we are turning these parties into prosthetic limbs! This initiative adds even more zest to each cheers, shotgun, and beer bong, and fills us with a sense of pride as we gather the tabs over the course of each trip and see buckets fill with valuable little pieces of metal that are going to change someone's life!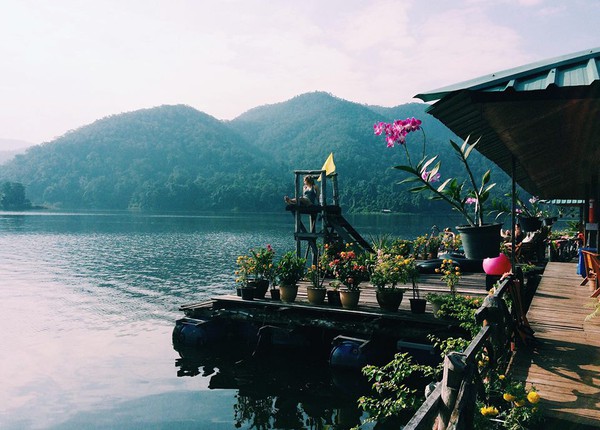 Chill at a Lake House
What better way to end a days-long trek through the jungle than by retreating to a secluded lake house in the middle of the hills of Northern Thailand? Rinse off the jungle muck in the clear freshwater of the lake, crack open a beer (or five), and relax in your own private lake house.
Oh, did we mention that this lake house is also floating in the middle of the lake! We include all meals in this stay so there's no need to even worry about what you're going to eat. With one amazing meal after another served up to you right at the floating lake house, you can spend your days in a cool reclined position or roll into the water for a refreshing swim or hop on a kayak and paddle to an amazing local temple.
It's your place and it's smack dab in the middle of the lake so you can do whatever you damn well please! There's a rule that many of us already know: what happens at the lake stays at the lake!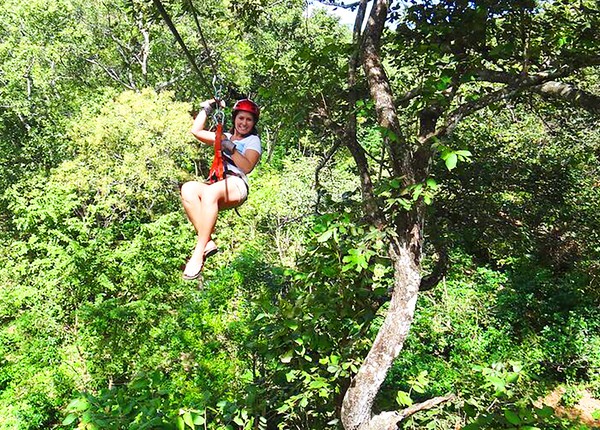 Zip Lining
Experience the rush of adrenaline as you step off the platform, the wind in your face as you begin to speed up, leafy branches whipping by until you burst into a sweeping view of the surrounding landscape…feel like you're flying yet? This is zip lining! It takes you to previously inaccessible parts of the country, from lush rainforests to tangled jungles. As you soar through and above the canopy, you get a bird's eye view of everything around you for miles. While being up high in the sky isn't for the faint of heart, zip lining takes you to a whole new world where you can sit back, relax, and zip along enjoying panoramas you probably couldn't find anywhere else. It's no surprise that when you come upon a group of zip liners there's nothing but smiles and whoops of excitement as they travel from tree to tree and on to new adventures.