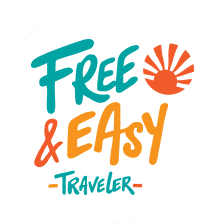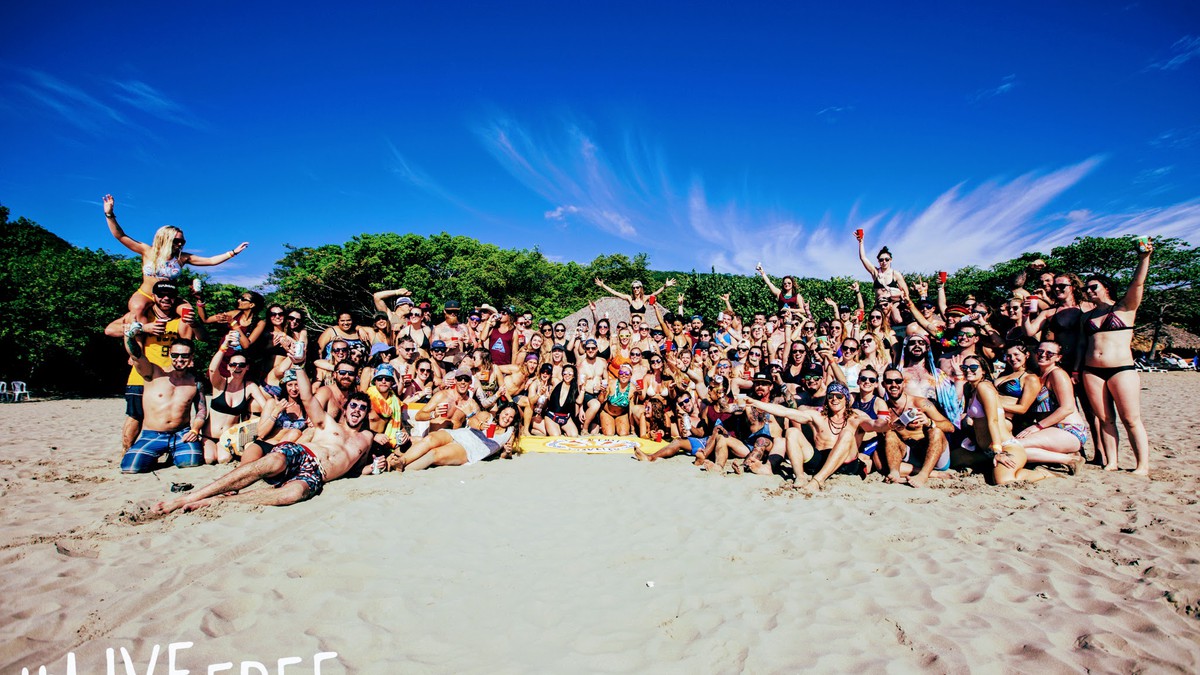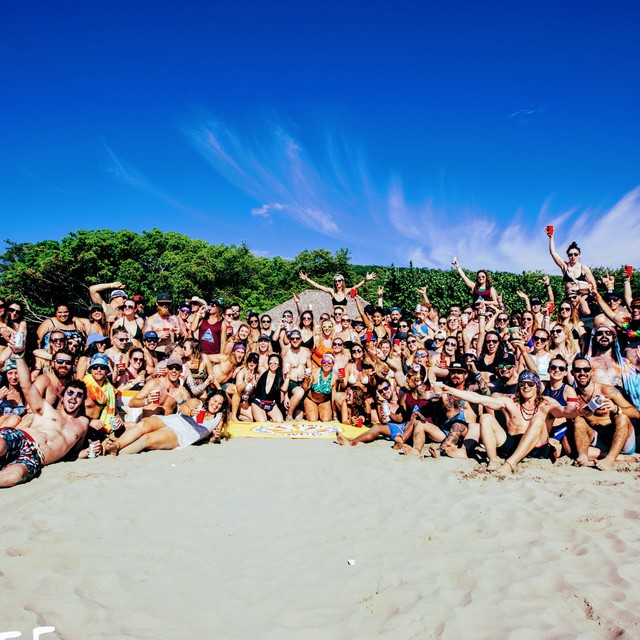 Nicaragua New Year
Nicaragua New Years Trip: 10 Days
The Final Fiesta
Ring in the New Year in classic Free & Easy fashion, with a smooth mixture of epic travel, tropical beaches, and the most unforgettable parties of your life! To kick off the trip, party buses will whisk you straight to the legendary surf town of San Juan del Sur to begin a 4-day fiesta of pool parties, surf sessions, beach days, all-night disco dances and an unspeakable variety of general shenanigans!
After 4-days in San Juan, the FnEZ crew will split up into smaller groups that will kick off the New Year by experiencing the very best of Nicaragua's gorgeous beaches. Spend the rest of the days laying in the sun, surfing, fishing, eating awesome food and soaking up the beautiful lifestyle at off the beaten path spots, as we do on most other FnEZ travel adventures!
To top it all off, each group will get to spend a day sailing Nicaragua's gorgeous pacific coast on a private yacht… can you say booze cruise! This event will sell out, so Register Now to secure your spot and to see a full selection of the trip extensions available to you, including adventures to Costa Rica & Panama!
*NOTE: Each group will have a custom itinerary made up of the epic destinations listed below, no group will visit every destination but rather will have the time to enjoy at least 3.
"To this day The Final Fiesta was the best NYE I've had! The trip was a marathon but such a blast."

- Kayne, November 2019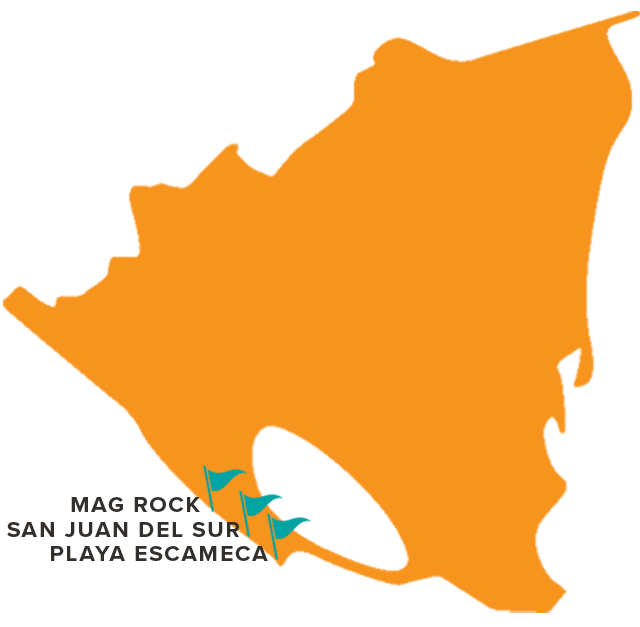 Itinerary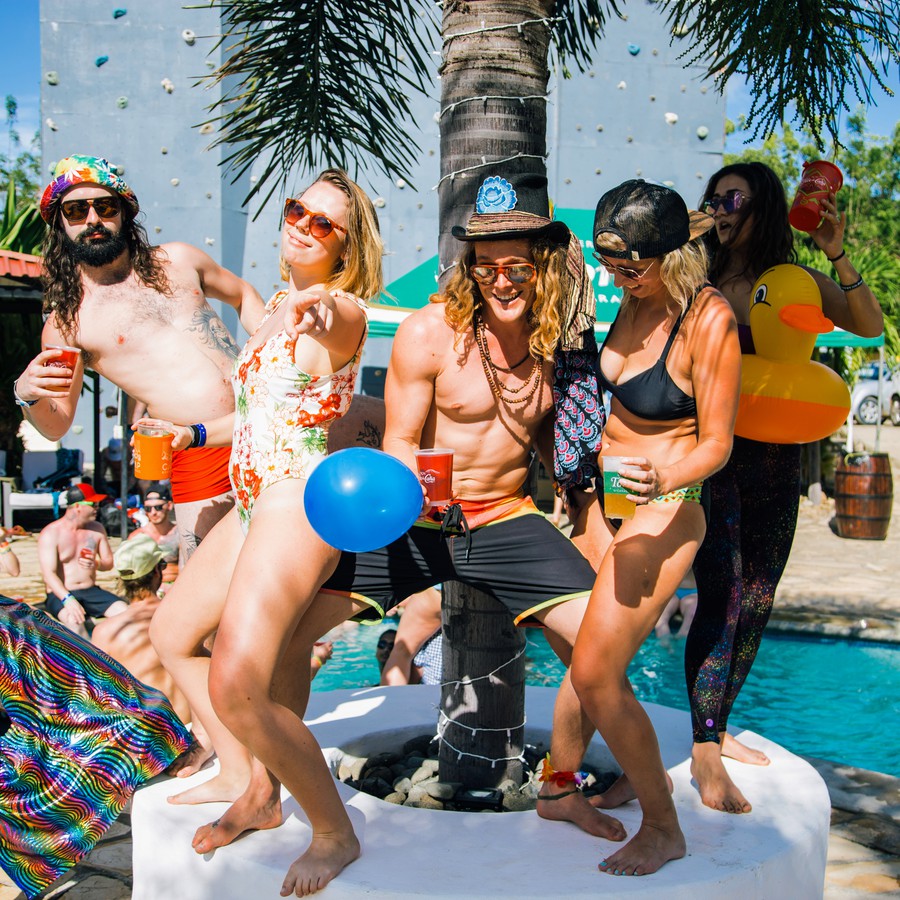 Day 1-4 (San Juan del Sur)

Arrive the evening of Dec 29th. Take a transfer to San Juan del Sur arrive around midnight. Check into the hotel and get ready for festivities to kick off the next day.
Dec 30th - Beach Day - Surf, Sun and Cervezas. Followed by a private pool party this evening in town.
Dec 31st - Free day in preparation for the main event this evening - The Final Fiesta of 2022.
Jan 1st - Can't stop, won't stop. Let's go shake it off at the Surf Ranch New Year's Day pool party.

Day 4-7 (Mag Rock)

Next, let's go stay in a place with an amazing view of the ocean and daily sunsets. We can laze our days away on the beach or you can get active with any number of ocean activities like surfing, fishing, SUP etc etc. Mag Rock is a nice little tucked away spot that hasn't achieved the attention that San Juan del Sur has giving it that off-the-beaten-track feel!

Day 8-10 (Laguna de Apoyo)

After days of salty ocean air we will hop over to Laguna de Apoyo for some lake life. Our accommodations will be right on the edge of the deepest crater lake in Central America. The wildllife here is a real treat as you wake up to the sounds of howler monkeys and all the other creatures of the jungle who live in this national park.

There is an optional volcano trip available here if you'd like to go to a crater's rim and see some hot lava!

On Day 10, we will make our way back to the airport to say goodbye or if you decided to do the Costa Rica add-on then you're on your way to Tamarindo!
Please note: The above itinerary is subject to change. A confirmed Free & Easy trip itinerary with exact routing will be provided at least 30 days prior to trip departure.
IMPORTANT: If you are doing a combo trip and booking your own flights, please contact us to confirm the start and end point of your trip.
What's included?
The Free & Easy Commitment

We strive to ensure everyone who wants to travel has the opportunity to have the most epic experience ever. Free & Easy delivers awe-inspiring travel experiences and creates lifelong connections between incredible people + incredible places.

See below for more details about what else is included in this amazing adventure.

Included Experiences: Nicaragua - Fiesta

Exclusive pool party with live music, DJs and all you can drink booze
Entrance to New Years Eve party
New Years Day event
Pacific coast booze-cruise boat trip, light lunch included
Minimum 3 beach destinations, including SJDS
Surf lesson and 1/2 day board rental
All Free & Easy travelers will have access to our industry leading app to help manage your trip. This provides pre-trip planning advice, itinerary management, activity suggestions for free time, maps, chat support and more!

Accommodation: Nicaragua - Fiesta

All accommodations - We send our trip planners to each of our destinations so they can do on the ground, research. Checking for the best location, comfort and vibe that we can get for our budget while also supporting local businesses

Transportation: Nicaragua - Fiesta

All transport - This trip will find us taking private A/C vans.

Leaders: Nicaragua - Fiesta

1-2 group leaders - Our staff is consistently ranked as the #1 reason that people loved their trips. We meet most of our leaders while traveling with them so we can see in person if they are fun yet responsible, cool yet down to earth, professional yet laid back. This creates that perfect mix which makes our "tours" feel like a group of friends.

Optional Experiences: Nicaragua - Fiesta

Fishing
Surfboard Rental (beyond the included lesson)
Yoga
Paddle Boarding
Volcano Tour
Scuba Diving
And so much more! If you're interested in something that isn't on the list just ask us, if it's possible we will find you some options. We are here to try and help you find your ideal trip!

Not Included

All meals and drinks (except those mentioned above)
Activities outside of the ones listed above (optional activities are not included)
Any Visa or Visa fees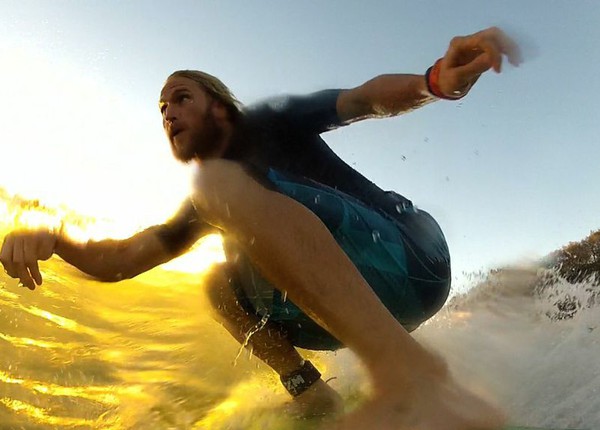 Surf a Wave
Nothing compares to the feeling you get the first time you paddle into a wave, stand up as it breaks and ride the face of it – this is the incomparable feeling of surfing. When you get it right, you'll know, because you'll be more excited than the first time you had sex and probably more addicted to it, too!
Surfing is arguably the most challenging sport in the world and requires you to learn much more than physical coordination. In order to surf a wave, you'll need patience, discipline, a lack of fear and an insatiable urge to have fun. It's no coincidence that 7 of the countries that we run trips to (Indonesia, the Philippines, Nicaragua, Costa Rica, & Peru) have wicked surf scenes because there's nothing quite like it. *** PLEASE NOTE surfing is dependent on the right conditions and not always possible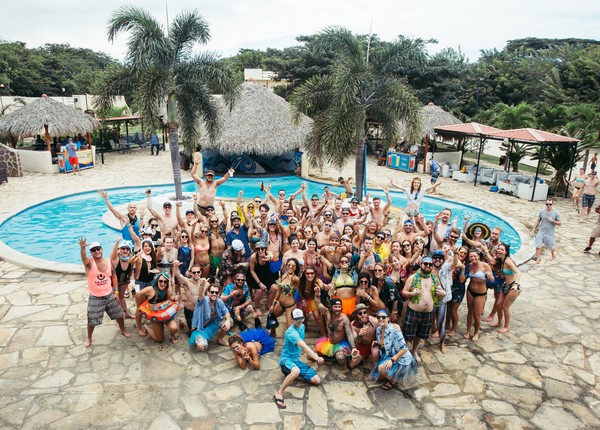 New Year's Day Shindig at The Surf Ranch
The good times just keep coming as we roll into this little poolside paradise. You might be tired from last night's epic New Years' bash, but this is THE place to be on New Year's Day. Another Nica New Years' exclusive party for group members only, where we rent out the entire facility. So drag your hungover behind out of bed, throw on a pair of sunnies and catch one of the Free & Easy buses out to this big ol' shindig... because this is one pool party you don't want to miss.
From the bull shaped pool to palm trees, skate park, live DJs, to BBQ and BEER, you can't kick off the year in any better way. Surrounded by your Free & Easy Familia and the surreal surroundings of The Surf Ranch, you know that the year ahead is bound to be a good one if this is how it's starting. **Drinks not included… but you might get passed a Texas Micky or two of delectable Flor De Caña rum!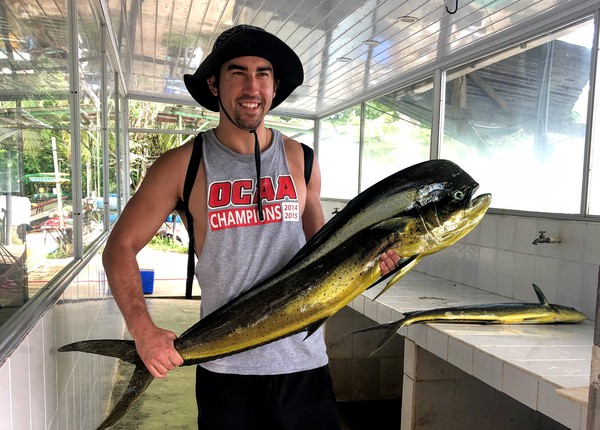 Catch a Fish and Eat It, Too
There's just no getting around it, fish is meant to be eaten fresh! And the only thing tastier than a fresh fish is one that you caught, too! Catching the fish that you eat used to be a part of life and still is in many parts of the world.
We offer the option to go fishing on nearly all of our trips with friendly, local fisherman that show you their tricks - it's an experience that not only teaches you the importance of fishing but is also a hell of a good time: on a boat, with friends, with beer, in the sun, drifting down a tropical coastline… 'nuff said!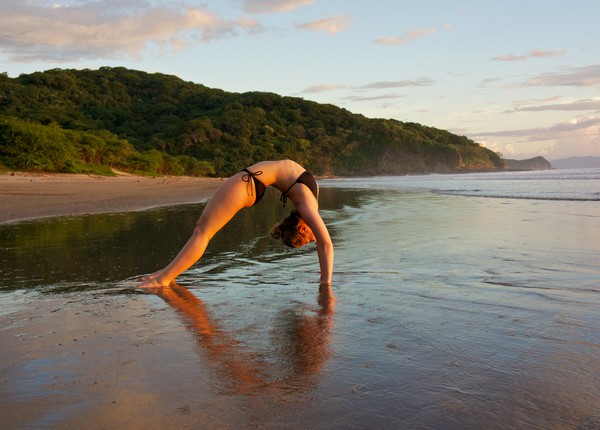 Practice Yoga on the Beach
Practicing yoga on the beach in warm, tropical weather provides you with the perfect environment to learn how to find a calm within yourself and feel your mind truly relax.
Listening to the sounds of the jungle and the crashing of the waves onshore only adds to the bliss of this experience. You can experience practicing yoga in a beautiful and isolated setting under the expert guidance of yoga instructors on several of our our trips.
So take an hour or so out of your day to stretch, breathe and enjoy one of the best yoga sessions of your life in paradise!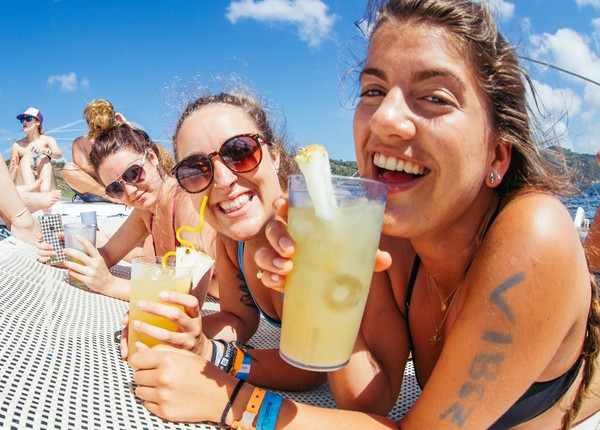 Pacific Coast Booze-Cruise!
Nicaragua's southwest coast is arguably Central America's nicest stretch of beaches. With one massive sprawling beach after another framed by rocky cliffs and fascinating fauna from cacti to palm trees, seeing as much of this coast as possible is a must for any visitor to Nicaragua.
Unfortunately, the coastal roads in Nicaragua are not very accessible to say the least and so really the best way to see all these beaches is by sailing the open sea! Boarding a catamaran sailboat stocked with ceviche, guacamole, and as much beer and rum as possible is the way we like to do it to fully enjoy spending the day gawking at the stunning natural setting while at the same time, throwing down and having a party fit for such a glorious sailing experience.
Oh and we almost forgot to mention the wicked surf breaks at almost all of these beaches, so there's always the option of tossing the board in and paddling into some gnarly sets before continuing on our way. Some crazy stuff tends to go down on this adventure as it's always a highlight of the trip, but you'll just have to experience it for yourself to see what's possible when you disembark into Nicaragua's pacific coast with an arsenal of friends armed with all the makings for an epic good time!
Hike The Cristo De la Misericordia Viewpoint
The Christ of Mercy, or Cristo De La Misericordia, is the iconic statue overlooking the San Juan del Sur bay. But it's way more than that...it offers an incredible 360-degree view of the entire town and south pacific!
At sunset, it's one of the most incredible views you will come across. Not only that but at over 26m high, this Jesus statue is the largest statue of Christ in all of Central America and one of the largest in the world.
Grab your travel buddies, a water (and probably a beer too) and hit the slope. You might find yourself enjoying the best view of your life! *hike, admission fee included in price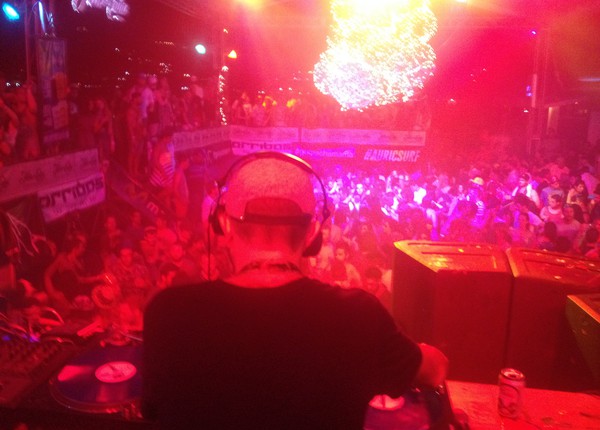 Epic New Years Eve Beach Party
For this epic night, we team up with the party specialists at Pacha Mama and throw the biggest beach party in Central America! Right on the beach in the middle of San Juan del Sur, this is the New Years party that everyone is trying to get into.
Big name DJs, marching bands, party bling...it's got all the ingredients to help you ring in the new year in the most epic of ways. There's a reason you didn't stay home this year!
And you'll feel extra fly when you walk in with your new FnEZ crew and realize that Free & Easy has hooked you up with our very own separate VIP area and bar to hang out at, watch the madness, and tip back free champagne at midnight!
Don't expect the dancing to end until the wee hours of the morning... could it get any better? Feliz Año Nuevo amigos! HAPPY NEW YEARS!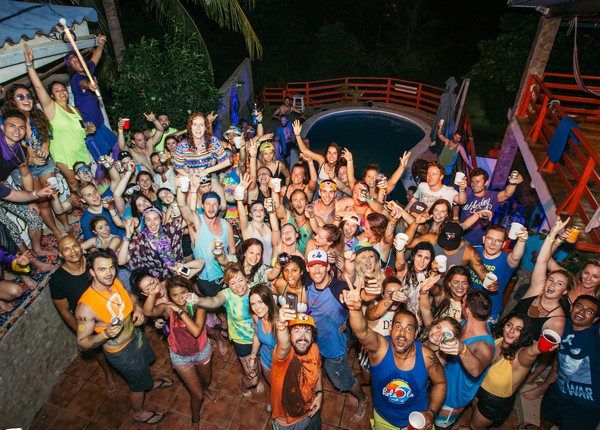 Exclusive Free & Easy All-You-Can-Drink Pool Party
After a day spent drinking, lounging, and surfing at beautiful Hermosa beach with your Free & Easy family, it's time to crank things up!
Tomorrow is New Year's Eve, and the party really needs to get started in San Juan del Sur. So we crank things up the evening of December 30th with an incredible Pool Party for Free & Easy Travelers only!
Trust us, this exclusive party will blow your flip flops off. A live mariachi band & DJs are only the beginning of this epic party... you're going to be dancing poolside and beachfront all night long with 200 of your newest best friends!
And did we mention Free & Easy is covering ALL THE BOOZE you can drink too? This fiesta will have you saying 'Por que no?' in no time!