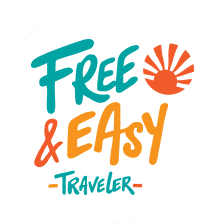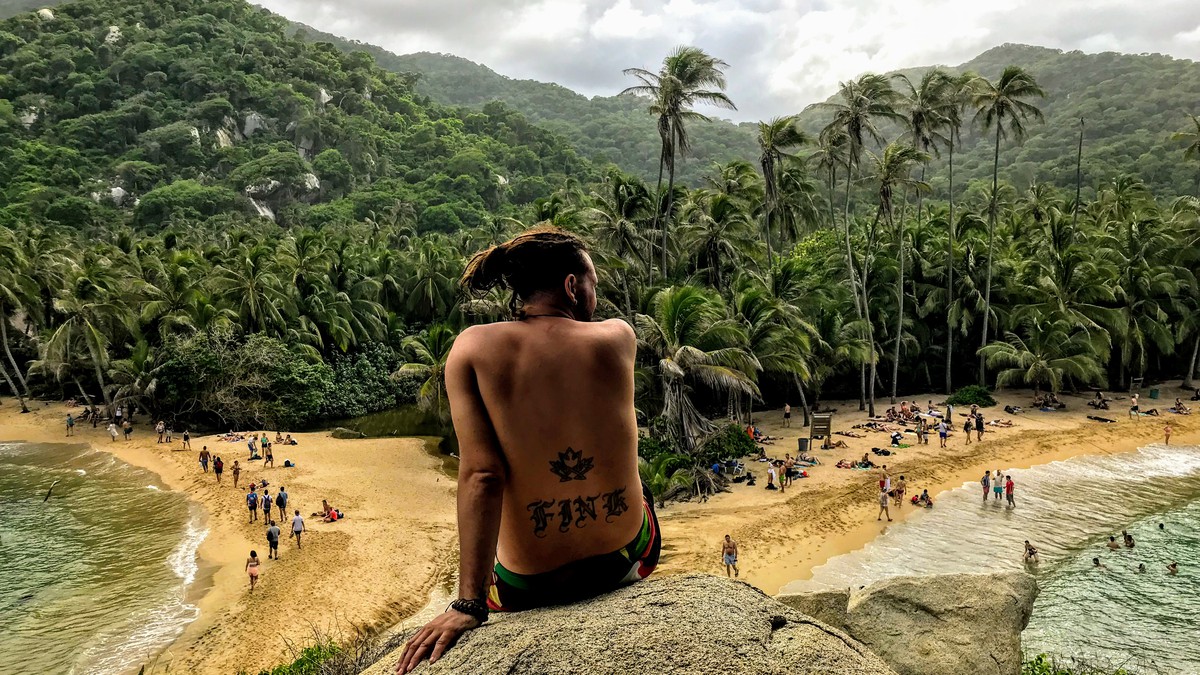 25+
Colombia - Evolution
Colombia Trip: 12 Days
25+
The Next Big Thing
*What is Evolution? Click here for more information.
This South American secret has been hidden from view for far too long, but it is ready for us now! The warm and friendly people here have been waiting to show off their beautiful culture and landscape - you're in for a wild ride through this stunning country!
We will start in Medellin, a jungle city with a vibrant life force. Next, we will head down through the rainforests, boasting incredible views and adrenaline-pumping action. Next, on to the beaches and pristine nature along the Caribbean. Finally, to our final stop in Cartagena, an unbelievable city jutting out into the sea. This non-stop trip (with some hammock time, of course) will satisfy your need for culture, history, nightlife, cuisine, adventure, hiking, and breathtaking landscapes. Join us in Colombia for a trip of a lifetime!
Absolutely stunning! The itinerary was perfect to dive into the culture, lifestyle & natural beauty of Colombia; we experienced so many breath-taking moments - from paragliding, secret beaches, scuba-diving, Volcano mud bath and hiking with beautiful views to partying and bar hopping. Our guides Josh & Kyle were amazing, our little group of 10 quickly became a family, feeling so comfortable & connected with each other. It really was a life-changing trip for all of us.

Larissa - 2018
***This trip can be done privately and tweaked to your own needs and taste. Click here for more information.
Please note: 2021's list of dates has not been confirmed. Join our newsletter list to find out when they are!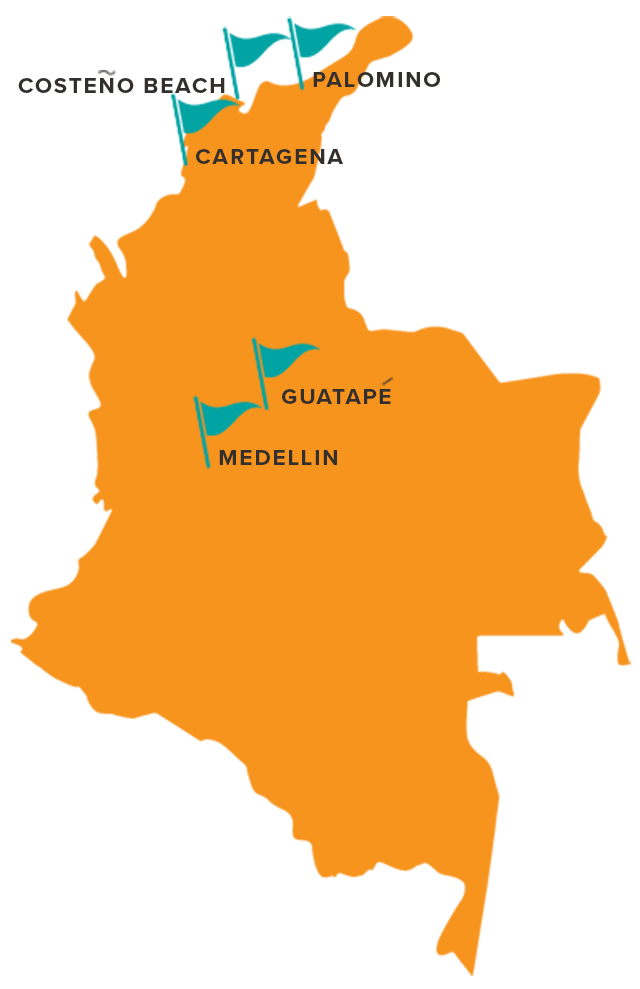 Itinerary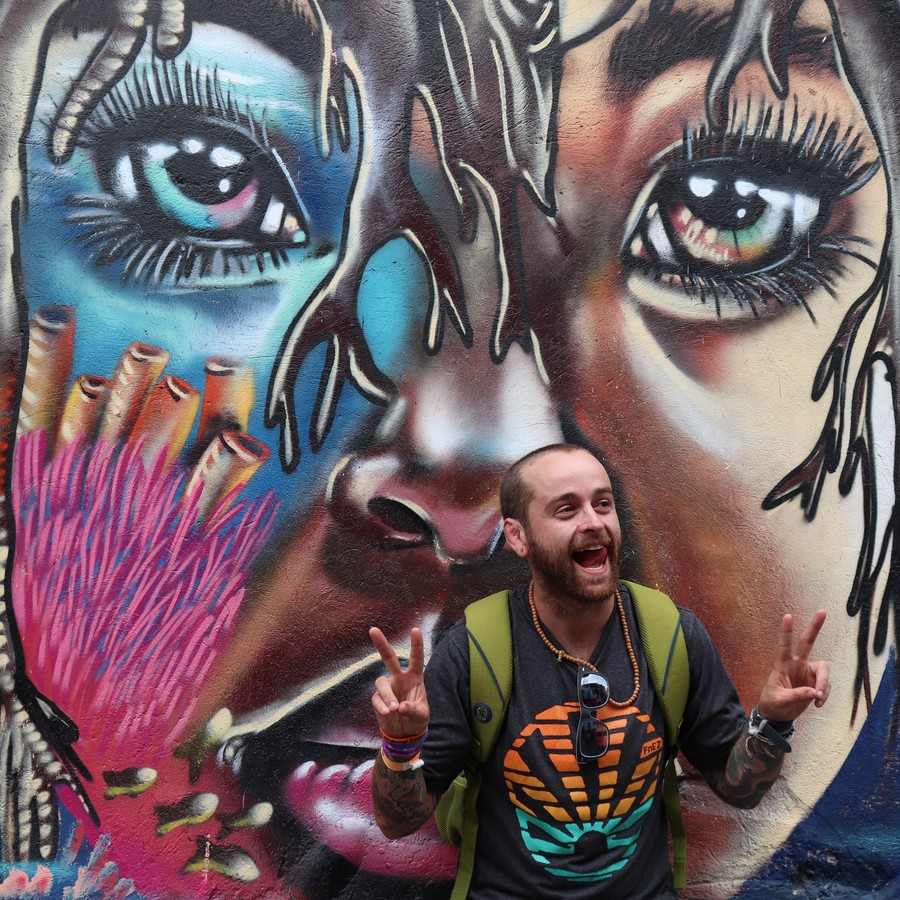 Please note: The above itinerary is subject to change. A confirmed Free & Easy trip itinerary with exact routing will be provided at least 30 days prior to trip departure.
IMPORTANT: If you are doing a combo trip and booking your own flights, please contact us to confirm the start and end point of your trip.
What's included?
The Free & Easy Commitment

We strive to ensure everyone who wants to travel has the opportunity to have the most epic experience ever. Free & Easy delivers awe-inspiring travel experiences and creates lifelong connections between incredible people + incredible places.

See below for more details about what else is included in this amazing adventure.

Included Experiences: Colombia 12

Medellin City tour
Culture and graffiti tour of Medellin including District 13
Transport and entrance to Cócora valley
Lean how to play tejo, Colombia's national sport
Hike ancient trails & experience an indigenous village with history dating back 500 years
Tubing on a Rainforest river to a Caribbean beach
Cartagena City and Fortress walking tour
Enjoy beverages and the sunset on the old city walls of Cartagena
Experience the tranquility of Colombia's beach's, wild life, and city cultures
Bathe in Tulum Mud Volcano (man made clay bath volcano)
Private transportation to each location
All Free & Easy travelers will have access to our industry leading app to help manage your trip. This provides pre-trip planning advice, itinerary management, activity suggestions for free time, maps, chat support and more!

Accommodation: Colombia 12

All accommodations - We send our trip planners to each of our destinations so they can do on the ground, research. Checking for the best location, comfort and vibe that we can get for our budget while also supporting local businesses.

Transportation: Colombia 12

All transport - This trip will find us taking minibus, public coach and a domestic flight.

Leaders: Colombia 12

1-2 group leaders - Our staff is consistently ranked as the #1 reason that people loved their trips. We meet most of our leaders while traveling with them so we can see in person if they are fun yet responsible, cool yet down to earth, professional yet laid back. This creates that perfect mix which makes our "tours" feel like a group of friends.

Optional Experiences: Colombia 12

Cartagena bar hopping
Surfing (depending on weather)
La Popa Monastery tour
Fortress tours
Snorkeling
Scuba in Military Ship Graveyard
Chiva party bus tour of Cartagena
Spa day
Sky Diving
Resort and roof top pool lounging
Day trip to Tayrona National park (closed in February/March)
Day trip to Minca (a town in the mountains)
Volleyball, beach Olympics and other daily beach activities
Beach BBQ on a private beach with snorkeling
Salsa lessons
Shopping inside the walled city
Beach Bonfire

And so much more! If you're interested in something that isn't on the list just ask us, if it's possible we will find you some options. We are here to try and help you find your ideal trip!

Not Included

All meals and drinks (except those mentioned above)
Activities outside of the ones listed above (optional activities are not included)
Any Visa or Visa fees
Hike to an Amazing Viewpoint in Guatapé
Looking for the best views in Colombia? Well get your camera ready and head on up to El Peñón de Guatapé! Put on a comfy pair of shoes, fill up a water bottle, and grab your hiking partner: we're going to a viewpoint!
Here at Free & Easy, we're huge fans of viewpoints, and this is one of our favourites, so that's saying something! In Guatapé, there are amazing rock formations all around, but El Peñón (The Rock) is made of a type of granite, and has avoided erosion. Former indigenous inhabitants of the region worshiped the monstrous formation, and today it is a National Monument in Colombia.
Up we go! The hike takes you up concrete stairs, 740 steps to be exact. Not exactly grueling, but a feat none-the-less, and you are well rewarded! Overlooking beautiful, flourishing islands in all directions across the lake, this peaceful viewpoint is totally worth the climb! Take a deep breath, take it all in, and take a selfie! There are also locals selling their handicrafts at the top, giving you a chance to pick up a souvenir before heading back down!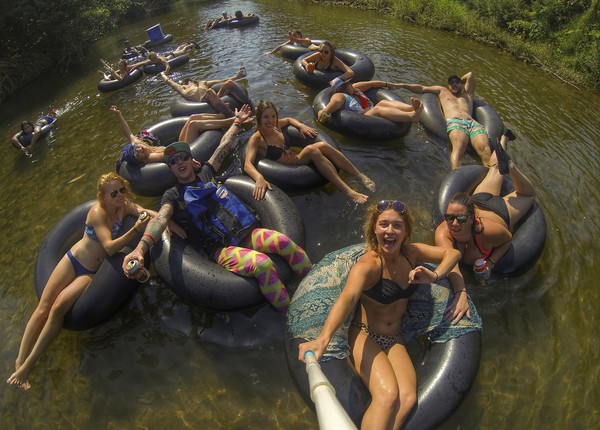 Tubing on a Rainforest River
This incredible activity is a must do. That's why it's included on your trip! Woohoo! On this day trip, we'll see the awesome rainforest that makes Colombia so unique. So grab your TFF, a few cold ones, and get ready for a chill afternoon floating down the river!
You'll be floating through jungle landscapes with prehistoric-like rock formations. Take in the view and just be! We'll spend a few hours floating under a canopy of trees, with nothing but sunshine, the sounds of birds, and your new FnEZ Family to keep you company. If you ever wanted to define ultimate zen and relaxation combined with an unforgettable experience, this day pretty much does that for you!
The river runs into the Caribbean, so we'll stop at a beach and check out a local BBQ restaurant for some great food and a couple of drinks to carry us where ever we want to go into the afternoon and evening. From reeds to waves, this day is nothing short of adventurous.
With FnEZ, you're always getting the best bang for your buck, and you're always getting the best activities available! What more could you ask for? Join us in Colombia, you just might find what you're searching for!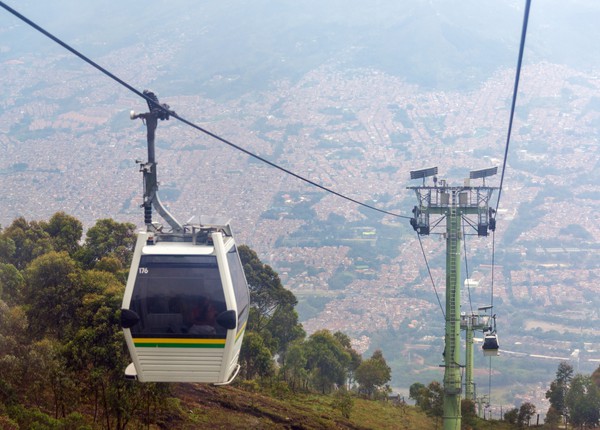 Walking Tour with Metrocable Ride
A walking tour is the best way to really get to see a city. Having a local show you around, you'll learn all of the history, see all of the sights, and even find some hidden gems! Plus, you'll get to stretch your legs and work off some of the rum from the night before! Medellin is a hub of beautiful architecture, amazing graffiti art, and a very interesting colonial style that is so unique to Colombia. If you think things like this are boring, think again! The history is at times interesting, devastating, and uplifting and you won't be able to take your eyes off of your bright and captivating surroundings. As an added bonus, is there a better way to end a walking tour than by hopping in a cable car to see the city from above? We don't think so! Hop into the Medellin Metrocable, and cruise up to the surrounding mountains. You truly have to see it to believe it! These are some of the city's best views, so don't miss out!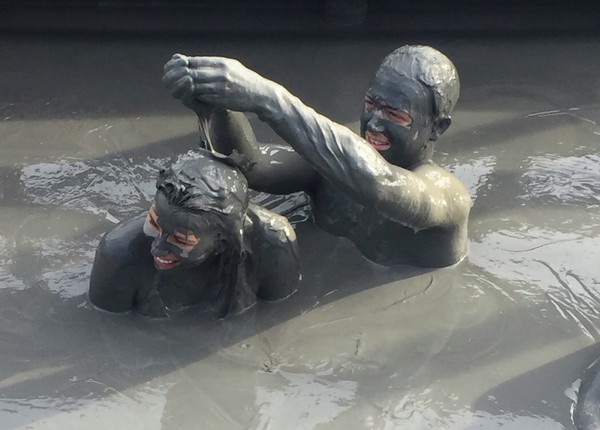 Take a mud bath in a volcano
Take a mud bath in a volcano: this is for real! At FnEZ we're always looking for unique experiences, and we think we nailed this one! El Totumo Mud Volcano is located about 45 minutes outside of Cartagena so naturally, it makes sense that we will stop in for a quick splash on our way by. The small 49-foot man-made Volcano.
We'll take the quick stroll up the side of the Volcano and hop in! Plus, you can opt-in for a massage while in the volcano. If you'd rather just float in the mud and absorb the wild feeling that's totally cool too. If you're looking for a true Colombian experience this is it, and it boasts some amazing lakeside views of the beautiful Santa Catalina region.
Let the minerals and revitalization of a natural mud bath take over and once you've finished you can walk just a minute to the nearby lake and rinse off. It is said that the mud has anti-aging properties, so take your time and soak it all up!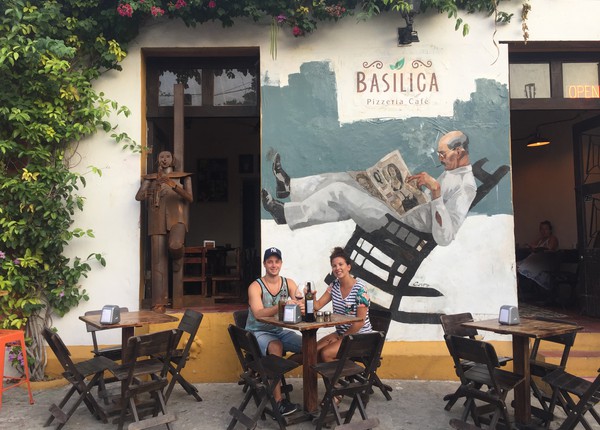 Foodies Get Ready!
If you like food, you'll love Colombia! Especially in the city centres, Medellin and Cartagena, the food scene is unreal! These great culinary experiences won't break the bank, either! You will have some of the best meals of your life for a fraction of what you'd pay at home.
The restaurants range from great local eats, to funky cafes with specialty items, to cool bars with signature cocktails, to amazing fusion restaurants with brand new flavour combinations that will blow you away! The food is a major highlight in the two cities that bookend our 20-day trip in Colombia. Throughout Colombia, there is a definite European vibe, and it extends into the food.
From street meat to classy and artistic restaurants, you won't be disappointed with your dinners here. Plus, in classic Colombian fashion, there's more than meets the eye. Many establishments will have live DJs, street terraces, hidden gardens out back, and a really cool vibe that will remind you that you aren't in any rush. Just eat, drink, and be happy!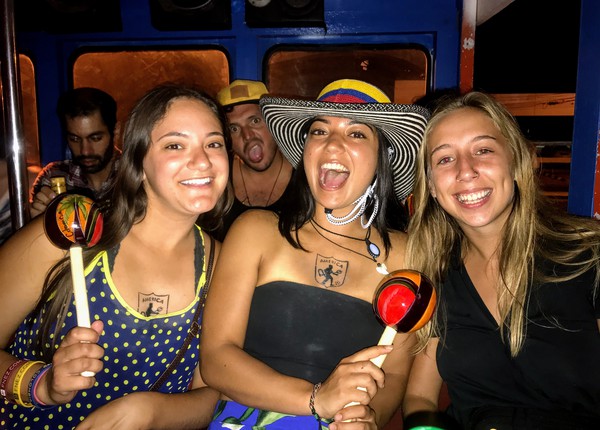 Experience Colombian Nightlife
A trip to Colombia is not complete without letting loose and enjoying some of the nightlife! The cities that book end our trip, Medellin and Cartagena, both offer unforgettable experiences.
Nightlife in Colombia has a unique Latin flare that is unlike anywhere in the Americas. All over the country, bars offer vibrant nightlife with amazing food and drinks, and the dancing will keep you grooving until the wee hours of the morning. While you're out, you have to try some locally brewed beer, and of course, the rum!
Famous for its rum, Colombia even has whole bars dedicated to the local brew! In Cartagena, try out some of their cocktail bars, focused on perfecting their unique recipes. In Medellin, just grab your favourite drink and hit the streets!
It's hard to explain, you have to see it to believe it, but the colourful streets are filled with happy people, all evening long, enjoying food, drinks, and a uniquely vibrant social atmosphere. You'll see street performers, eat fresh street food, and join people dancing everywhere! So if you're looking for a good time, join us in Colombia, and we'll show you around!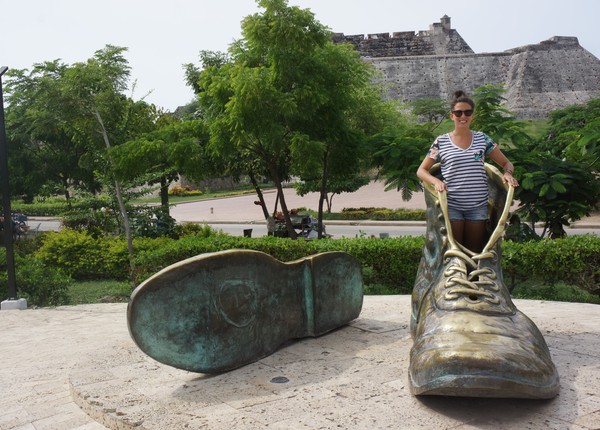 Explore Cartagena
It becomes clear upon arrival why the colonial city of Cartagena is an essential stop while in Colombia as you're hit with the colourful streets lined with street performers, food carts, amazing restaurants, and cocktail bars. Also, the architecture is awesome, you feel like you've stepped into a piece of European explorer past, you can sense the history that exists in the ancient buildings and streets.
We love it so much that we include a guided tour of the city to take it all in at a FnEZ pace. You can expect to have your mind blown while sitting atop La Popa Monastery overlooking the entire city with your group, or walking the walled old city with a fresh coconut in hand.
We love Cartagena so much that we dedicate 3 days to properly explore this Caribbean gem, once you've arrived we dare you to take the smile off of your face!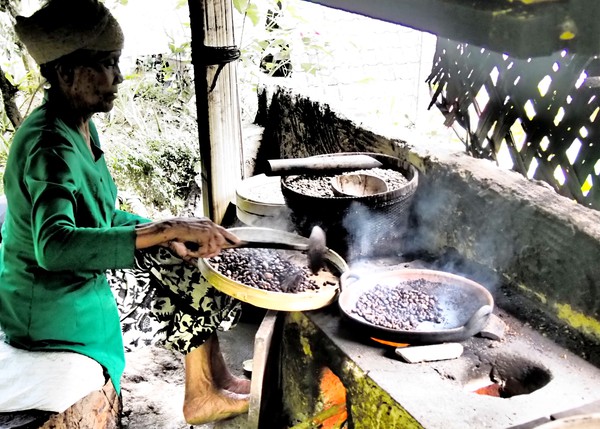 Experience Colombian Coffee
It's smooth, it's aromatic, it's bold: it's coffee and your life wouldn't be the same without it. Heck, a lot of things probably wouldn't exist without it (that project you're working on, for example).
Luckily for you, Colombia is the world's 3rd largest coffee producer! If you're a coffee fan, you could be at the source of it all. Once you try good, Colombian coffee, you'll find it hard to go back to your regular brew. Colombia has a reputation for having a mild, well-balanced flavour to their coffee beans, and it's darn delicious.
If you are into coffee at all, you'll love what they're brewing down here! If you aren't, that's because you haven't been drinking this! Give it a try, trust us, you won't be disappointed.
Pour yourself a cup of joe every morning, and bring some beans home with you when you sadly have to leave this beautiful country. Just make sure you bring enough: once you share it with your friends, you'll have them begging for more!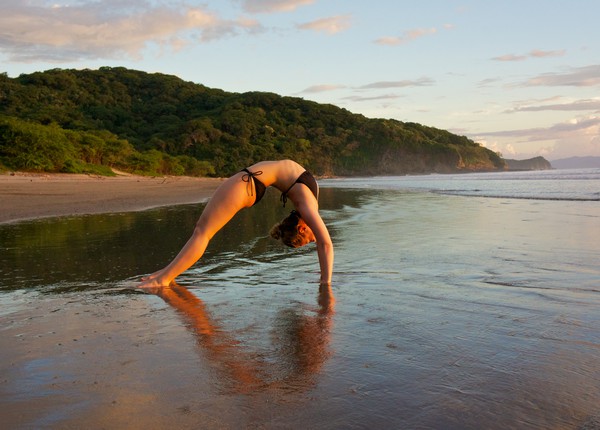 Practice Yoga on the Beach.
Practicing yoga on the beach in warm, tropical weather provides you with the perfect environment to learn how to find a calm within yourself and feel your mind truly relax.
Listening to the sounds of the jungle and the crashing of the waves onshore only adds to the bliss of this experience. You can experience practicing yoga in a beautiful and isolated setting under the expert guidance of yoga instructors on several of our trips.
So take an hour or so out of your day to stretch, breathe and enjoy one of the best yoga sessions of your life in paradise!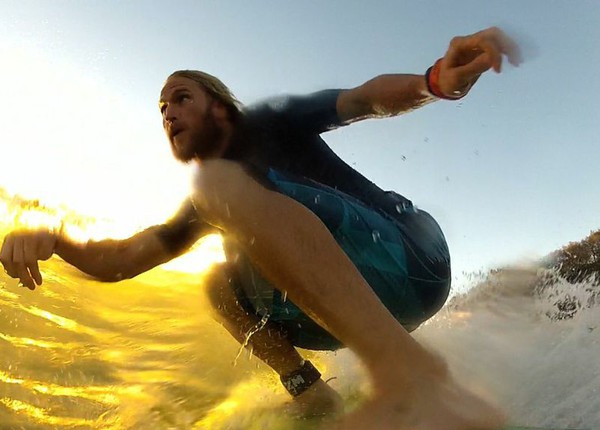 Surf a Wave.
Nothing compares to the feeling you get the first time you paddle into a wave, stand up as it breaks and ride the face of it – this is the incomparable feeling of surfing. When you get it right, you'll know, because you'll be more excited than the first time you had sex and probably more addicted to it, too!
Surfing is arguably the most challenging sport in the world and requires you to learn much more than physical coordination. In order to surf a wave, you'll need patience, discipline, a lack of fear and an insatiable urge to have fun. It's no coincidence that 6 of the countries that we run trips to (Indonesia, the Philippines, Nicaragua, Costa Rica, Peru & Colombia) have wicked surf scenes because there's nothing quite like it.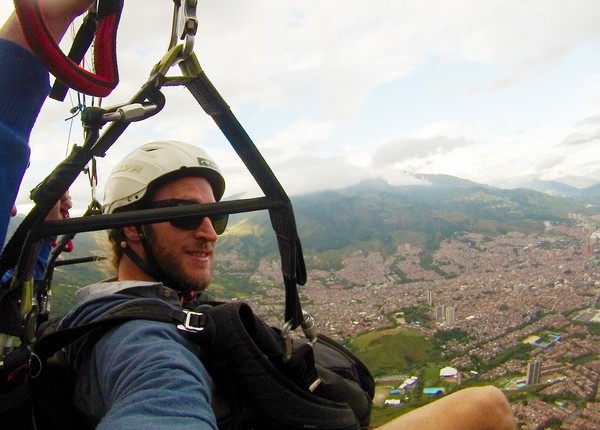 Go Paragliding in Colombia!
There may be no better way to get a feel for how beautiful a place is than by slowly soaring above it. As backpackers, an excursion like paragliding often gets neglected by the need for things like rum and more rum.
But when you get to a place that is just so visually incredible that it defies description then we highly recommend forking out the extra dough to get yourself high and enjoy a view like none you've ever had.
There are plenty of places in the world where you can paraglide, but Colombia is one of the best and when you're flying through the sky and staring down at the beauty below, it's easy to see why.