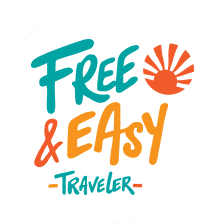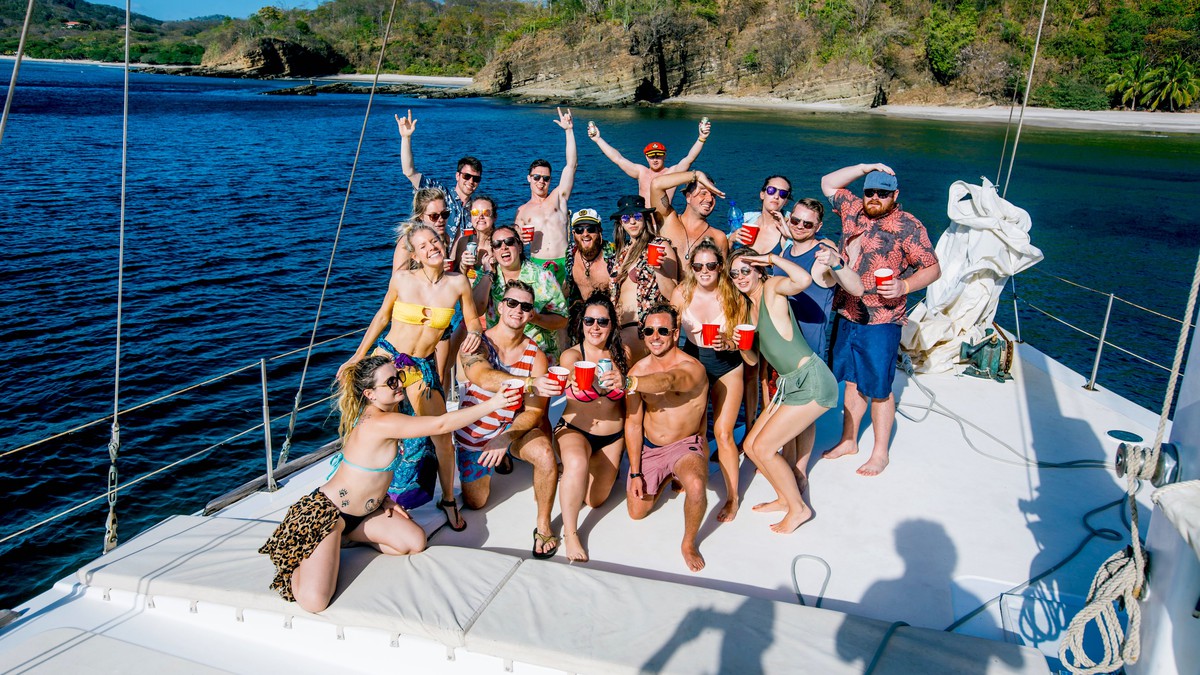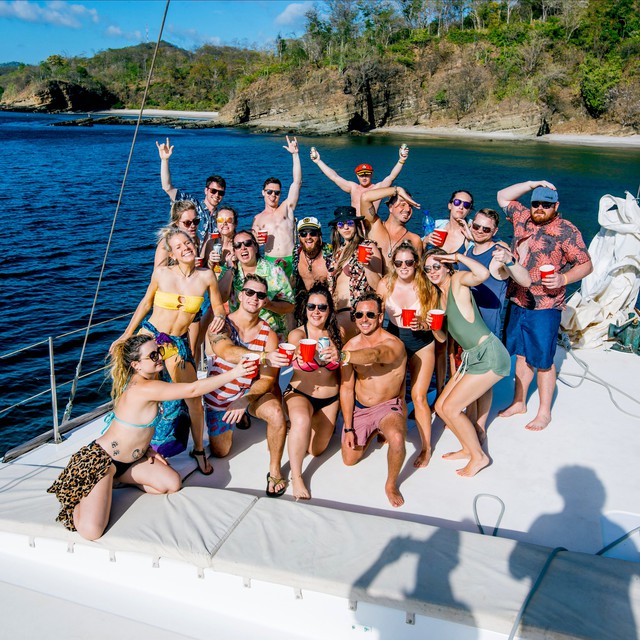 The Final Fiesta
Costa Rica New Years Trip: 10 Days
Costa Rica - The New Years Roadtrip
Start the New Year off with a road trip through Costa Rica, and leave 2021 and the cold winter far far behind. We cruise through the Nicoya region, starting with the famous surf town of Tamarindo, where we'll enjoy hot beaches and sand between the toes.
From Tamarindo we head to Santa Teresa, the chillest Surfside beach town to take in more of the good life, with surfing, hikes and more New Years festivities! Also, we can take surf lessons on the amazing surf breaks suitable for any skill level.
Finishing off in Monteverde before flying out from San Jose, experience the other things Costa Rica is famous for, jungles and exotic animals! Sloths, monkeys and an array of colourful tropical birds. Not to mention, adrenaline fuelled activities like bungee, ATVing and rappelling down waterfalls!
Imagine bringing in 2022 partying on the Costa Rican coast, relaxing with a cold drink in hand enjoying the fact that you are exactly where you want to be (and not at home) - defining the meaning of 'Pura Vida!'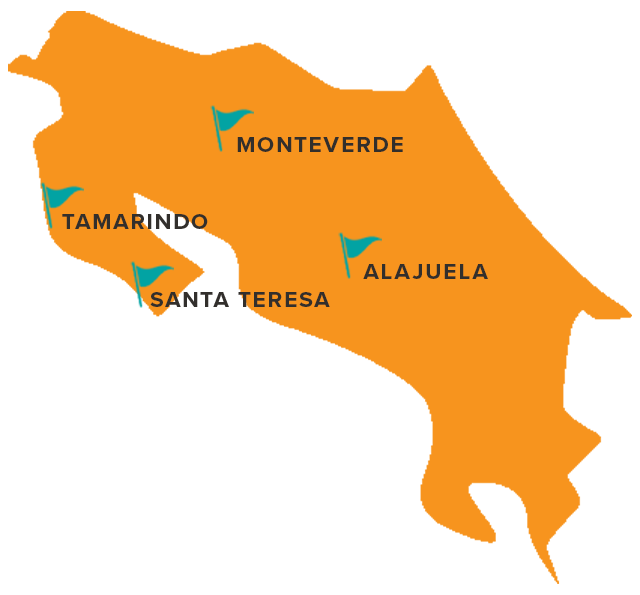 Itinerary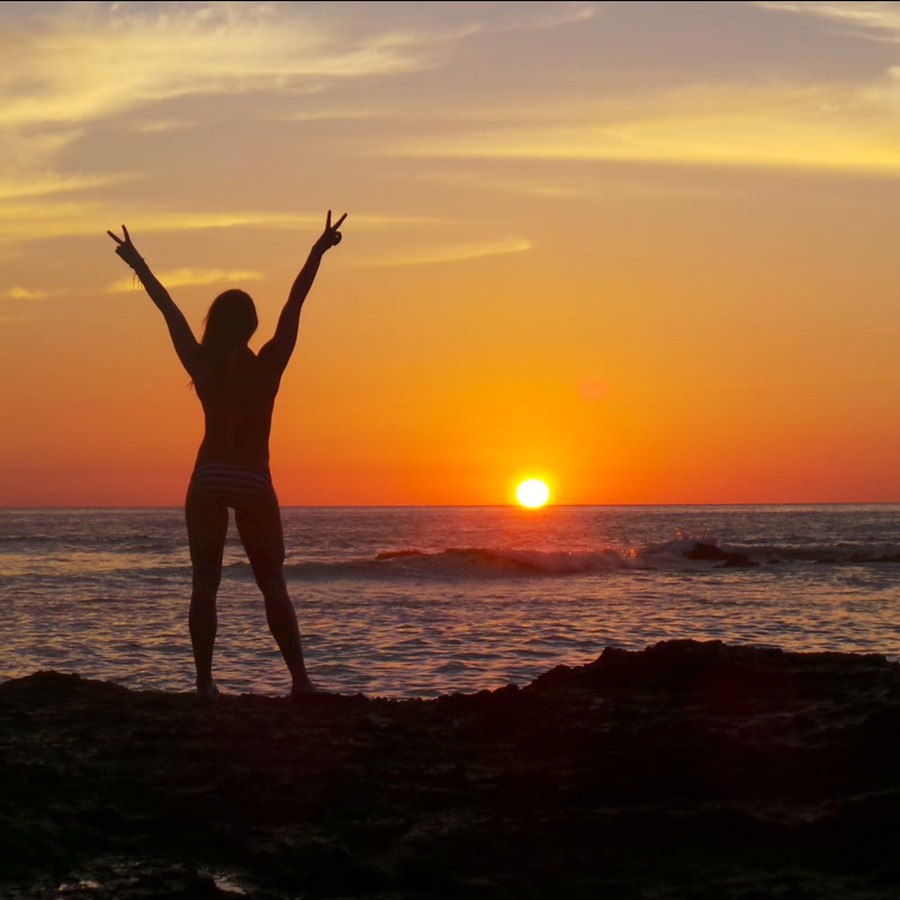 Please note: The above itinerary is subject to change. A confirmed Free & Easy trip itinerary with exact routing will be provided at least 30 days prior to trip departure.
IMPORTANT: If you are doing a combo trip and booking your own flights, please contact us to confirm the start and end point of your trip.
What's included?
The Free & Easy Commitment

We strive to ensure everyone who wants to travel has the opportunity to have the most epic experience ever. Free & Easy delivers awe-inspiring travel experiences and creates lifelong connections between incredible people + incredible places.

See below for more details about what else is included in this amazing adventure.

Included Experiences: Costa Rica NY

4 destinations and beautiful beaches.
Surf Breaks along the Pacific Coast
Transport and Entrance to the Montezuma Waterfalls (Hike, Swim & Cliff jumping)
Personal driver along with our 'Chocolito Express' microbus for our entire roadtrip
Half-day surf experience (food, beverages, boards, instructors, and photographer included)
Mountain Top Infiniti Pool Party (entrance and dinner)
Local Home-cooked dinner & salsa lesson
All Free & Easy travelers will have access to our industry leading app to help manage your trip. This provides pre-trip planning advice, itinerary management, activity suggestions for free time, maps, chat support and more!

Accommodation: Costa Rica NY

All accommodations - We send our trip planners to each of our destinations so they can do on the ground, research. Checking for the best location, comfort and vibe that we can get for our budget while also supporting local businesses.

Transportation: Costa Rica NY

All transport - On this trip we will be using our own private minibus (A/C, stereo & cooler).

Leaders: Costa Rica NY

1-2 group leaders - Our staff is consistently ranked as the #1 reason that people loved their trips. We meet most of our leaders while traveling with them so we can see in person if they are fun yet responsible, cool yet down to earth, professional yet laid back. This creates that perfect mix which makes our "tours" feel like a group of friends.

Optional Experiences: Costa Rica NY

Horseback riding on the beach
Partying in Tamarindo
Bungee jumping
Coffee, Chocolate & Sugar cane plantation tour
Rappel down a waterfall
Deep-sea Fishing
Snorkeling
Night Hike tour
Mountian top Cloud Forest Hike
ATV Tour thought Clound forest and local comunity
Sunset Catamaran Cruise
Inclusive group dinner cooked by Leaders and Group members
Latin America's longest zip line
SUP boarding
Scuba diving
Painting class
and so much more! If you're interested in something that isn't on the list just ask us, if it's possible we will find you some options. We are here to try and help you find your ideal trip!

Not Included

All meals and drinks (except those mentioned above)
Activities outside of the ones listed above (optional activities are not included)
Any Visa or Visa fees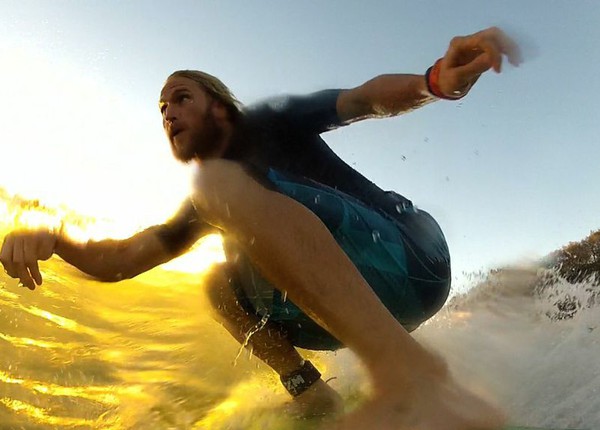 Surf a Wave
Nothing compares to the feeling you get the first time you paddle into a wave, stand up as it breaks and ride the face of it – this is the incomparable feeling of surfing. When you get it right, you'll know, because you'll be more excited than the first time you had sex and probably more addicted to it, too!
Surfing is arguably the most challenging sport in the world and requires you to learn much more than physical coordination. In order to surf a wave, you'll need patience, discipline, a lack of fear and an insatiable urge to have fun. It's no coincidence that 7 of the countries that we run trips to (Indonesia, the Philippines, Nicaragua, Costa Rica, & Peru) have wicked surf scenes because there's nothing quite like it. *** PLEASE NOTE surfing is dependent on the right conditions and not always possible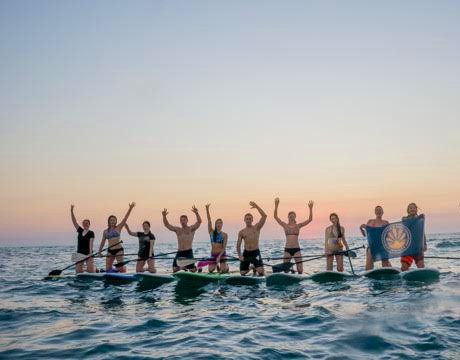 Stand Up Paddling in Santa Teresa
Why not try one of the most popular new sports in the Americas–Stand Up Paddling (SUP). Down in the small, surfer town of Santa Teresa you can find several kilometers of gleaming sands, crystal-clear waters and wicked beach breaks for every level of surfer… and that makes it ideal for SUP-ing as well!
You don't want to be sleeping the day away in this paradise. Time to get out in the sun and waves, and get a full-body workout on your paddleboard. And hey, if you need a little break you can just stretch out and catch some rays on your board before picking that paddle back up.
Not only that, but rental includes a coupla' bevvies (we can't say no to free booze) and even a photographer so you have some wicked pics of your ocean adventure!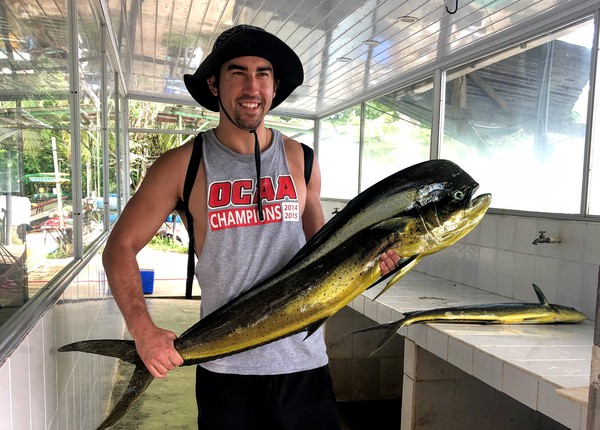 Catch a Fish and Eat It, Too
There's just no getting around it, fish is meant to be eaten fresh! And the only thing tastier than a fresh fish is one that you caught, too! Catching the fish that you eat used to be a part of life and still is in many parts of the world.
We offer the option to go fishing on nearly all of our trips with friendly, local fisherman that show you their tricks - it's an experience that not only teaches you the importance of fishing but is also a hell of a good time: on a boat, with friends, with beer, in the sun, drifting down a tropical coastline… 'nuff said!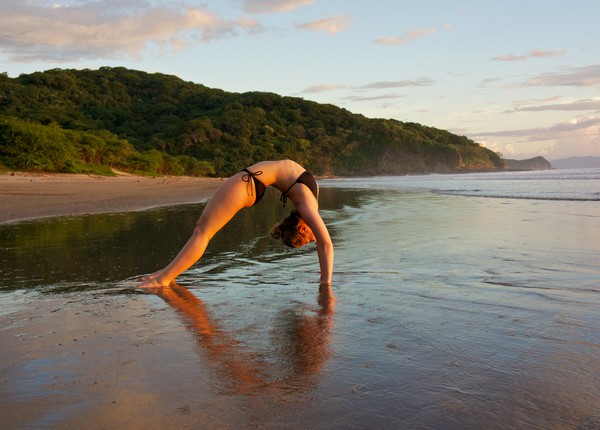 Practice Yoga on the Beach
Practicing yoga on the beach in warm, tropical weather provides you with the perfect environment to learn how to find a calm within yourself and feel your mind truly relax.
Listening to the sounds of the jungle and the crashing of the waves onshore only adds to the bliss of this experience. You can experience practicing yoga in a beautiful and isolated setting under the expert guidance of yoga instructors on several of our our trips.
So take an hour or so out of your day to stretch, breathe and enjoy one of the best yoga sessions of your life in paradise!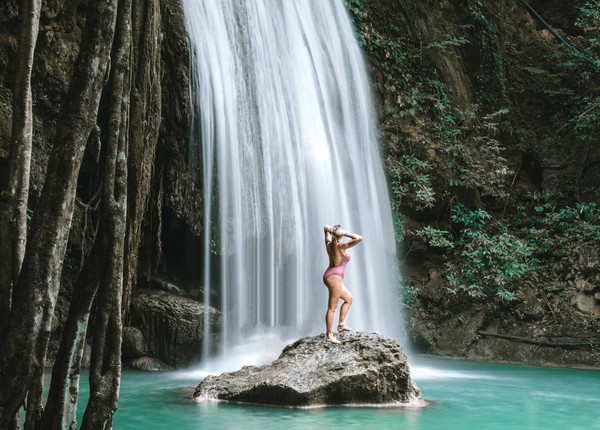 Bathe Under a Waterfall
When leaving home and hitting the road with your backpack, one thought you may have in mind is that you're not going to have another good shower for awhile. In most parts of the world water pressure is lower, there is often no hot water and you just can't seem to scrub off that distinct backpacker odour.
However, there is one place where hundreds of gallons of refreshing fresh water can pour all over you in a surreal bathing experience and that spot is found at the bottom of a waterfall. When hiking around jungles, one of our favourite things to search out is a good tropical waterfall where you can swim, relax, and get right under it and let the huge torrent of water pour all over you and wash you clean!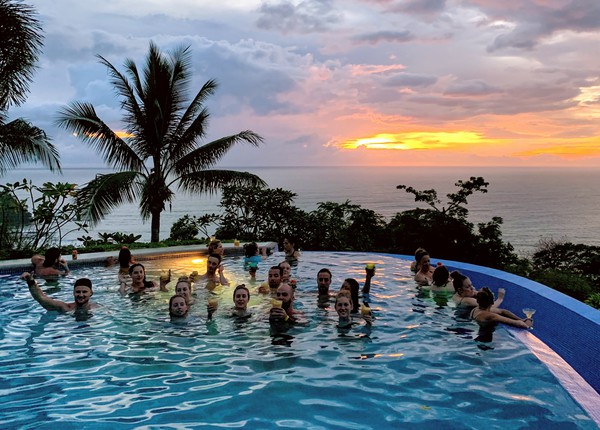 New Year's Day Pool Party
You know what's the best cure for a NYE hangover? Spending the day coolling off in an infinity pool with an absolutely EPIC view down the coast of this magnificent country.
Get the crew together to go over the stories from last night's blow out while you watch the sun set on our new year - 2021.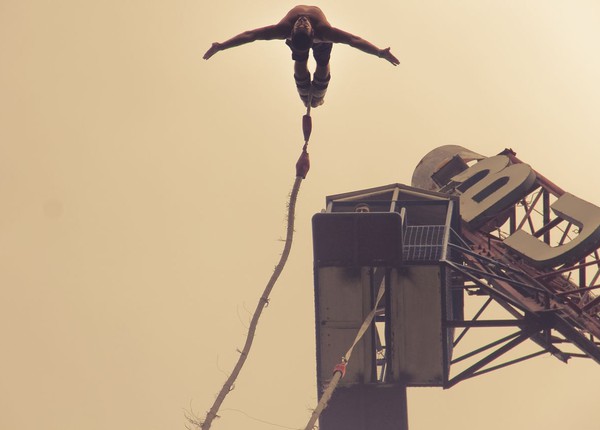 Go Bungee Jumping
Bungee Jumping is one of those activities we all imagine we'll do once in our lives, but it's usually when people are traveling that they do it for the first time. Maybe it's because they don't give themselves the time at home or maybe it's because people feel a little more courageous away from home or maybe it's just a matter of "if not now, then when?"
You're standing at the edge, staring out into the distance and feeling the fear build up inside you and then you finally leap off the edge and get a huge adrenaline rush as you fly straight down! It's quite a mental trip when you see the earth approaching so fast and your brain is telling you that you're about to die, but then you stop and go flying back up into the air as if you've just been reborn! If you've even got a slight urge to try it out then take the leap, you won't regret it!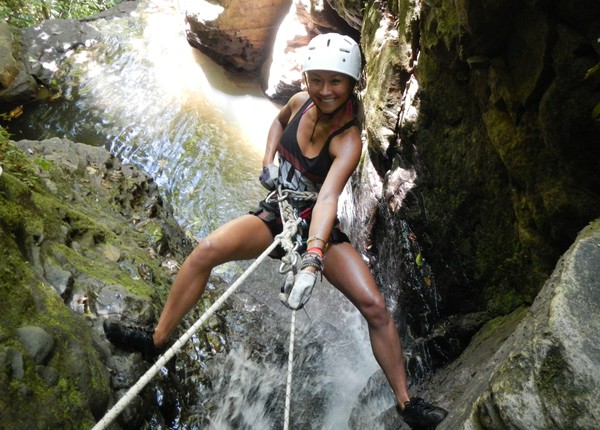 Rappel Down a Waterfall
Most of us have seen a waterfall from the top and bottom, gazing up (or down) at its immense power and beauty. But being able to get right inside a waterfall and travel from the top all the way to the bottom will give you a whole new appreciation for them!
You can do this by strapping on some climbing gear, taking the rope and easing yourself down the waterfall! A total dream experience for anyone who has been mesmerized by the dazzling sight of a waterfall.
And in Monteverde, where we experience this thrilling activity, you get to rappel down not just 1, but 6 waterfalls! The longest one measuring over 110 feet! You'll be hearing the Indiana Jones theme song the entire time as you lean back and guide yourself down and around waterfall after waterfall!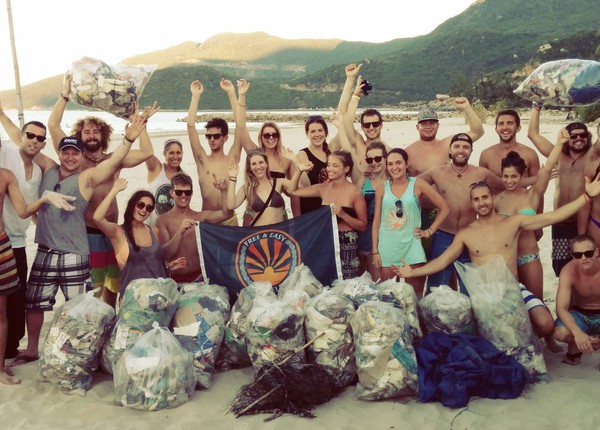 Beach Cleanup
Our beach cleanups are a great way to do good, feel good, and get some sunshine all at the same time. With thousands of tons of trash swirling around the oceans, the unfortunate reality is that some of it washes up onto the beautiful beaches we fall in love with around the world. So we thought 'Let's do something about this!'. Whenever possible, we grab some garbage bags and take it upon ourselves to leave the places we visit better than we found them. A beach cleanup day is always one of the most fun and rewarding days on a trip.
** We will always strive to make a beach cleanup happen, but sometimes due to time constraints we may not be able to. Or maybe the beaches are just already clean in that region!**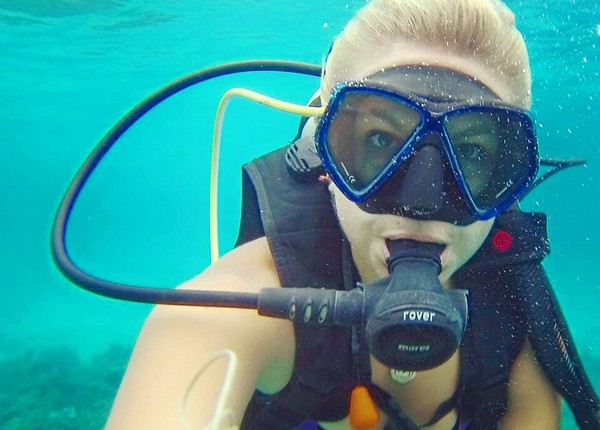 Go Scuba Diving
Life under the water is silent and peaceful, everything is flowing and moving in a way that we land creatures are unaccustomed to. Despite all of our high tech equipment, we are extremely out of our element in the water and it is a humbling experience to watch and observe what life is like under the sea.
Fish come in all shapes, sizes, and colours and move together in a harmonious unison through beautiful coral and twisted sunlight. On our trips, scuba diving is a huge activity as we travel to countries that offer some of the best diving in the world. The Caribbean in Central America possesses the second largest reef in the world, the warm waters of the South Pacific in Southeast Asia are home to the largest diversity of sea-life in the world and the seas of the Mediterranean are full of rich history and beauty.
There is a whole universe under the ocean and experiencing what it's like to be in it is a must at least once in your life!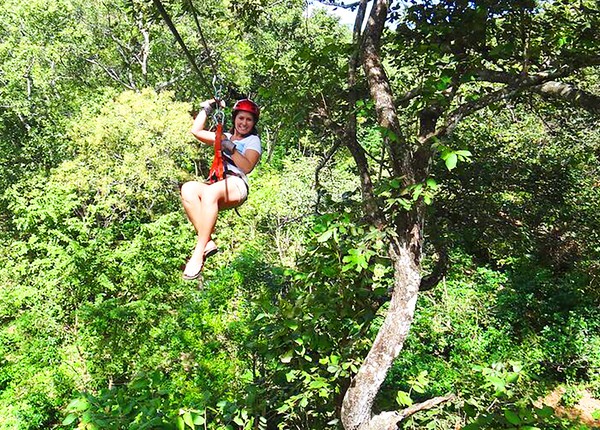 Zip Lining
Experience the rush of adrenaline as you step off the platform, the wind in your face as you begin to speed up, leafy branches whipping by until you burst into a sweeping view of the surrounding landscape…feel like you're flying yet? This is zip lining! It takes you to previously inaccessible parts of the country, from lush rainforests to tangled jungles. As you soar through and above the canopy, you get a bird's eye view of everything around you for miles. While being up high in the sky isn't for the faint of heart, zip lining takes you to a whole new world where you can sit back, relax, and zip along enjoying panoramas you probably couldn't find anywhere else. It's no surprise that when you come upon a group of zip liners there's nothing but smiles and whoops of excitement as they travel from tree to tree and on to new adventures.