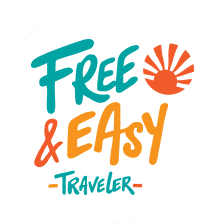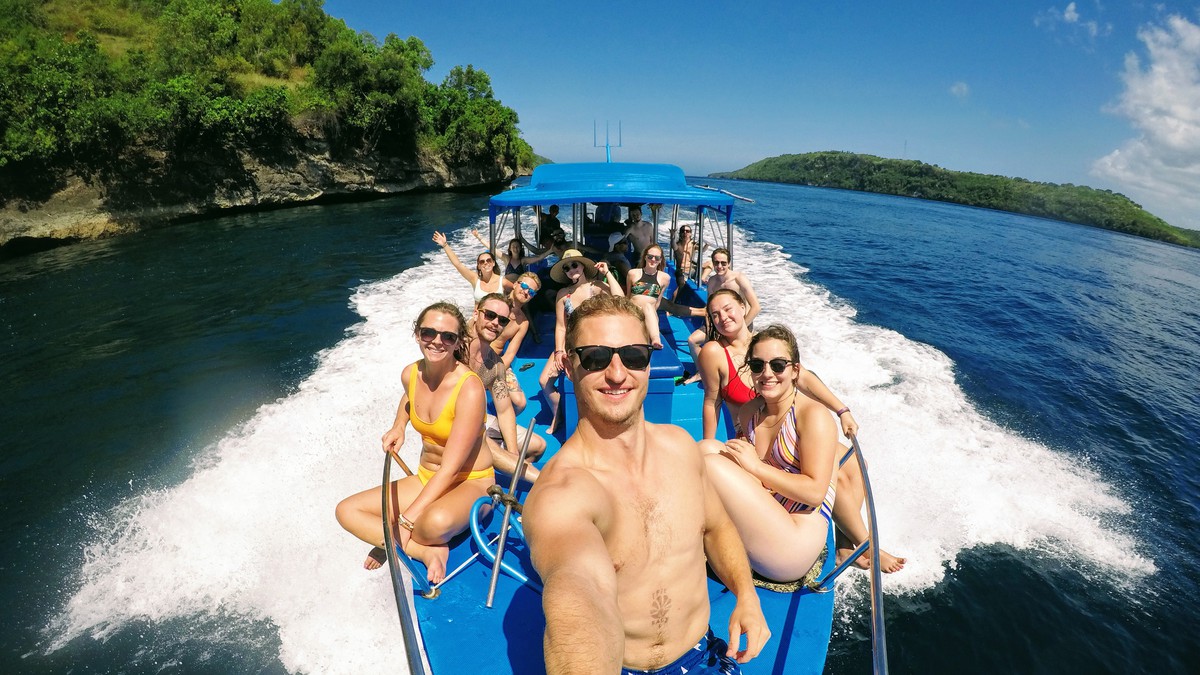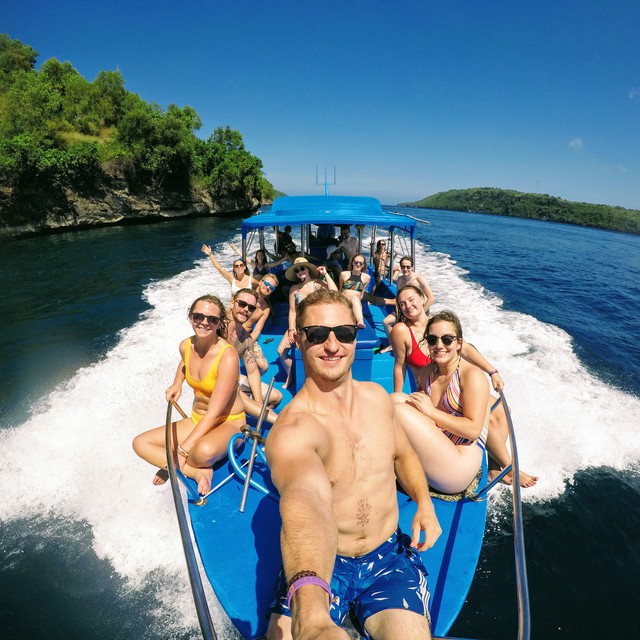 Bali & The Gilis
BALI & THE GILI ISLANDS
Two of the greatest spots in the world, Bali & The Gili Islands serve up a sweet list of experiences that make all 10 days of this trip legendary. Dig your toes into some of the softest sand known to man, drop in on some cool crisp waves and surf 'til your arms fall off, hit up all-night beach parties and dance until you see the sun, slap a snorkel on and follow a sea turtle around as you swim through calm, clear water.
Venture away from the beach and walk through ancient temples, witness beautiful spiritual ceremonies, and spot some interesting and rare wildlife. From the late-nights to the early mornings to everything in-between, you're going to want to soak up all you can of this 10-day trip!
If you ever need to catch up on sleep, then we prescribe a beach siesta or a couple cool ones in the hammock as everything, even sleep, is to be thoroughly enjoyed while in Indonesia!
We finish the trip in Canggu, Indonesia's newest hotspot! Here you can surf, discover quaint and colourful shops, eat the most amazing organic dishes, experience the epic nightlife, and soak up the laid-back, friendly environment. This is a can't-miss destination you'll want to visit over and over again with its forever evolving shopping and food scene.
I went on the 10-day Indo trip and it was amazing! Bali was unreal, the places we went were full of culture, good food and so many things to do! My favourite and most challenging thing we did was hiking Mount Batur for sunrise. Thanks guys for such an amazing and unforgettable trip!

- Kendra, May 2018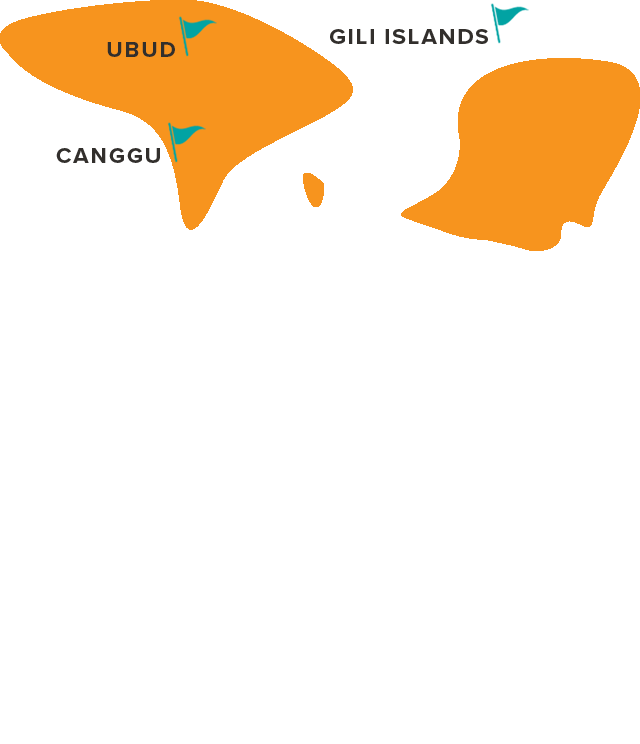 Itinerary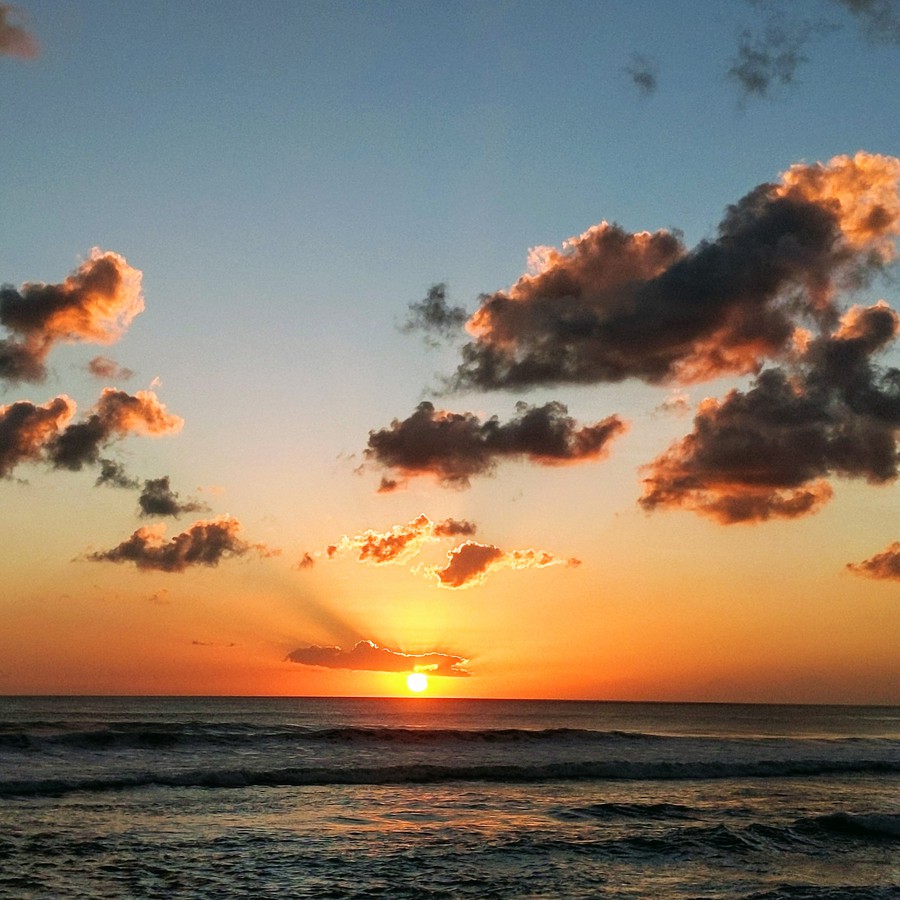 Day 1-3 (Canggu)

Group flights will arrive throughout the first day. Get acquainted with the busy streets of Canggu, Bali and meet your group over some food and drinks.

Canggu life epitomizes the blend of surf culture, rural traditional Bali, and trendy restaurants, bars and shopping. It has popped up recently as one of the places in all of S.E. Asia to visit, and the kind of place you never want to leave.

Day 4-7 (Gili Trawangan)

Take an A/C minivan to the pier and board the high speed "Fast boat" to the paradise island of Gili Trawangan.

Here the pace of the trip slows right down so you can experience Gili island living! Enjoy the beach life, or stay busy with scuba diving, paddle boarding, snorkeling, amazing food and nightlife that's perfect for backpackers.

Day 8-10 (Ubud)

Take the "Fast Boat" back from Gili Trawangan to Bali and from the pier take an A/C minivan transfer to the cultural destination of Ubud.

Here we will see the more rural side of Bali and get a chance to see monkeys, temples, and spend a day cycling through the countryside, climb a volcano for sunrise or enjoy a cooking class.

The last day transfer to the airport for your flights back home or continue to expolore Bali on your own.
Please note: The above itinerary is subject to change. A confirmed Free & Easy trip itinerary with exact routing will be provided at least 30 days prior to trip departure.
IMPORTANT: If you are doing a combo trip and booking your own flights, please contact us to confirm the start and end point of your trip.
What's included?
The Free & Easy Commitment

We strive to ensure everyone who wants to travel has the opportunity to have the most epic experience ever. Free & Easy delivers awe-inspiring travel experiences and creates lifelong connections between incredible people + incredible places.

See below for more details about what else is included in this amazing adventure.

Included Experiences: Indonesia 10

Snorkel trip on a glass bottom boat in the Gilis
Bali Countryside Bicycle Trip
Transportation to Tanah Lot and Batu Bolong Temples
First Night Intro to Bali Dinner
Breakfast in Canggu, Ubud and Kuta
Lunch on our bike day
All Free & Easy travelers will have access to our industry leading app to help manage your trip. This provides pre-trip planning advice, itinerary management, activity suggestions for free time, maps, chat support and more!

Accommodation: Indonesia 10

All accommodations - We send our trip planners to each of our destinations so they can do on the ground, research. Checking for the best location, comfort and vibe that we can get for our budget while also supporting local businesses.

Transportation: Indonesia 10

All transport - This trip will find us taking high speed ferries and private A/C vans

Leaders: Indonesia 10

1-2 group leaders - Our staff is consistently ranked as the #1 reason that people loved their trips. We meet most of our leaders while traveling with them so we can see in person if they are fun yet responsible, cool yet down to earth, professional yet laid back. This creates that perfect mix which makes our "tours" feel like a group of friends.

Optional Experiences: Indonesia 10

Canggu and Ubud's Food and Bar scenes
Scuba Diving
Fishing
Surfing
Bar Hopping
Balinese Cooking Class
Waterpark
Whitewater Rafting
Paddle Boarding
Yoga
Volcano Sunrise hike up Mt.Batur in Bali
Traditional Kecak Fire Dance Show at Uluwatu
Bicycle rental on sunset trip around the Gilis
Explore the Monkey Forest in Bali
and so much more! If you're interested in something that isn't on the list just ask us, if it's possible we will find you some options. We are here to try and help you find your ideal trip!

Not Included

All meals and drinks (except those mentioned above)
Activities outside of the ones listed above (optional activities are not included)
Any Visa or Visa fees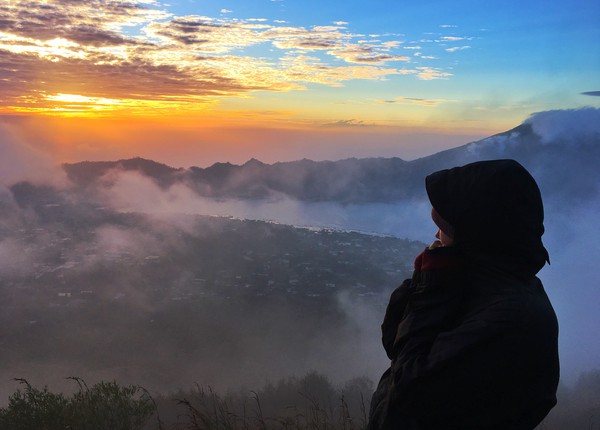 Volcano Sunrise Mt. Batur
This epic early morning trip will remind you why you decided to travel: a unique experience off-the-beaten-path that you won't soon forget! How many people can say they've sat atop a volcano (1,700 meters high) to watch the sunrise over the amazing Indonesian landscape of mountains and volcanos and absolute beauty? If you want to be one of those people, jump on this Indo trip right now!
This day trip includes an early morning, banana pancakes and coffee, and a 2-hour flashlight hike up Mt. Batur, an active (but safe!) volcano with unimaginable terrain. Then, you get your just rewards: a sunrise like no other. You have to see it to believe it! The beauty of it is magnified by your efforts to get there, and being surrounded by your amazing travel family and local guides.
The walk back is a whole new experience in the light of day, seeing the world as it wakes up right in front of you! Make sure you bring some seriously warm clothes in a daypack. You'll be glad you did when you reach the top. So get out there and have some fun, try something new, and live free!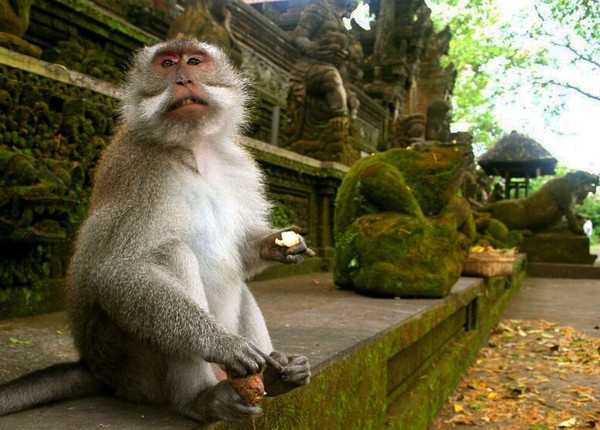 Visit the Monkey Forest in Ubud
The Sacred Monkey Forest Sanctuary, also known as the Monkey Forest Ubud, is not just a tourist attraction, but also an important spot when it comes to research and conservation programs.
Researchers from various institutions around the world visit the sanctuary to conduct research, particularly about the monkeys' social interactions and behaviours. There are hundreds of monkeys running around this forest, and if you've ever wanted to interact with one, then this is the place to do it.
Buy a couple bananas when you get there, and you're guaranteed an exciting time! Take a walk through the forest and explore the shrines, temples and even graveyard contained within. This is a unique experience, not to be missed!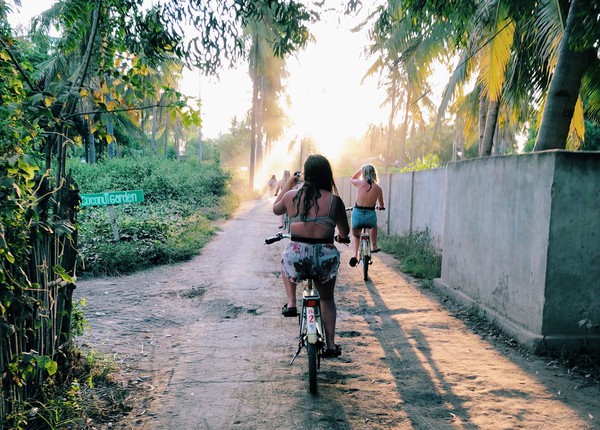 Bike Ride Adventure through Ubud
What is adventure? It's a full-day bike trip where you bike through the villages of Ubud, you stop to try all the local coffees including the "cat-poo-ccino," you stop at a banyan tree, at a house in one of the villages to learn more about traditional Hinduism, at some rice fields, and you end the day off with a delicious late lunch buffet. It's the most incredible day!
But what really makes it an adventure? Doing it all with two amazing leaders and a group of your new best friends who are just as excited as you are about trying new things and seeing the world from a local's point of view. Treat yourself to adventure: Go to Indo.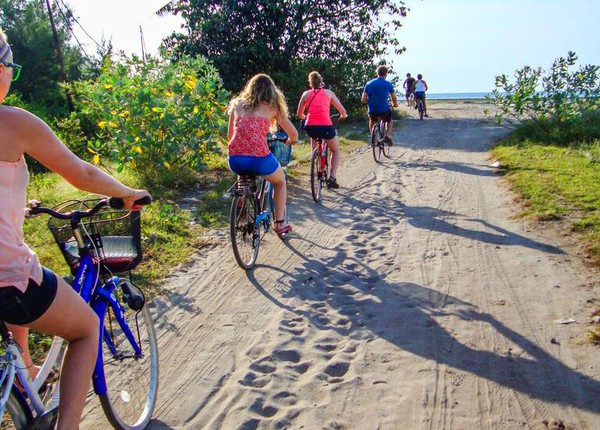 Sunset Bike Trip
The Gili Islands are one of the most beautiful places you will ever visit. Picture idyllic small islands in the ocean, surrounded by white sand beaches and fluttering palm trees… it's paradise. On Gili Trawangan, where we will be staying, there's one main road that loops the entire island—yes it's that small.
So the best way to see a sunset? Grab some pedal bikes and do a lap of the whole island! We stop at "Sunset Bar" to grab an ice-cold bottle of Bintang and watch the sun go down, and then pop by the local market for dinner on the way back. You won't forget this sunset anytime soon!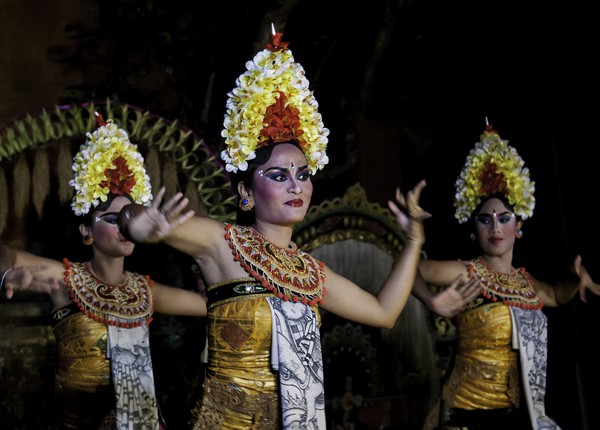 Traditional Kecak Fire Dance Show at Uluwatu
High up on the cliffs of Uluwatu, get ready to take in an incredible spectacle: the traditional Balinese dance called the Kecak. Based on the traditional Balinese ritual, it tells the famous epic Hindu story of the Ramayana. It's a very popular performance - just to get there will bring you through the paths of the temples and along clifftops with their view of the ocean, finally arriving at the stage.
The dance will feature no instruments, but rather the chanting of about 30 Indonesian men. The story that will unfold is that of a woman stolen from her husband by a demon, and the challenges he must face to rescue her. To top it all off? The whole performance takes place as the sun is setting, adding to the beauty and drama of the experience.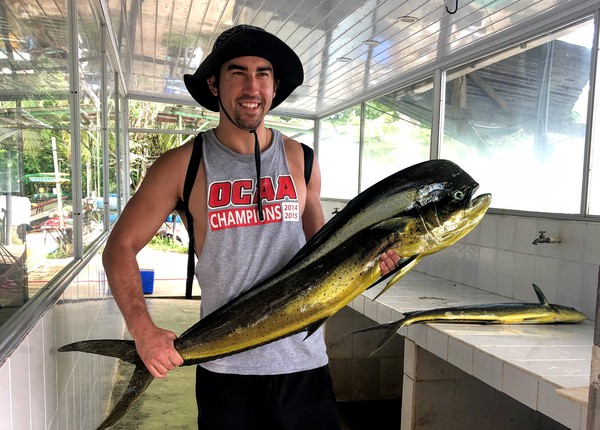 Catch a Fish and Eat It, Too
There's just no getting around it, fish is meant to be eaten fresh! And the only thing tastier than a fresh fish is one that you caught, too! Catching the fish that you eat used to be a part of life and still is in many parts of the world.
We offer the option to go fishing on nearly all of our trips with friendly, local fisherman that show you their tricks - it's an experience that not only teaches you the importance of fishing but is also a hell of a good time: on a boat, with friends, with beer, in the sun, drifting down a tropical coastline… 'nuff said!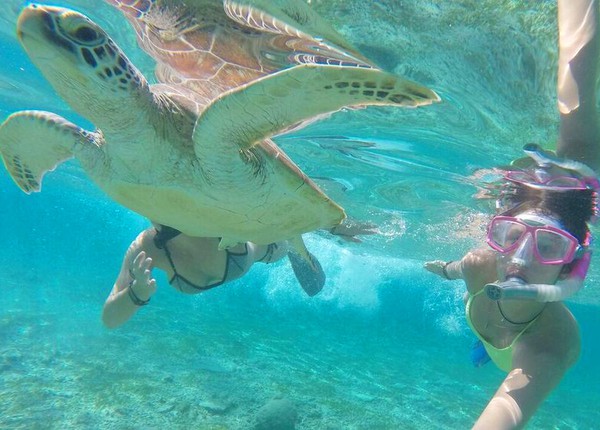 Snorkel Trip in a Glass Bottom Boat
Let's get that dose of Vitamin Sea! Free & Easy hires our very own private glass-bottom boat for a whole day. We'll be cruising around the Gilis, throwing back beers, and stopping at a couple rad snorkel spots.
The crystal clear, beautifully warm waters here are ideal to see all manner of sea life, so don't be surprised if you get to hang with a couple of turtles throughout the day. Midway through we'll be stopping on Gili Air for lunch, before heading back out to sea. There is no better way to chill out in the Gilis.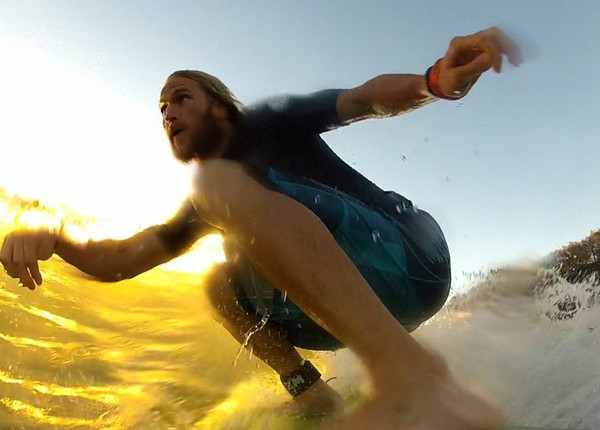 Surf A Wave
Nothing compares to the feeling you get the first time you paddle into a wave, stand up as it breaks and ride the face of it – this is the incomparable feeling of surfing. When you get it right, it feels right and you'll always ALWAYS remember that first time you caught that first wave. Don't be surprised if this experience leads to an eternal addiction.
Surfing is arguably the most challenging sport in the world and requires you to learn much more than physical coordination. In order to surf a wave, you'll need patience, discipline, a lack of fear and an insatiable urge to have fun. It's the timing of your prescence in the ocean combined with nature providing you with that perfect wave, just for you. It's no coincidence that 6 of the countries that we run trips to (Indonesia, the Philippines, Nicaragua, Costa Rica, Peru & Colombia) have wicked surf scenes because there's nothing quite like it.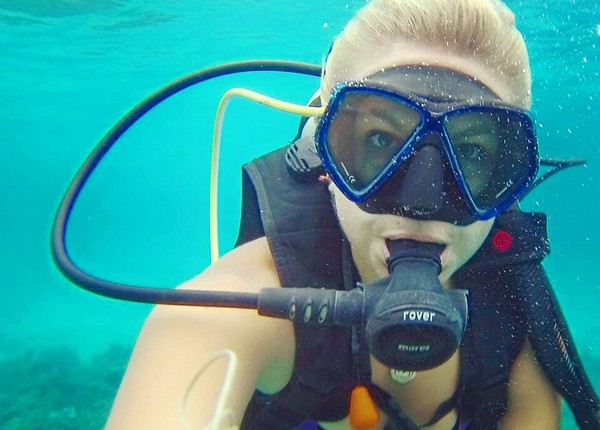 Go Scuba Diving
Life under the water is silent and peaceful, everything is flowing and moving in a way that we land creatures are unaccustomed to. Despite all of our high tech equipment, we are extremely out of our element in the water and it is a humbling experience to watch and observe what life is like under the sea.
Fish come in all shapes, sizes, and colours and move together in a harmonious unison through beautiful coral and twisted sunlight. On our trips, scuba diving is a huge activity as we travel to countries that offer some of the best diving in the world. The Caribbean in Central America possesses the second largest reef in the world, the warm waters of the South Pacific in Southeast Asia are home to the largest diversity of sea-life in the world and the seas of the Mediterranean are full of rich history and beauty.
There is a whole universe under the ocean and experiencing what it's like to be in it is a must at least once in your life!