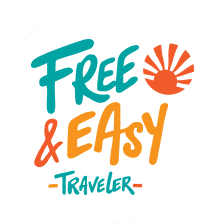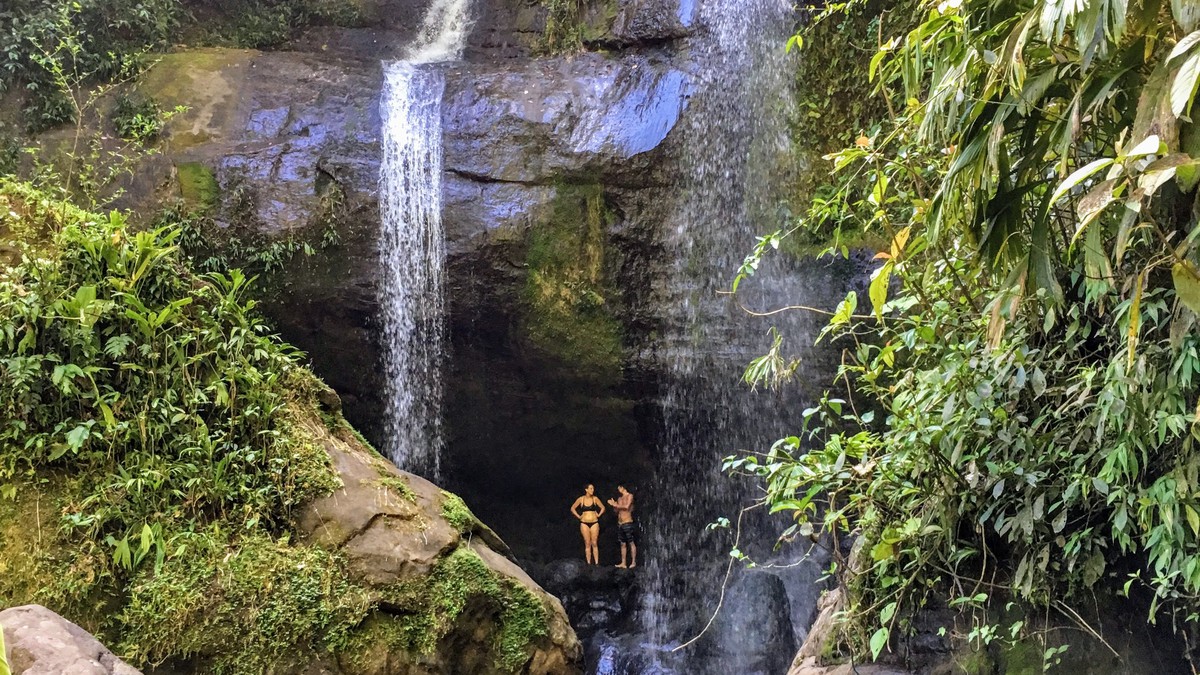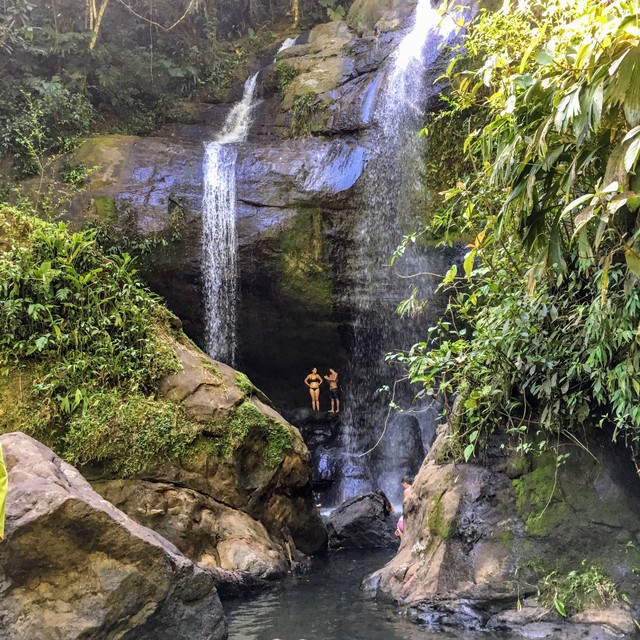 Costa Rica South
Costa Rica South Trip: 10 Days
Costa to Costa
We really get to know where this country got its name by visiting both coasts in one 10-day adventure!
We will have a real chance to soak in those Caribbean vibes, traditional foods, local music, and SLOTHS! Sloths everywhere! Sit back, relax, and get your tan on or hike, bike, and raft through the heart of the jungle and along the beaches. Epic wildlife and adrenaline-fuelled activities will keep you thinking about returning to Puerto Viejo before you even leave

Catch the sunrise over the Caribbean Sea in the morning, then head over to the Pacific Ocean to catch the sunset that night with drinks in hand! It is now time for the other culture that Costa Rica is known for - Surf Culture! Try it out for yourself or sit back and watch. Either way, you will feel at home visiting this sweet little surf town. With heaps to do with loads of fun people, you can finally start that healthy yoga and surf lifestyle. In addition you can explore the mangroves, swim under waterfalls and finish off the day with unforgettable beach fires and ice-cold cervezas. It is time to learn the real meaning of PURA VIDA.
Just got back from the 10-day trip and it was amazing! It was my first time traveling solo and I can't wait to do another Free & Easy trip soon. The group was awesome and the activities were well-planned and so much fun. White water rafting (included in the trip cost) was incredible and the leaders went out of their way to set up a zip-lining excursion for a few of us even though it wasn't on the original itinerary. I would highly recommend this trip to anyone wanting to experience somewhere new, make new friends and enjoy the culture and beautiful beaches of Central America.

- Lindsey, March 2018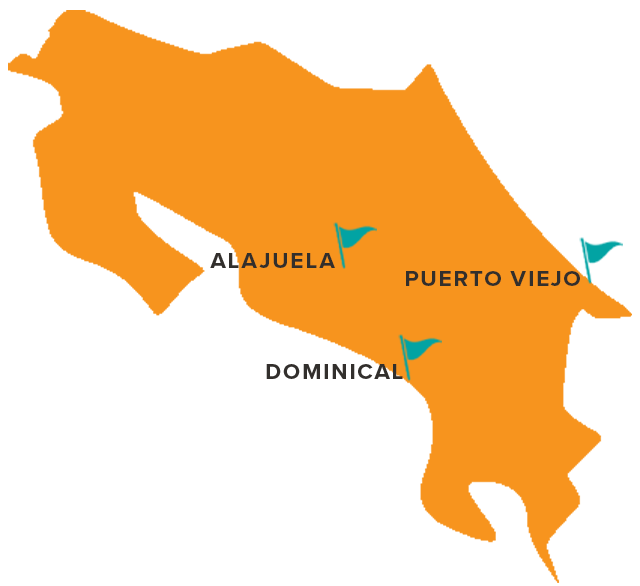 Itinerary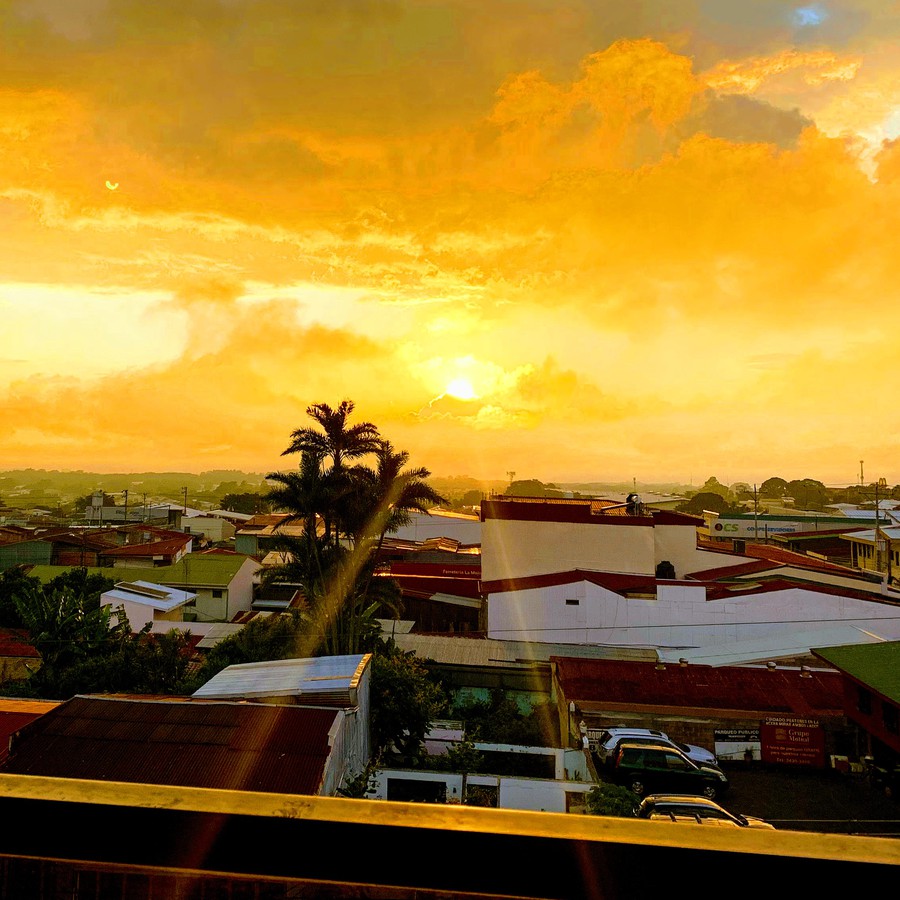 Day 1 (Alajuela)

Group flights arrive in San Jose, stay at nearby Alajuela Backpacker's and get to know your new travel family over cold beers and pizza. The next morning we head out and start our adventure!

Day 2-5 (Puerto Viejo)

Early morning departure for white water rafting on Costa Rica's infamous Rio Pacuare (includes buffet breakfast and lunch in the jungle, the whole trip covered by FnEZ).

Road trip in our own private minibus (A/C, stereo & cooler) and arrive in the late afternoon into the rasta Caribbean town of Puerto Viejo. Spend the following days with optional activities like our FnEZ beach bicycle parade, waterfall day trip, Jaguar Rescue Centre tour and the infamous Tasty Tuesday Party with our good friends at Tasty Waves Cantina!

Day 6-10 (Dominical)

Catch the sunrise over the Caribbean Sea as we say "adios" to Puerto Viejo, then road trip over to the Pacific Ocean to catch the sunset that night.

Domincal is a small little surf town on the south Pacific coast. Rather than shiny 5-star hotels and large supermarkets you will find locally grown farmers markets, unique independent run bars/restaurants. Some say the janky road to Domincal is what has helped keep its authenticity.

The open beaches are perfect to explore, grab a cool beer, or surf and swim in the warm pacific water. Keep an eye our for wildlife because the south pacific side of Costa Rica is the most prolific part of when it comes to land and marine animals alike.

On Day 9 we head back to Alajuela (as late as possible) just to get some sleep and be ready to head home the next day.
Please note: The above itinerary is subject to change. A confirmed Free & Easy trip itinerary with exact routing will be provided at least 30 days prior to trip departure.
IMPORTANT: If you are doing a combo trip and booking your own flights, please contact us to confirm the start and end point of your trip.
What's included?
The Free & Easy Commitment

We strive to ensure everyone who wants to travel has the opportunity to have the most epic experience ever. Free & Easy delivers awe-inspiring travel experiences and creates lifelong connections between incredible people + incredible places.

See below for more details about what else is included in this amazing adventure.

Included Experiences: Costa Rica South 10

White Water Rafting down the Pacuare River
Visit Jaguar Rescue Centre & Wildlife Sanctuary
Kayak / Stand Up Padde (SUP) board through Mangrove forrest
Rainforest hike in the Marino Ballena national park
Visit secluded waterfalls
Visit the Whale Tail Beach at Uvita
Swim in both Caribbean and Pacific oceans
All Free & Easy travelers will have access to our industry leading app to help manage your trip. This provides pre-trip planning advice, itinerary management, activity suggestions for free time, maps, chat support and more!

Accommodation: Costa Rica South 10

All accommodations - We send our trip planners to each of our destinations so they can do on the ground, research. Checking for the best location, comfort and vibe that we can get for our budget while also supporting local businesses.

Transportation: Costa Rica South 10

All transport - On this trip we will be using our own private minibus (A/C, stereo & cooler).

Leaders: Costa Rica South 10

1-2 group leaders - Our staff is consistently ranked as the #1 reason that people loved their trips. We meet most of our leaders while traveling with them so we can see in person if they are fun yet responsible, cool yet down to earth, professional yet laid back. This creates that perfect mix which makes our "tours" feel like a group of friends.

Optional Experiences: Costa Rica South 10

Yoga lessons
Horseback riding
Snorkeling
Surfing
Ziplining
See sea fishing
Scuba diving
Whale and dolphin watching
National park day trips
Overnight hike to observatory lounge in Corcovado national park
Day trip to Caño Island
Swim in waterfalls
Caribbean cooking class
Beach BBQ
Explore museums in the capital city

And so much more! If you're interested in something that isn't on the list just ask us, if it's possible we will find you some options. We are here to help you find your ideal trip!

Not Included

All meals and drinks (except those mentioned above)
Activities outside of the ones listed above (optional activities are not included)
Any Visa or Visa fees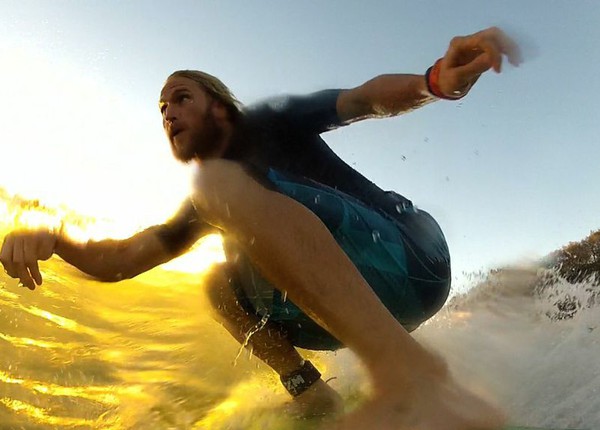 Surf a Wave
Nothing compares to the feeling you get the first time you paddle into a wave, stand up as it breaks and ride the face of it – this is the incomparable feeling of surfing. When you get it right, you'll know, because you'll be more excited than the first time you had sex and probably more addicted to it, too!
Surfing is arguably the most challenging sport in the world and requires you to learn much more than physical coordination. In order to surf a wave, you'll need patience, discipline, a lack of fear and an insatiable urge to have fun. It's no coincidence that 7 of the countries that we run trips to (Indonesia, the Philippines, Nicaragua, Costa Rica, & Peru) have wicked surf scenes because there's nothing quite like it. *** PLEASE NOTE surfing is dependent on the right conditions and not always possible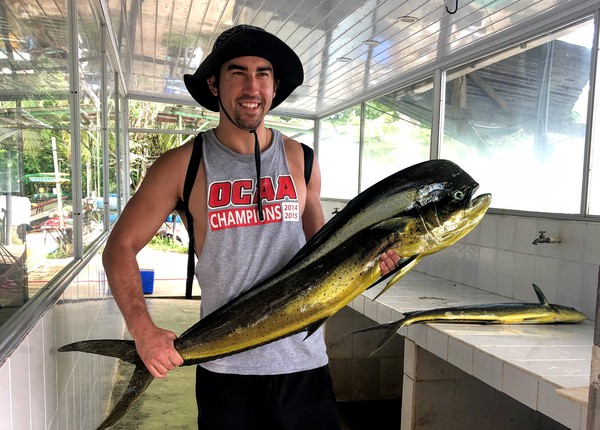 Catch a Fish and Eat It, Too
There's just no getting around it, fish is meant to be eaten fresh! And the only thing tastier than a fresh fish is one that you caught, too! Catching the fish that you eat used to be a part of life and still is in many parts of the world.
We offer the option to go fishing on nearly all of our trips with friendly, local fisherman that show you their tricks - it's an experience that not only teaches you the importance of fishing but is also a hell of a good time: on a boat, with friends, with beer, in the sun, drifting down a tropical coastline… 'nuff said!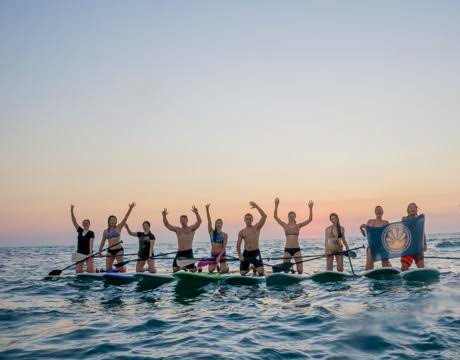 Stand Up Paddling
Why not try one of the most popular new sports around–Stand Up Paddling (SUP). Perfect for anyone looking to hit the waves but who doesn't quite have the whole surfing thing down yet, SUP-ing is a great workout and gets you out on those tropical crystal-clear waters and wicked beach breaks.
You don't want to be sleeping the day away in paradise. Time to get out in the sun and waves, and get a full body workout on your paddleboard with your Free & Easy friends. And hey, if you need a little break you can just stretch out and catch some rays on your board before picking that paddle back up. By the time you're done, you'll most certainly deserve the beer (or 10) that you choose to consume upon flopping down onto the warm, white sand.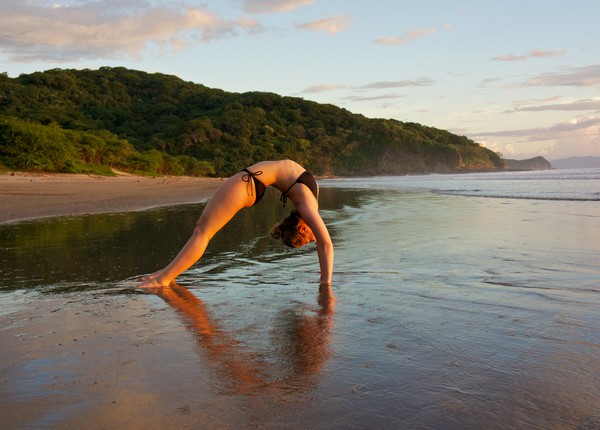 Practice Yoga on the Beach
Practicing yoga on the beach in warm, tropical weather provides you with the perfect environment to learn how to find a calm within yourself and feel your mind truly relax.
Listening to the sounds of the jungle and the crashing of the waves onshore only adds to the bliss of this experience. You can experience practicing yoga in a beautiful and isolated setting under the expert guidance of yoga instructors on several of our our trips.
So take an hour or so out of your day to stretch, breathe and enjoy one of the best yoga sessions of your life in paradise!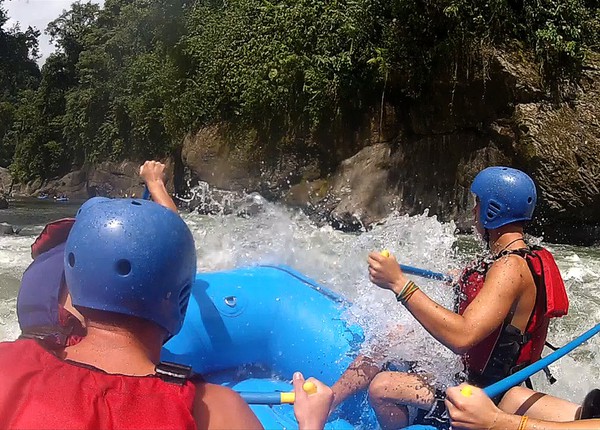 Whitewater Raft Down the Rio Pacuare
Traveling by river can be a fun way to travel and see the surrounding nature, and if that river happens to be very fast and rapid and you're flying down it on an inflatable raft then it's so fun that it's better than any ride you've ever been on at an amusement park! Whitewater rafting down a river is a thrilling activity, and when you do it in a tropical setting it's also warm, exotic and encompassed by beautiful and lush jungle vegetation and waterfalls pouring right into the river. The Rio Pacuare in Costa Rica is where we experience this thrill and it's an absolutely surreal setting, named 1 of the 5 most beautiful rivers in the world by National Geographic, rafting down this river will make you feel like you're flying right through the rapids of Jurassic Park!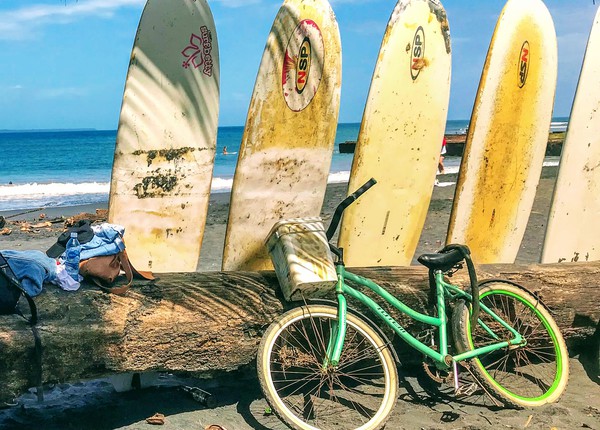 Caribbean Bicycle Parade
What better way to beach-hop than cruising with 20 of your new best friends on a retro bicycle along the Caribbean coast?
Throw in a couple bar stops scattered along the palm tree-dotted coastline of Puerto Viejo with its chill reggae vibes and you'll see why our infamous Free & Easy Caribbean Bicycle Parade has been a staple and highlight on our Costa Rica/Panama trip since we started it!
Don't forget some pirate gear! (It's only $5 a day for a bicycle rental - don't forget to hold onto your bike an extra day if you're wanting to visit the Jaguar Rescue Center!)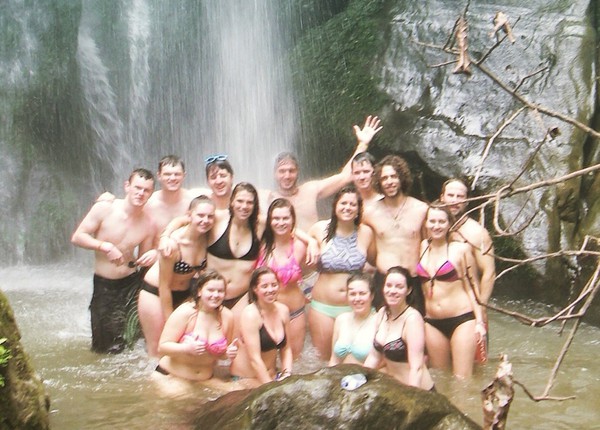 Puerto Viejo Waterfall Tour
Follow the trip leaders for a free tour and hike to a local waterfall in Bri Bri aboriginal territory. There's no better way to escape the Costa Rican heat than finding yourself under the lush jungle canopy and jumping into the fresh waters of the rainforest. Shuttle bus and tour included in your trip price!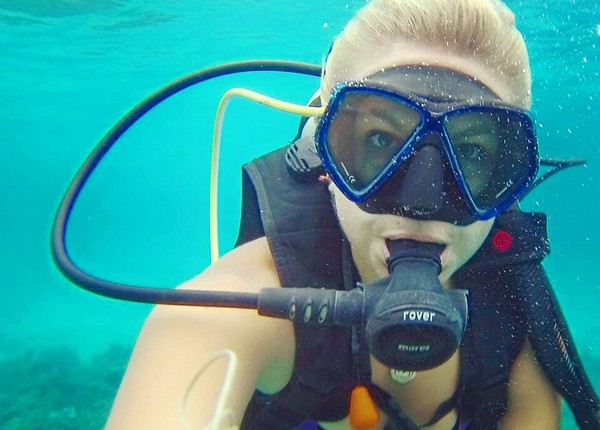 Go Scuba Diving
Life under the water is silent and peaceful, everything is flowing and moving in a way that we land creatures are unaccustomed to. Despite all of our high tech equipment, we are extremely out of our element in the water and it is a humbling experience to watch and observe what life is like under the sea.
Fish come in all shapes, sizes, and colours and move together in a harmonious unison through beautiful coral and twisted sunlight. On our trips, scuba diving is a huge activity as we travel to countries that offer some of the best diving in the world. The Caribbean in Central America possesses the second largest reef in the world, the warm waters of the South Pacific in Southeast Asia are home to the largest diversity of sea-life in the world and the seas of the Mediterranean are full of rich history and beauty.
There is a whole universe under the ocean and experiencing what it's like to be in it is a must at least once in your life!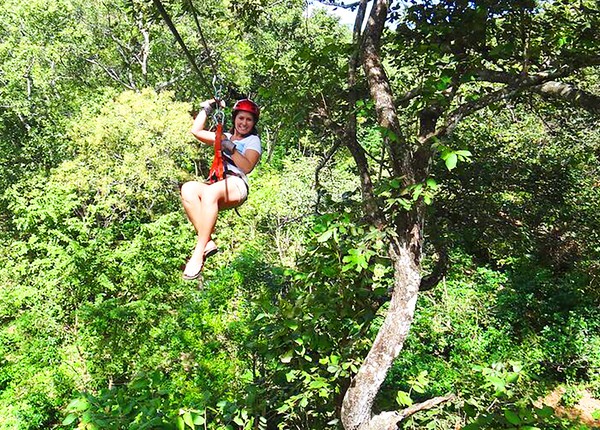 Zip Lining
Experience the rush of adrenaline as you step off the platform, the wind in your face as you begin to speed up, leafy branches whipping by until you burst into a sweeping view of the surrounding landscape…feel like you're flying yet? This is zip lining! It takes you to previously inaccessible parts of the country, from lush rainforests to tangled jungles. As you soar through and above the canopy, you get a bird's eye view of everything around you for miles. While being up high in the sky isn't for the faint of heart, zip lining takes you to a whole new world where you can sit back, relax, and zip along enjoying panoramas you probably couldn't find anywhere else. It's no surprise that when you come upon a group of zip liners there's nothing but smiles and whoops of excitement as they travel from tree to tree and on to new adventures.