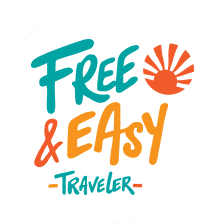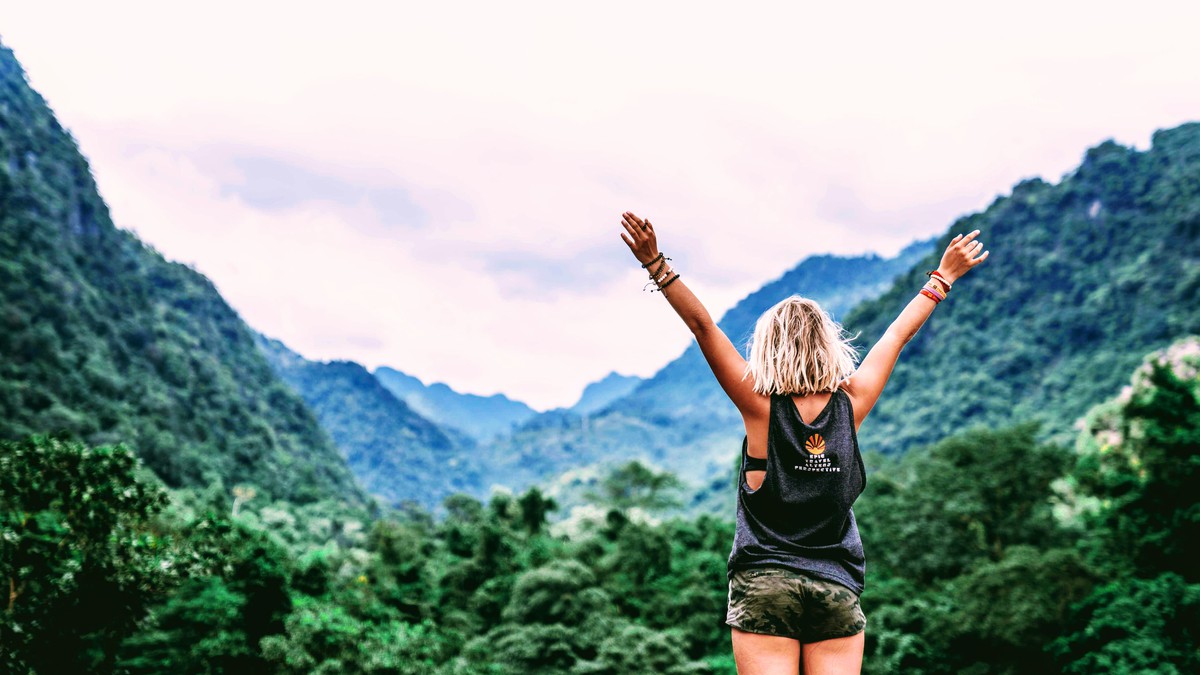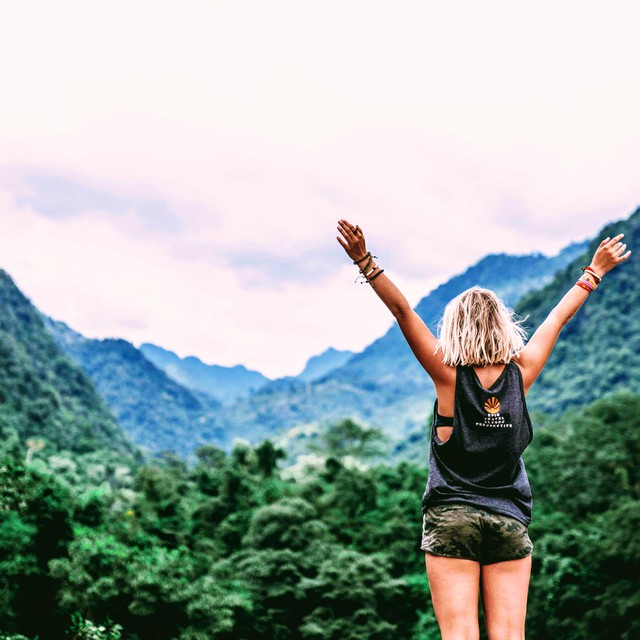 North Vietnam
North Vietnam Trip: 10 Days
Beauty Beyond Words
Experience the best Vietnam has to offer in an incredible 10 days. Take the time to slow down and enjoy the soft, white sand beaches, the untouched rural countryside, the delicious food and the awesome people.
With limestone cliffs jutting out of emerald waters, lush jungle all around, beaches that stretch on forever, and so much more, Vietnam is sure to blow your mind and become your new favourite destination.
"Vietnam trip is a must. Perfect mix of chill days around a pool or Beach, and hiking up to huge caves! I'd give this trip and company 10 stars if I could."

-Bryson, May 2019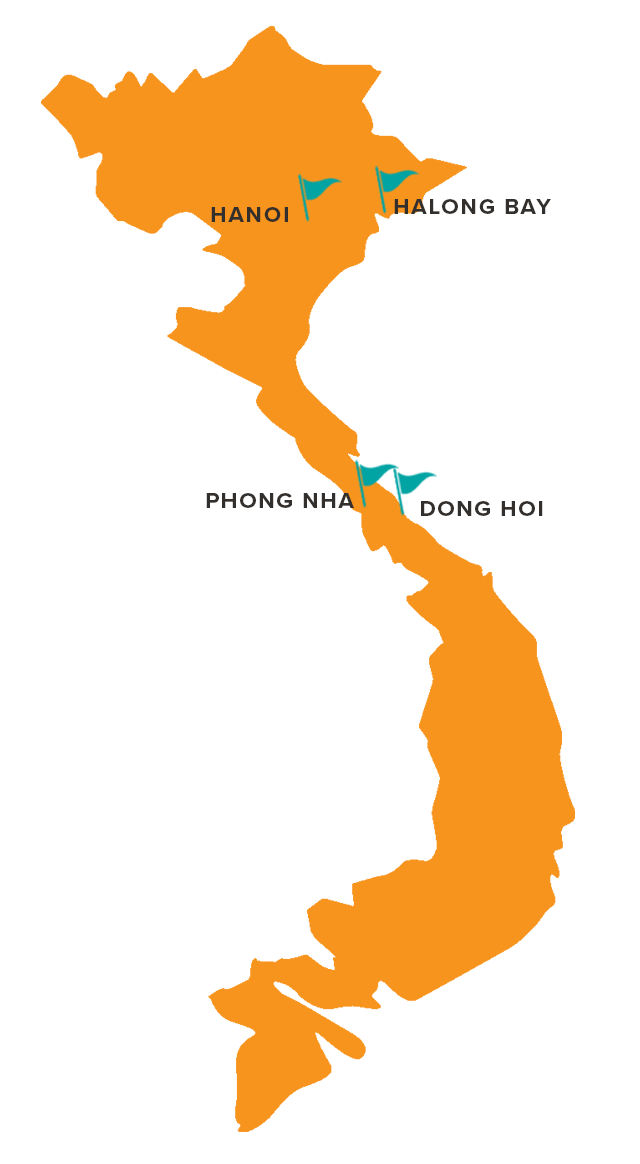 Itinerary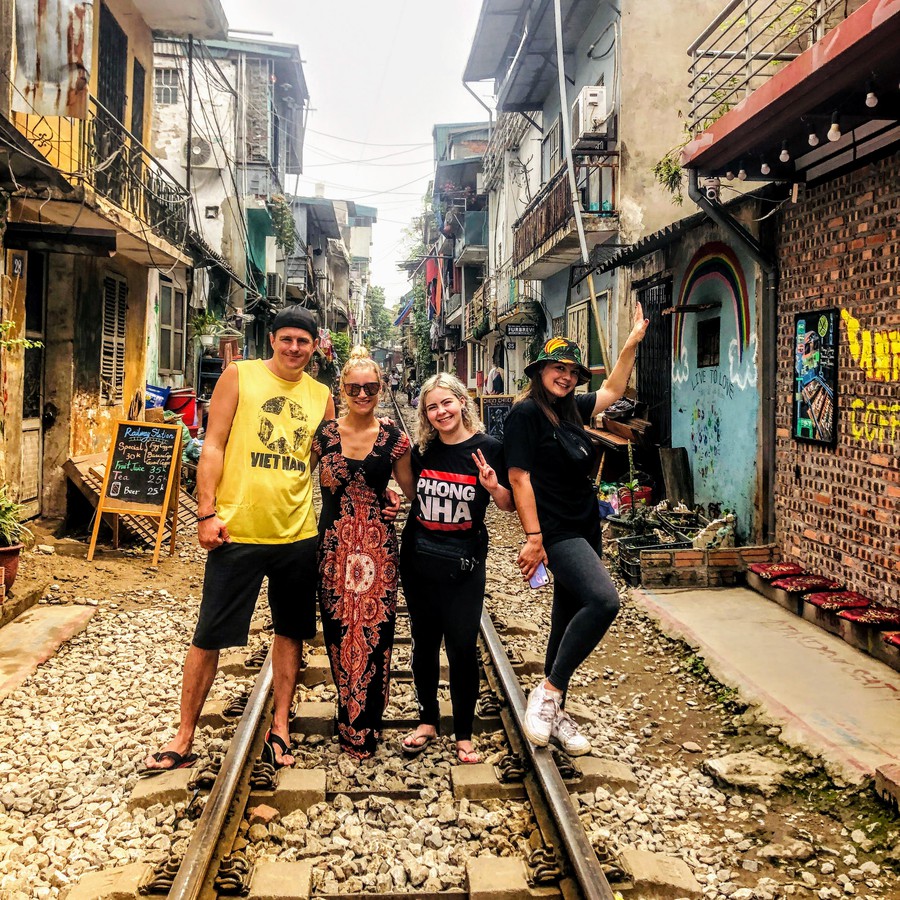 Please note: The above itinerary is subject to change. A confirmed Free & Easy trip itinerary with exact routing will be provided at least 30 days prior to trip departure.
IMPORTANT: If you are doing a combo trip and booking your own flights, please contact us to confirm the start and end point of your trip.
What's included?
The Free & Easy Commitment

We strive to ensure everyone who wants to travel has the opportunity to have the most epic experience ever. Free & Easy delivers awe-inspiring travel experiences and creates lifelong connections between incredible people + incredible places.

See below for more details about what else is included in this amazing adventure.

Included Experiences: Vietnam 10 N

Free and Easy Rider motorcycle day trip along the Hai Van Pass (incl entrance to Elephant Springs)
2-day Halong Bay tour (overnight stay on traditional Chinese junk boat)
National Park tour in Phong Nha to Worlds largest cave complex
Kayaking in Halong Bay
Swimming in Tra Ang Cave in a 415 Million year old Rainforest
Laughing Yoga session
FNEZ sponsored beach cleanup
All meals on the Halong Bay Boat Trip
All Free & Easy travelers will have access to our industry leading app to help manage your trip. This provides pre-trip planning advice, itinerary management, activity suggestions for free time, maps, chat support and more!

Accommodation: Vietnam 10 N

All accommodations - We send our trip planners to each of our destinations so they can do on-the-ground research. Checking for the best location, comfort, and vibe that we can get for our budget while also supporting local businesses.

Click here for a photo album of samples of where we normally stay.*

*things can change but this is the current set up for this trip and we aim for this standard if we have to make changes.

Transportation: Vietnam 10 N

All transport - This trip will find us taking private A/C vans, train and private boat.

Leaders: Vietnam 10 N

1-2 group leaders - Our staff is consistently ranked as the #1 reason that people loved their trips. We meet most of our leaders while traveling with them so we can see in person if they are fun yet responsible, cool yet down to earth, professional yet laid back. This creates that perfect mix which makes our "tours" feel like a group of friends.

Optional Experiences: Vietnam 10 N

Bar Hopping
Water Puppet Show
Stand up Paddle Boarding Tour
Bicycle Tour of Dong Hoi
Yoga
Massages
And so much more! If you're interested in something that isn't on the list just ask us and if it's possible we will find you some options. We are here to try and help you find your ideal trip!

Not Included

All meals and drinks (except those mentioned above)
Activities outside of the ones listed above (optional activities are not included)
Any Visa or Visa fees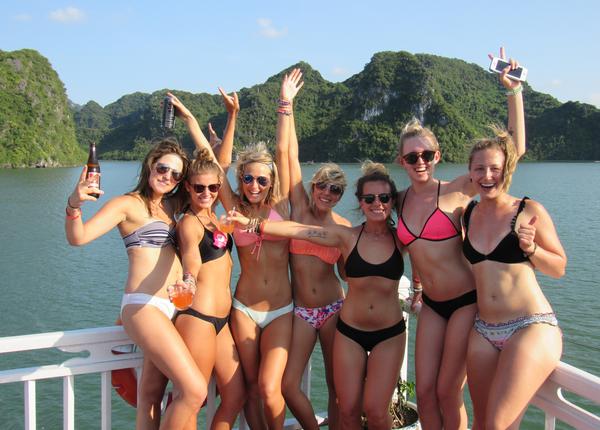 Party on a Junk Ship in Halong Bay
Made up of over 3000 looming, limestone isles rising from the emerald waters of the Gulf of Tonkin in Vietnam, Halong Bay (literally "descending dragon bay") is a masterpiece of nature and must be seen in person.
On our Vietnam adventure, we charter out an entire boat to ourselves complete with bar, bartender, cooks, servers, and cleaners. So what's better than gliding through the inspiring beauty of Halong Bay with 20 of your friends on an old junk ship? Turning that boat into a party boat and having one of the best parties of your life that begins in the afternoon and ends deep into the night!
Waking up still surrounded by the incredible sights of Halong Bay will be enough to wash away your hangover and conclude a truly unforgettable experience!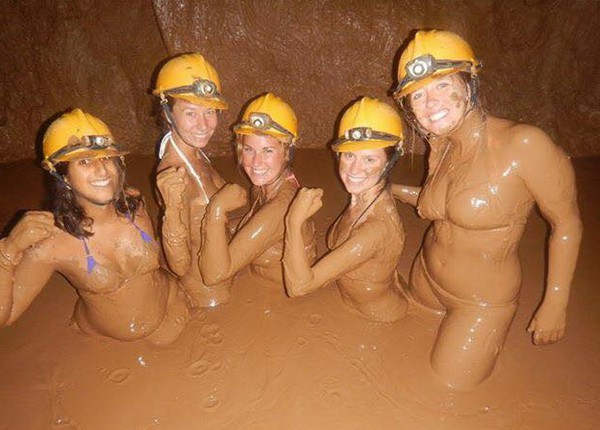 Dark Cave Mudding in a 415 million-year-old Rainforest
The Phong Nha-Kẻ Bàng National Park, a renowned UNESCO World Heritage Site, is the perfect way to spend a day in Vietnam. The 415-million-year-old rainforest is host to 300 caves and grottoes begging to be discovered. With 126 km of caves to explore, you'll never want to leave.
Grab a bathing suit or boardies (the ones you don't really like) and prepare to get dirty! We'll be following two well-informed and hilarious guides so you don't miss any of the amazing history of this magical place—or any of the fun. Our first stop is at 8-Ladies Cave and temple where we learn about the history of the area in relation to the American War and get to walk on part of the original Ho Chi Minh Trail.
From there, we ride Vietnam's longest zipline into the entrance of Dark Cave, and continue our journey trekking through, and then swimming inside, this well-named pitch-black cave with nothing but your friends, your bravery, and a headlamp.
Next up, a brand new mud pit! Well, new to us anyway. Just discovered in 2014, this is what backpackers are always on the lookout for: fresh experiences. The mud itself is said to have anti-aging properties, and you can lay right back and float through it like a brown bean in a can. Plus, your inner child will squeal at the fact that the exit is a mud-slide!
A 30m mud-slide straight into more adventures with kayaking, water play, and even more ziplines and obstacles. It's like an adult jungle gym hosted by nature itself.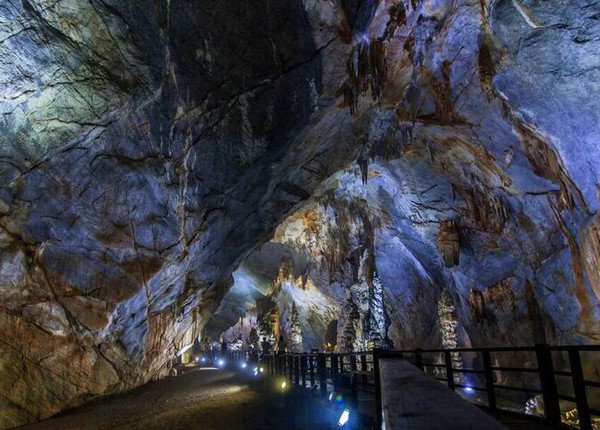 Paradise Cave: Asia's Largest Dry Cave
Following your mudding adventures in the Dark Cave and a delicious lunch to refuel, we head to the big draw: Paradise Cave. As Asia's largest dry cave at 31 km long, it's pretty hard to beat! After your initial breathtaking view, take your time exploring and trekking around the 1 km area that is open to tourists in this real-life postcard.
From a distance the view is once in a lifetime, with wooden boardwalks sprinkled around the massive caverns and everything spectacularly lit with multicoloured lights. It gets even cooler closer up as you explore the stalactites and stalagmites that seem to have their own inner glow. The sparkle is from their mineral makeup and explains why with 31 kms of stunning, sparkling cave scientists chose to call it Paradise.
With a surprise around every corner and a constantly beautiful backdrop to boot, this absolutely epic experience is what backpacking dreams are made of. The entire National Park is a treasure that will be attracting more attention as time passes, and you'll be one of the first waves of travelers to experience it. Fresh off this adventure, you'll be glad to have your friends around the next morning so you can convince each other it all really happened.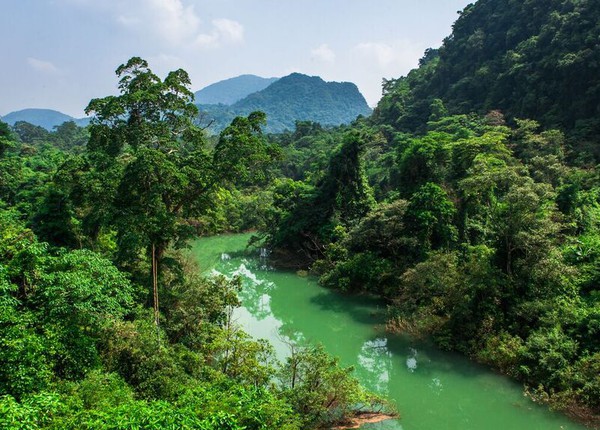 Abandon Valley Day Trek
The Abandon Valley Day Trek takes you through an array of sights in the Phong Nha-Kẻ Bàng National Park, a 415 million-year-old rainforest that up until 2009 had been unexplored by humans. You could be in the first generation of explorers to get to know this amazing area.
A trek for hikers looking for a challenge, be prepared for adventure with knowledgeable, local guides to take you through this experience! This 16 km trek goes through rough, beautiful jungle and takes you to the back entrance of the Dark Cave shrouding a portion of the trek in darkness. Climbing over boulders and walking through streams you'll be satisfying your need for adrenaline-pumping action while backpacking in Vietnam.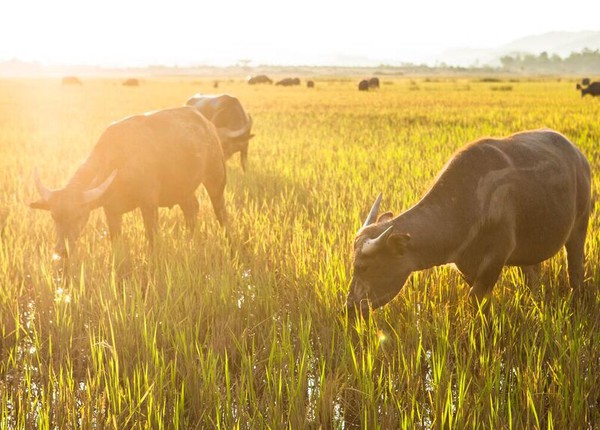 Phong Nha Bike Ride
Making it all the more mysterious, the town didn't become accessible by road or have power until 2009. What better way to enjoy a perfect warm afternoon than grabbing some bicycles, some road pops, and your new crew and embarking on a ride where what keeps you going isn't the destination, but the joy of pure discovery.
Hop on and join the ride passed a great river, through beautiful rice terraces and passed Vietnamese villages untouched by the outside world. Our first stop, Pepper House, gets us some shade, a dip in the pool and a refreshing beverage. After another cruise through some local villages, we head to Moi Moi, a restaurant in the middle of a farm by the river. Picturesque, or what? And with a well-deserved BBQ buffet worth writing home about and quick tube rides on the river, it's more than a pretty face.
After being fed and watered, and keeping an easy-going FnEZ pace of course, we pedal across a bridge to the Pub with Cold Beer (the best named pub ever!) for another quick break.
Nearing the end of the day, the Phong Nha Farmstay is a great place to go to watch the sunset with your friends by your side. While eating an amazing dinner and letting the whole ride sink in, the day turns into night, and our adventures slowly turn into stories we'll never forget.