Protect Where You Play
As we grow as a company so does our feeling of responsibility to the world that we live and travel in. Travelling to places around the world, we are constantly reminded of the effect tourism has on the environment and on the local communities of the places we go. The aim of our Global Initiatives is to take steps towards both offsetting our own impact and promoting positive, sustainable change through projects that we believe in at home and abroad. The health of the planet and the communities that exist within it is our highest priority when managing our trips and we hope to share that sentiment with everyone that travels with us. Below is a growing list of the projects we are currently involved in, if you would like to suggest any organization or initiatives that we could participate in please send an email to travel@fnez.com!

#ProtectWhereYouPlay
Trash Hero
There is a sad reality in today's world that the ocean is filled with trash, thousands of tons of trash. A lot of this trash washes up on beaches around the world and just sits there, so we've made it a point to completely clean up at least one beach on every one of our trips. This began with our partnership with Trash Hero on Koh Lipe, Thailand, when the beach clean-up day became one of the most fun and rewarding days of our trip. Inspired by their initiative, we instituted the beach clean-up game into our regular itineraries and have since collected tens of thousands of kilograms of trash from beaches around the world. Although this doesn't solve the greater problem of the trash in our oceans it does allow us to put a small dent in it and give something back to the local communities living on these beaches.
Refill, Not Landfill
Once we got involved with the Trash Hero project, we realized that a lot of the waste we were picking up off the beaches came from people like us! So we started up the Refill, Not Landfill initiative. With over 1000 travellers coming on trips with us throughout the year and drinking/buying water bottles like nobody's business, we decided to provide several of the guesthouses we work with with filtered, re-useable water coolers to provide our travelers with all the water they need without creating any additional waste. Our hope is that by taking these steps and continuing to build on this initiative we will set ourselves up to completely eliminate plastic water bottles from our trips altogether. If we are able to do that we could prevent the use of over 100,000 plastic water bottles each year alone!
ChildSafe
In many of the countries we travel to there is a large population of youth at risk to become victims of trafficking or unethical/forced business practices. To ensure we're doing all we can we partnered with ChildSafe International, which is a renowned program that proactively protects children in countries around the world from abuse and exploitation. Our staff take the ChildSafe training program in Bangkok and have the knowledge and resources to not only spot the exploitation of children, but also to put an end to it by using the ChildSafe network who work with local authorities to arrest the guilty parties and guide the children towards a better future. Last year, reports from our staff helped lead authorities to the arrest of a human trafficker who was forcing kids to sell roses on Khao San Road!
Ethical Animal Treatment
Seeing local animals in the places we travel to is a huge draw for many people, and rightfully so as these beautiful creatures completely amaze us. We are given the privilege of entering their natural habitats and observing them living their lives in peace. However, unfortunately the popularity of seeing these animals often leads to exploitation and maltreatment and this is the last thing we ever want to see happen. We try extremely hard to be diligent with our research and not support any business that supports or contributes to the unethical treatment of animals. We do not want to see any animals locked in facilities without reason or put through any type of 'breaking' process in order to entertain tourists. By signing petitions like the Campaign Against Canned Hunting and removing elephant riding from our trips, we are always trying to find that balance between sharing with people the beauty of animals while not contributing to any form of unethical practices. Our hope is that by seeing these amazing animals on your travels, you will be inspired to contribute to their preservation and ability to live a free life in the wild.
Party for Prosthetics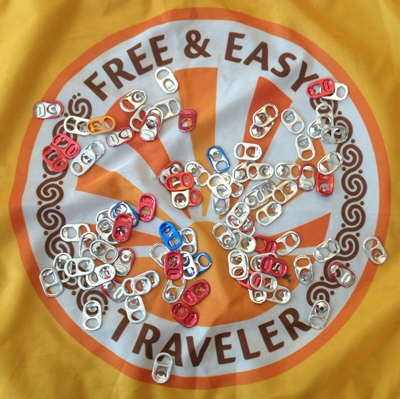 Party for Prosthetics is a really cool initiative we implemented that turns the tabs from beer cans (theoretically all cans) into prosthetic limbs for people in need who have been dismembered from injury, disease, or war. We are partnered with an organization based out of Thailand called The Prostheses Foundation that has been doing this since the early 90's - when we saw one of their donation bins we realized just how much we could contribute with our masterful beer consuming skills! On our trips - through a combo of beach day fun, travel day fun, and night time fun - we have been known to empty literally thousands of cans of beer into our guts, and now we are turning those parties into prosthetic limbs! This initiative adds even more zest to each cheers, shotgun, and beer bong, and fills us with a sense of pride as we gather the tabs over the course of each trip and see buckets fill with valuable little pieces of metal that are going to change someone's life!