Program Details
So you have made it past the first hurdle and are on your way to spreading the word in your area about the epic trips Free & Easy runs around the globe!! But, you are probably wondering how you earn points and travel for cheap....right? Well, it's simple!! Free & Easy will set you up with a unique 'promo code' that will identify YOU as the reason that traveler signed up for the trip.
When this unique code is entered into the travelers new online registration (in the promo code field), an automatic discount of $100 (off a 40 day trip, $50 off a 20/25 day trip, etc) will be applied to the individual trip which they will see once they log in to their 'your trip' page.
Once a $700 deposit has been made by the traveler, Travel Bucks will be awarded to you in your rep account based on the values for each trip length. (ie. 10 days = $50 travel bucks, 40 days = $200 travel bucks.)
Your Travel Bucks can be saved up and used towards a trip with us (10 days in Nica will cost you $890 Travel Bucks)! The registrant must go through with their trip for Travel Bucks to remain valid, and Travel Bucks are only valid for use on International trips.
The only thing left is to get started!! We love the world we travel in, and we'd like to keep it a beautiful and healthy place. So, we try to avoid unneccessary wasted paper. If you think you could put a package of posters and rack cards printed up with your promo code, then let us know and we will ship some directly to your door! Then, it's up to you to get those ads out in as many places as possible to get people signing up for the trips. Universities, colleges, restaurants & bars, street poles, coffee shops or any other store in your area are all great starting places. But, if you're unsure if you'd have the time to distribute the material, no worries! We will still set you up with a code to distribute via social media and word of mouth. Share a Free & Easy facebook post with your code to let your friends know that if they use that 'promo code' $100 (on a 40 day trip) will be instantly reduced from their trip price after they complete their registration. Use your Instagram and Twitter biography section to your advantage. You can promote FNEZ by including the link fnez.com and your promo code. Invite your friends to add us on SnapChat with "insideFNEZ", and use the hashtags #FNEZ and #GetBusyLivin whenever you can! The opportunities to get your code out there are endless, and with some dedication you'll be rolling in the Travel Bucks before you know it.
Check out the chart below for more details on the FNEZ rep program and how your Travel Bucks can be turned into new epic adventures!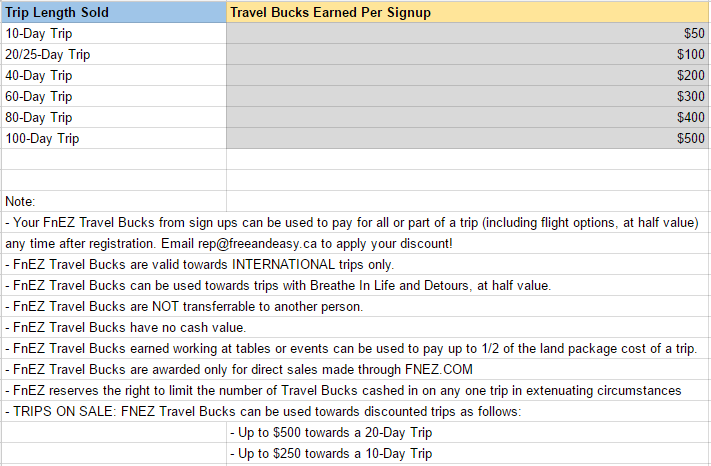 What do you think? Hit us up with your thoughts and definitely let us know if you have any suggestions! Email us here. Good luck!