Why Nicaragua?
Nicaragua...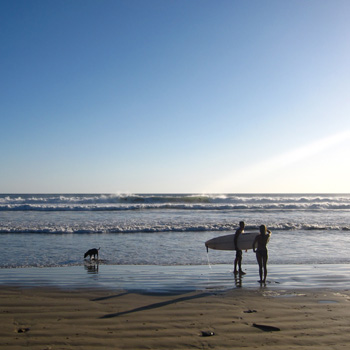 Costa Rica's northern neighbors are about to burst onto the traveler scene. For years, people have been visiting CR in droves and its beautiful coast line has developed accordingly. All the while, Nicaragua has just been sitting there in its natural state with hardly a resort in site - just pristine, beautiful beaches and some of the Pacific coast's best surf-able waves. It is a backpackers paradise.

Surfing and Pacific coast is hardly all it has to offer though! The islands on the Caribbean coast with their completely different culture, white sand beaches, crystal turquoise waters, world class scuba/snorkeling and of course that laid back Caribbean vibe are everything you could hope for in a tropical paradise.

As well as tons of stunning coast line, Nicaragua has some pretty amazing land loving adventure. This country is known as "The land of Lakes and Volcanoes". There are 25 volcanoes which offer some amazing hiking. Or how about volcano boarding or zip-lining? The stunning Ometepe is an island of 2 twin volcanoes coming up from the middle of a massive lake. We'll be staying on its edge in a laid back beach town perfect for people like you and us.....the Free and Easy types....